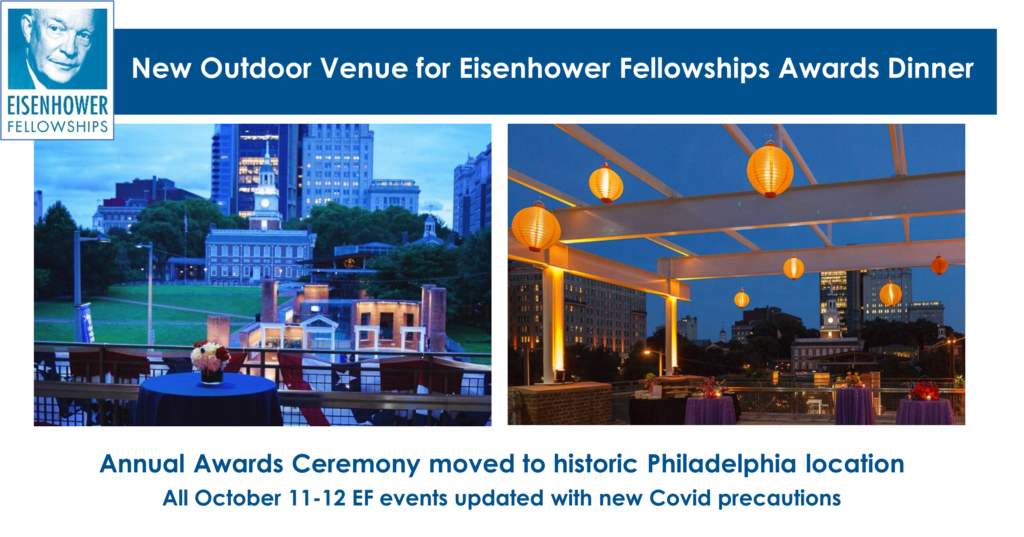 Dear friends of Eisenhower Fellowships,
In less than a month, Eisenhower Fellowships will welcome our Fellows, Trustees and friends to two days of dynamic, in-person events in Philadelphia on October 11-12.
I am delighted to announce a spectacular new outdoor venue for our Annual Awards Dinner and new locations, times and segmented programs for all our other events in our first in-person gathering in Philadelphia in more than two years.
These new program details are part of a number of additional precautions we are taking to ensure everyone's health and safety amid the continuing Covid pandemic.
All guests at all our events later this month will require proof of Covid vaccination and masks will be required at all indoor events. Our new lineup includes these changes:
Our Annual Awards ceremony will be preceded by an outdoor cocktail reception at 5:30 pm on Tuesday, October 12 at Liberty View, 599 Market Street, a scenic location atop the Independence Visitors Center overlooking the Liberty Bell and Independence Hall.
Following the reception, at 6:30 pm NPR Correspondent Deborah Amos will host our Annual Awards Ceremony inside the Liberty View Ballroom on the Mezzanine Level. There our Chairman, former U.S. Secretary of Defense Robert M. Gates, will present the Dwight D. Eisenhower Medal for Leadership and Service to Jamie Dimon, Chairman and CEO of JPMorgan Chase, and the Distinguished Fellow Award to Anita Brown-Graham (USA '05), ncIMPACT Initiative Director at the University of North Carolina, Chapel Hill.
After the ceremony all our guests will repair to the two outdoor terraces at Liberty View for our Awards Dinner from 7:45 to 9 pm, followed by an après-dinner dessert reception until 10 pm. You can see photos of our exciting new venue with its stunning views of the Liberty Bell and Independence Hall above and below.
This dazzling evening will be preceded that afternoon by the EF Chairman's Seminar, a private conversation about current world events that Secretary Gates will host for our Trustees, Fellows and invited guests. This exclusive off-the-record event will now run from 1:00 to 2:30 pm at the Rose Garden Ballroom in the Bellevue Hotel after our guests have lunch on their own. At the Chairman's Seminar we will also honor new Trustee Emeritus Jaime Zobel de Ayala, who will be with us from the Philippines.
The previous evening, on Monday, October 11, we will host the traditional EF Pin Ceremony recognizing our 2021 Global Fellows, 2019 USA and Zhi-Xing China Fellows and 2020 Women's Leadership Fellows at the Masonic Temple in Philadelphia. This ceremony will begin promptly at 6 pm and will be followed by a dinner reception spread around the Masonic Temple to allow for maximum distancing while guests can explore this historic Philadelphia site.
For our Trustees, the Board of Trustees meeting will be held at the originally scheduled time, 10:30 to noon, at the Rose Garden Ballroom in the Bellevue Hotel. All attendees will be masked for the meeting.
To comply with all federal, state and local Covid guidelines, all guests must show proof of vaccination and remain fully masked at all indoor venues when not eating or drinking.
To speed the onsite registration process, if you have already registered, please upload your vaccination card in advance here. If you have not yet registered, please do so today by clicking on the registration link.
Full updated details on the events can be found here on our events webpage. We look forward to seeing you all in Philadelphia.
All best,
George
George de Lama | President
Eisenhower Fellowships