From its start as a unique birthday gift to honor America's 34th President, to its current range of innovative programs for talented leaders from 115 countries, Eisenhower Fellowships (EF) has prepared more than 2,400 men and women to assume positions of ultimate influence in their chosen fields.   
EF's first decade witnesses dramatic growth with the selection of the first group of high achievers in the fields most critical to their home countries' needs, and the overall goal of making EF fellowships the most coveted and effective of their kind in the world.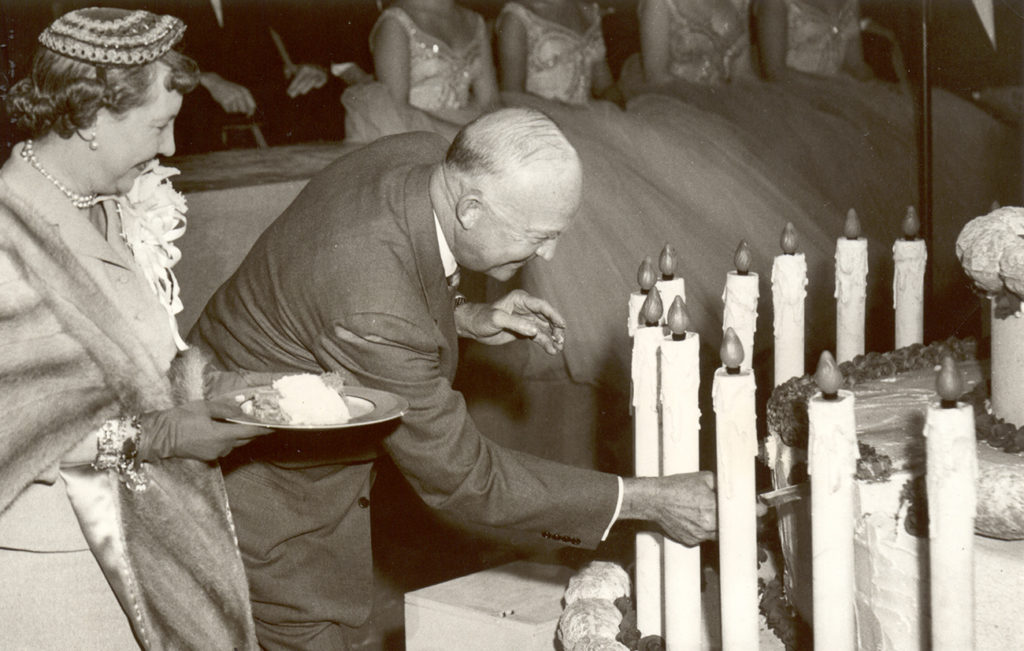 1953
To celebrate President Dwight D. Eisenhower's first birthday in the White House, a group of prominent Americans from the worlds of business, government and academia founded the international leader-exchange program. Led by Thomas B. McCabe, then-CEO of Scott Paper and former Federal Reserve Chairman, the group establishes the independent, nonpartisan, nonprofit organization to identify, empower and connect mid-career professionals for a transformative fellowship experience and lifelong commitment to advance the EF mission.
1954
John B. Fox, assistant dean of the Harvard Graduate School, is named EF's first executive director. Among the first 16 Fellows is Suleyman Demirel, who goes on to become Turkey's ninth president and seven times its prime minister.
1956
A 10-year, $600,000 grant from the Ford Foundation anchors EF's funding and enhances its reputation for excellence.  
1957
EF moves its offices from New York City to its permanent headquarters in Center City Philadelphia.
Throughout this tumultuous decade of political assassinations, antiwar demonstrations, civil rights marches and social unrest, the seeds planted by the friends of "Ike" continue to bear fruit. Each year's program adds two Philadelphia-based seminars where Fellows gather and share what they learn on their individualized journeys. Yearly newsletters and three international conferences with Fellows from previous years (in Geneva, Istanbul and Buenos Aires) strengthen bonds among old friends and create new connections.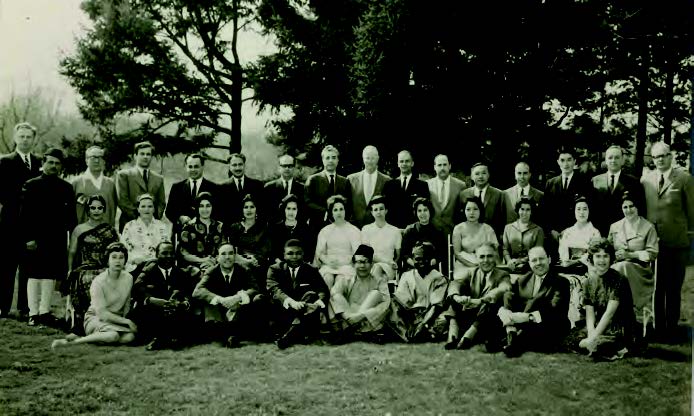 1963
President Eisenhower's White House memoir, Mandate for Change, is published. He describes EF as "possibly the most splendid birthday present I have ever received."
1966
By the midpoint of the '60s, 245 people from 60 countries had experienced an EF journey, and 30 American Fellows had gone overseas.
1967
A second Ford Foundation grant encourages EF to experiment with larger programs, increasing the number of Fellows per year to forty-three.

At a dinner reception for the new class of fellows, then-EF President J. Hampton Barnes hands each of them a front-door key to the EF headquarters building, a rowhouse on South 16th Street. "Please use the key," he said. "This is your home."
1969
With the death of President Eisenhower at age 78, many obituaries reprise his eloquent appreciation of EF. "I am proud that the organization carries my name because its opportunity is a most important one for the future of the world," he said. "It is the opportunity to create friendships, and friendships have defended more borders than arms and cannon ever have."
EF's global network grows to 549 Fellows from 86 nations. High-profile leaders join the organization's administration and its Board of Trustees. The Fellows network shows its cohesiveness and strength by organizing a large gathering for intellectual inquiry and exchange of ideas on the West Coast of the United States.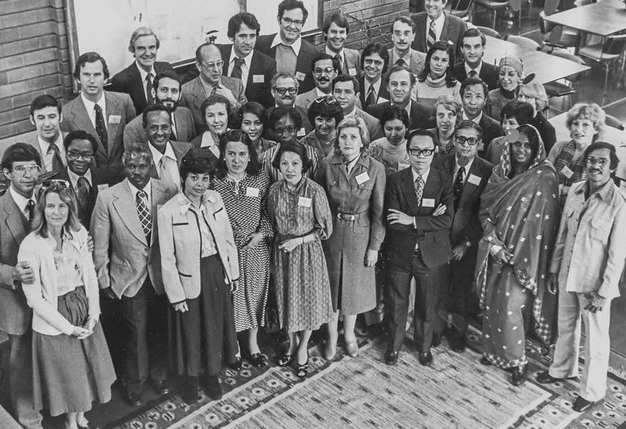 1976
As the U.S. celebrates its bicentennial, 101 Fellows from 56 countries convene in San Francisco for EF's first World Forum. Impressed by the Fellows' loyalty and their engagement at the event, EF Trustees name five international Fellows to the Board, beginning a tradition of always having some Trustees who are also Fellows.
1977
In a move that greatly strengthens the program's leadership, EF appoints former U.S. President Gerald R. Ford as its president. He would later serve, from 1980 to 1986, as chairman of the Board.
1978
Thomas S. Gates, a former secretary of the Navy and secretary of defense, is elected chairman of the Board. Nicholas S. Ludington, world services news supervisor of the Associated Press Washington bureau, is named executive director.
Thirty years after its founding, EF continues to add prominent leaders to its senior ranks. The organization reinforces its financial stability with its first round of government funding. It adds new programs, revives one that had been paused, and undertakes its first capital campaign.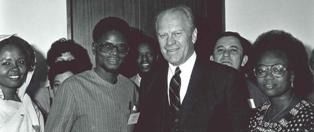 1984
The U.S. Congress authorizes a seven-year, $7.5 million grant to cover fellowship expenses. The Board of Trustees launches a five-year capital fund drive, the first in EF history, and directs the staff to expand the program's size and scope. The first initiative is to add a second international program each year to complement EF's signature Multi-Nation Program.
1986
Six Fellows from the Philippines inaugurate EF's first Single-Nation Program.
Former U.S. Secretary of Defense Donald Rumsfeld is named EF chairman.
1989
The USA Program sending ascendant American leaders overseas resumes after a 26-year hiatus, bringing EF's commitment to three fellowship programs annually and 50 Fellows a year.
Under the leadership of EF President Theodore "Dorie" Friend, a distinguished historian and former president of Swarthmore College, EF hosts a groundbreaking Ireland Single-Region Program, bringing to the U.S. 14 Fellows from Northern Ireland and Ireland. Less than a decade later, a number of them on both sides are directly involved in negotiating and implementing the Good Friday Peace Agreement that ends political violence on the island, underscoring the power and promise of EF's unique brand of citizen diplomacy.
The Capital Fund drive surpasses its $10 million goal. EF celebrates the centennial of Eisenhower's birth at its second World Forum in Philadelphia, where more than 200 Fellows from 63 countries enjoyed four days of reminiscence and substantive discussion about world affairs. U.S. Senator Bob Dole and U.S. Representative Pat Roberts establish a permanent endowment to honor President Eisenhower, under which EF receives the yearly interest earned on a $7.5 million federal trust fund. The final year of the decade marks another milestone, bringing the total number of Fellows in the global network to 1,300, increasing their countries of origin to 106.
1991
EF hosts a Single-Nation Program for Poland and a Single-Nation Program for then-Czechoslovakia the following year. The addition of Bulgaria and Romania to the list of active countries establishes EF's presence in the emerging democracies of Eastern Europe.
1993
Former U.S. President George H.W. Bush becomes chairman of the Board. Later in the decade, his personal efforts help establish two programs for China, reflecting that country's size and growing influence.
1994
After South Africa ends apartheid and elects its first multi-racial democratic government, EF hosts a South Africa Single-Nation Program for 13 Fellows drawn from that country's major ethnic groups and geographical areas.
1996
Distinguished American diplomat Adrian Basora, former U.S. ambassador to Czechoslovakia and director for European Affairs on the National Security Council, is appointed president of EF.
1999
A distinguished committee of business leaders in North Carolina's Research Triangle helps launch EF's first Regional Initiative, sponsoring Fellows from that region to travel abroad, and later host international Fellows in North Carolina.
EF's sixth decade brings significant developments coinciding with the advent of the new millennium. Fellows' Associations were established in 40 countries, and a new online directory makes it easier for Fellows to collaborate and keep in touch. Overseas conferences in Singapore, Istanbul, Dublin, Malaysia, Brazil and France reinforce a sense of common purpose. Four regional programs for Asia, and one each for Latin America and the Middle East strengthen international ties. American Fellows in the USA Program could choose from an expanded list of 40 countries on six continents. Former U.S. Secretary of State, Henry Kissinger is elected chairman of the Board.
2004
Distinguished American diplomat John S. Wolf, former assistant secretary of state for nonproliferation and U.S. Ambassador to Malaysia, is named EF President.
2006
General Colin L. Powell, former Chairman of the Joint Chiefs of Staff and U.S. secretary of state, becomes EF's chairman of the Board.
The success of the North Carolina initiative prompts EF to organize further regional hubs for its USA Program in Philadelphia, New England and St. Louis.
2007
Fall Common-Interest Programs debut to focus on specific professional sectors or global issues, complementing fall programs focused on specific countries or regions of the world.
2008
The Eisenhower Day of Fellowship, an annual event celebrated on October 14, Ike's birthday, is initiated to increase the impact and visibility of Eisenhower Fellowships and promote the organization's work and mission. EF encourages Fellows to commemorate the day by gathering to renew dialogue aimed at enhancing understanding.
EF establishes the Distinguished Fellow Award that annually recognizes an Eisenhower Fellow with a track record of proven leadership within the EF global network who has made a significant contribution to his or her professional field.
The second decade of the 21st century features new growth and a new focus on driving impact around the world. EF expands its programs and shines a new spotlight on Africa, women's leadership, entrepreneurial innovation, youth leadership and the future of work and education.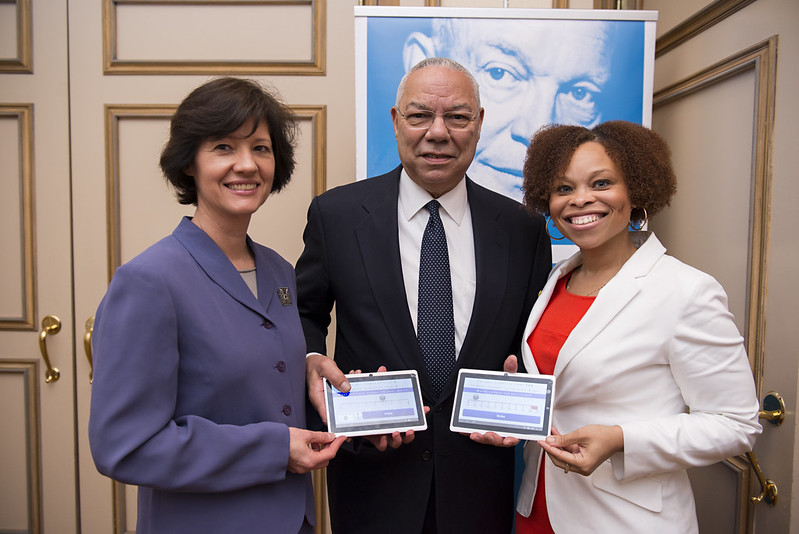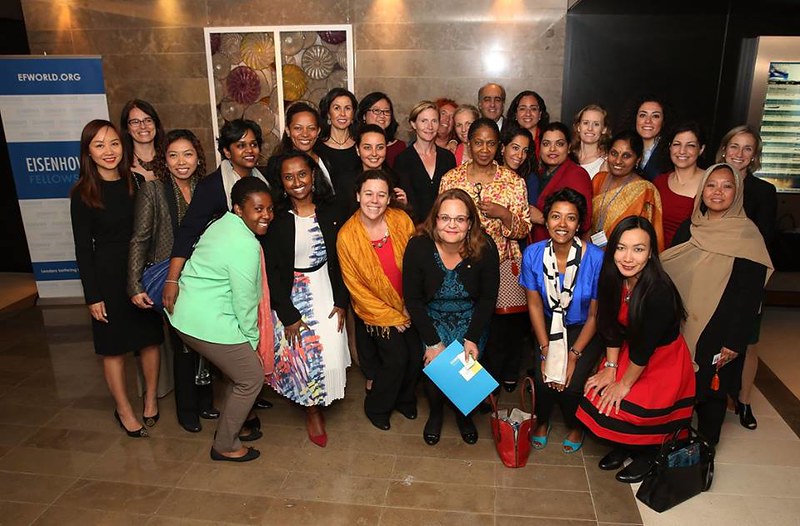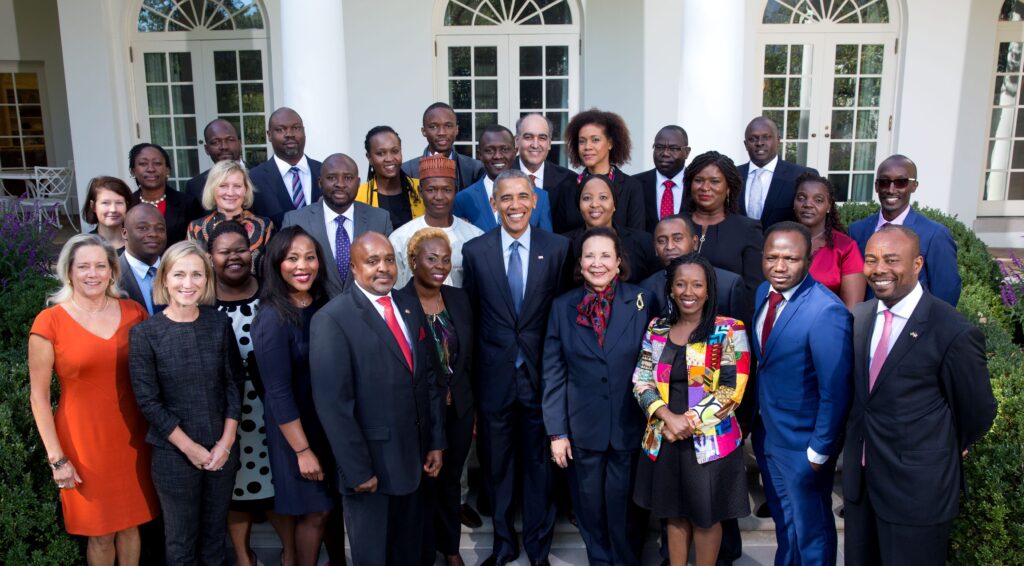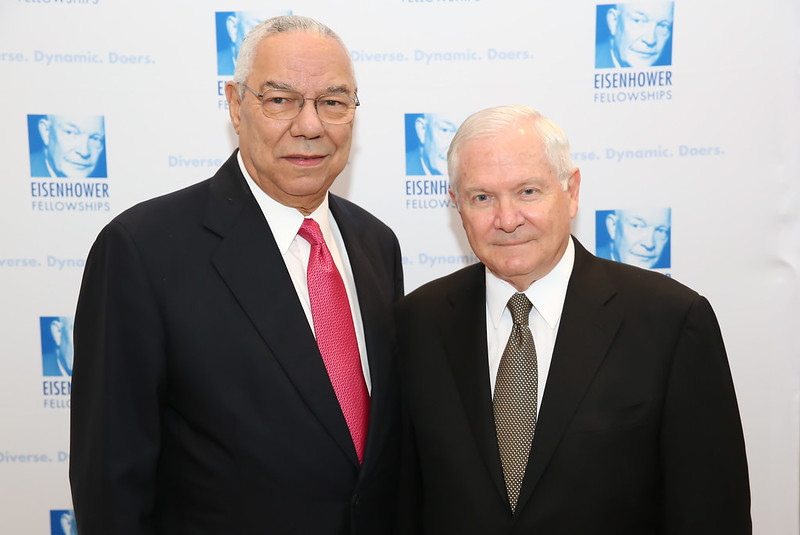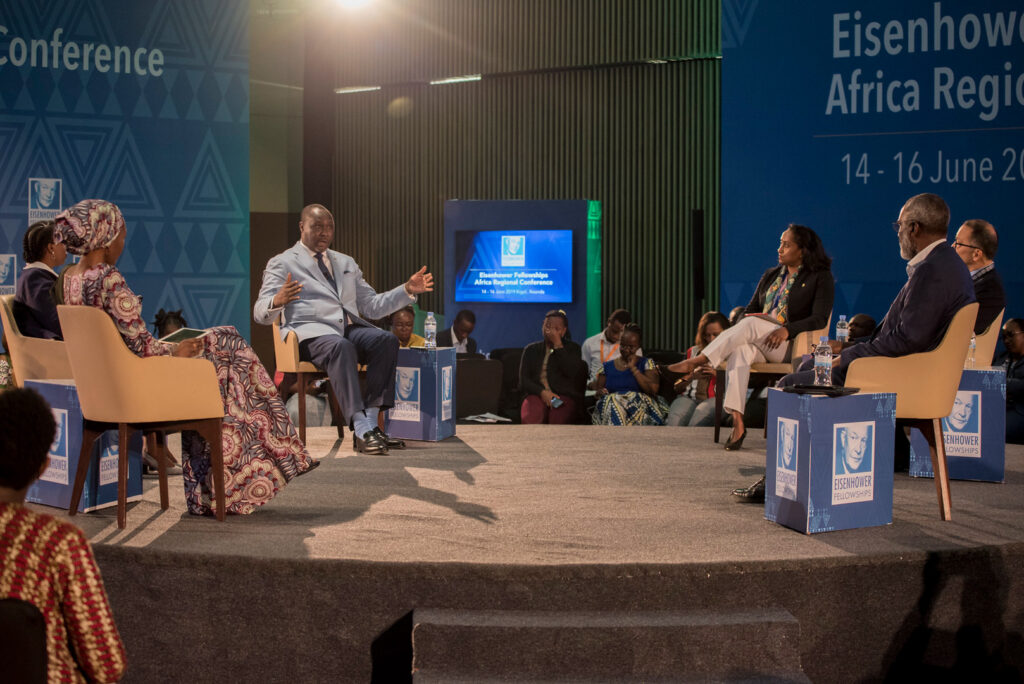 2010
EF hosts its first Women's Leadership Program, bringing to the U.S. 19 women from 14 countries.
2011
EF's Northeast Asia Regional program unites Fellows from China, Taiwan, Japan, South Korea and Mongolia to enhance existing relationships, foster new ones and explore the future of the region and its relationship with the United States.
EF hosts "Rapid Change, Rapid Challenge," a conference on technological disruption and its impact on leadership, in Cary, N.C.
2012
The Fellows of the New England Alumni Association host EF's first "unConference" in Boston. The unConference is an interactive gathering designed to generate innovative project ideas for collaboration across borders and sectors. The event drew 60 Fellows from eight countries.
Fellows in South Asia host a regional conference in Colombo, Sri Lanka to discuss the theme: "South Asia on the Move, Achieving its Full Potential in the 21st Century."
2013
Fellows from 20 countries gather in St. Louis for EF's second international unconference. Discussion centered on economic development, international trade, immigration and combating poverty and homelessness.
2014
George de Lama, a distinguished American journalist and former international development official, is appointed EF's 10th president.
EF hosts a Women's Leadership Conference in London, U.K., focusing on using the EF network to support the personal and professional growth of women leaders in politics and other fields.
2015
EF launches the Zhi-Xing China Eisenhower Fellowship, sending 10 U.S. Fellows to China each year, doubling the number of American Fellows EF annually sends overseas. The program builds on EF's nearly 20-year relationship with the China Education Association for International Exchange bringing Chinese Fellows to the U.S.
EF for the first time requires all Eisenhower Fellows to commit to carrying out a concrete project with a positive real-world impact and to mentor younger leaders behind them as a core element of their fellowship.
EF hosts its second Women's Leadership Program of 25 outstanding women leaders from around the world. The program is capped by a vibrant conference EF hosted, "Advancing Women's Leadership" in Miami, Florida, bringing together more than 220 attendees from 41 countries.
2016
EF hosts its first regional program dedicated exclusively to Africa, bringing together 24 visionary leaders from eight countries in sub-Saharan Africa. More than 800 applicants, an EF record, seek one of the two dozen coveted fellowships via another innovation, a newly launched EF online application portal. U.S. President Barack Obama hosts the Africa Fellows in the Rose Garden of the White House, underscoring EF's fundamental nonpartisan nature.
2017
Fellows in India, Pakistan, Sri Lanka and Bangladesh organize a vibrant regional conference in Dubai, "South Asia Rising," two days of robust discussion on economic, political, energy, environmental and cultural connectivity in this vital area of the world. The event brings together more than 240 participants, including Fellows from 19 countries, and features former Pakistani President Pervez Musharraf and senior officials from across the region and China.
In partnership with the city of Malaga, Spain, EF hosts a dynamic global conference, its first in nine years. The gathering to discuss "The Future of Work," draws nearly 330 participants from 41 countries, featuring more than 50 prominent speakers and Fellows presenting 12 innovative projects designed to generate concrete impact after the conference.
In Malaga, EF introduces its Youth Leadership Network, bringing together 32 Youth Leaders ages 18 to 25 from 20 countries. The program deepens EF's commitment to mentoring and advances the legacy of President Eisenhower to the next generation of leaders.
2018
General Colin L. Powell, former Chairman of the Joint Chiefs of Staff and U.S. secretary of state, retires as EF chairman and is succeeded by former U.S. Secretary of Defense Robert M. Gates. In May EF convenes in Philadelphia more than 400 distinguished guests for two nights of evening events honoring both leaders, featuring future U.S. President Joe Biden as a keynote speaker.
EF hosts 75 international and USA Fellows, the most in its history, and for the third consecutive year, brings in record annual operating revenue to support its programs for the year.
In November EF hosts a European regional conference and a Women's Leadership conference in London.
In the fall EF hosts a special Saudi Arabia Program assembling a diverse group of 10 Saudi professionals to spend a month traveling in the U.S. Seven of the ten Saudi Fellows are women, advancing EF's emphasis on this important dimension of its programs.
2019
EF hosts a record 79 international and USA Fellows, for the second consecutive year bringing to the U.S. or sending overseas the highest number of Fellows in its history.
The "Island of Ireland" Program selects 14 ascendant leaders from Ireland and Northern Ireland. The special program marks the 30th anniversary and carries forward the historic 1989 Ireland Single-Region program that helped secure and keep the peace on the island for more than two decades.
In June EF hosts a regional conference in Kigali, Rwanda, the first regional event in EF history held on the continent of Africa. The three-day conference brings together more than 220 participants, including Fellows from 21 countries, to discuss the future of Africa's regional and global integration. Speakers include Rwandan President Paul Kagame. The conference follows up on EF's first Africa regional program in 2016 and advances the organization's renewed emphasis on the continent.
In the fall EF's first Latin America and Caribbean Program in more than a decade brings to the U.S. 23 Fellows from nine countries in the region.
EF ends the year by earning Charity Navigator's highest four-star rating for nonprofits with the highest standards of transparency, accountability and financial controls for the sixth consecutive year.
Eisenhower Fellowships enters a new decade amid widespread political polarization, economic dislocation and social unrest in the United States and overseas amid a global Coronavirus pandemic that kills millions and severely disrupts life around the world.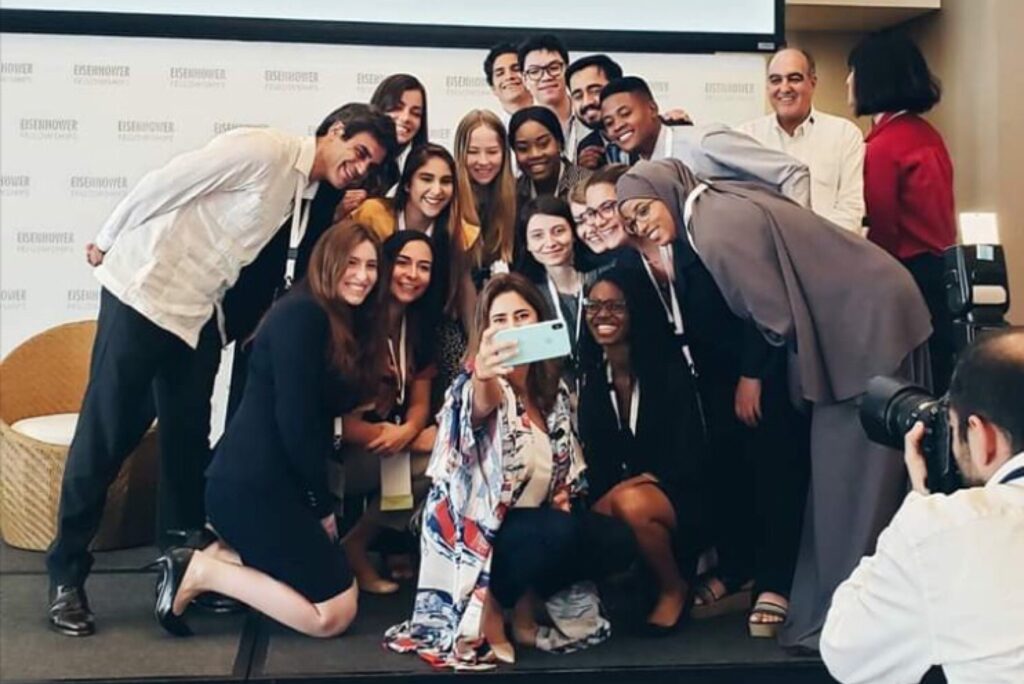 2020
EF hosts a global conference in Cartagena, Colombia, on the Future of Education, a dynamic three-day gathering that brings together 245 participants from 37 countries. Colombian President Iván Duque Márquez and the nation's First Lady, Maria Juliana Ruiz Sandoval Duque, are among the distinguished speakers and thought leaders who address the conference. This turns out to be the organization's last in-person gathering of the year because of the Covid pandemic that hits the U.S. and other countries in earnest immediately afterwards.
Faced with unprecedented disruption of its programs and operations, EF staff begin working remotely from home in early March for the rest of the year. EF is forced to postpone four of its fellowship programs until 2021 but steps up its virtual engagement with Fellows in its global network employing new digital tools.
In fall, EF hosts its third Women's Leadership Program, bringing together 25 outstanding women leaders from 23 nations in the first all-virtual program in EF history. The women engage with prominent speakers and with each other in online sessions for nearly two months.
The fellowship program overlaps with EF's Annual Meeting of the Board of Trustees in mid-October.
For the first time, the Annual Meeting and its related events are held virtually.
Also in the fall, EF launches the Eisenhower Global Scholars Program, for the first time sending outstanding recent American university graduates to Europe for postgraduate studies leading to a master's degree. The inaugural class of four Global Scholars study to obtain a master degree in public policy at the Blavatnik School of Government at the University of Oxford, in England, or a master degree in international relations at the School of Global and Public Affairs at IE University in Madrid, Spain. This new initiative underscores EF's continued focus on expanding and deepening the exposure of promising U.S. leaders to the rest of the world and advancing President Eisenhower's legacy to new generations of young Americans.    
At year's end, EF announces plans to make all future fellowship programs hybrid, combining virtual and in-person elements long after the Covid pandemic passes.
Learn more about the process of becoming an Eisenhower Fellow.