From its start as a unique birthday gift to honor America's 34th President, to its current range of innovative programs for talented leaders from 115 countries, Eisenhower Fellowships (EF) has prepared more than 2,400 men and women to assume positions of ultimate influence in their chosen fields.   
1953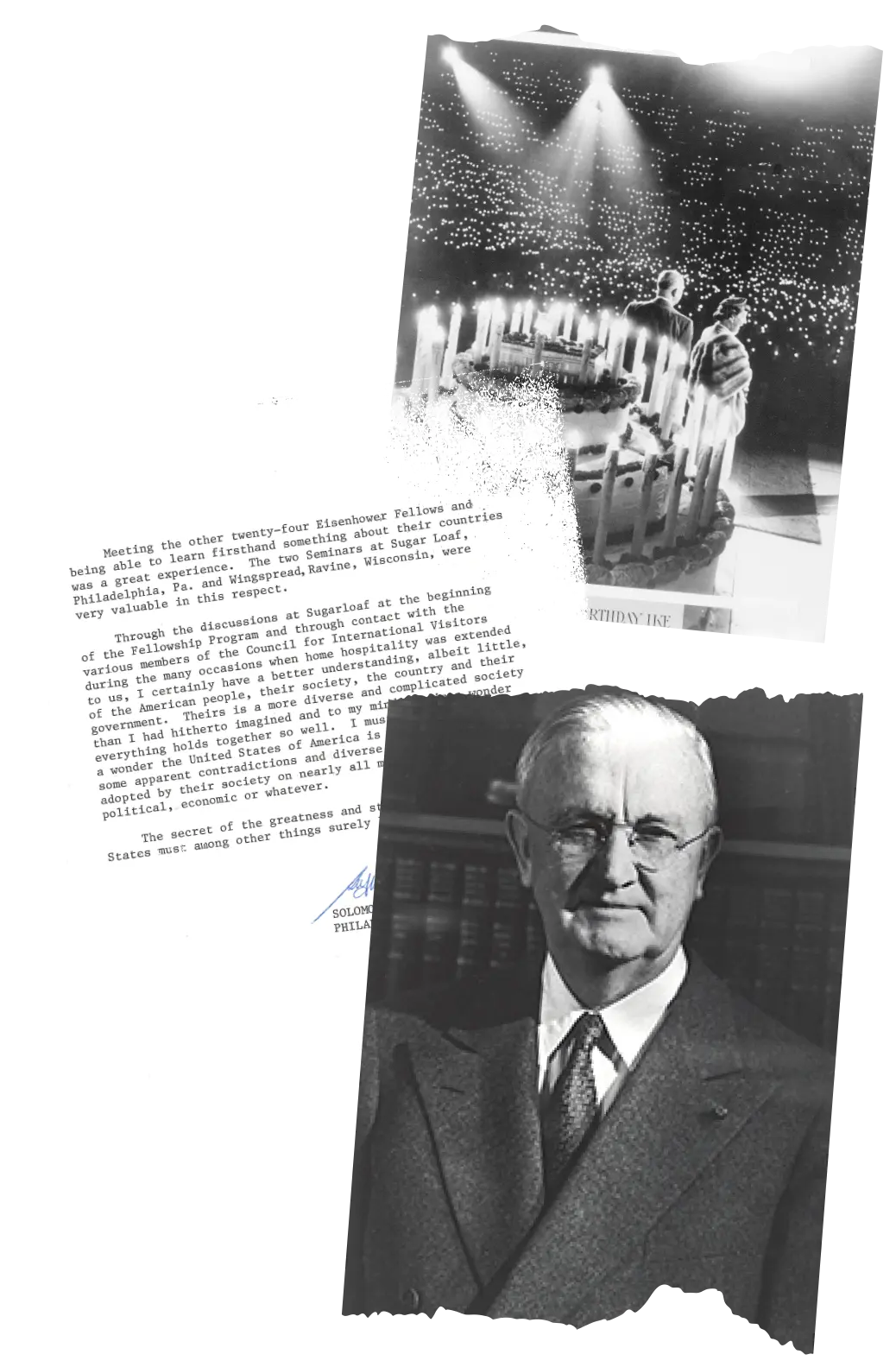 On October 13, the eve of President Dwight D. Eisenhower's birthday, an ebullient assembly fills the Sports Arena in Hershey, Pennsylvania, to honor the Commander-in-Chief.
Philadelphia industrialist Philip T. Sharples presents Eisenhower a scroll from fellow EF founders Walter Annenberg, Thomas B. McCabe, Thomas J. Watson, Ward Wheelock and Courtney Smith bearing the blueprint for a groundbreaking new international exchange program, a birthday gift to the President "from all America."
Led by Thomas B. McCabe, president and CEO of Scott Paper Company and former Federal Reserve Chairman, Eisenhower Fellowships is established as an independent, nonpartisan nonprofit organization to bring to the United States and send overseas exceptional mid-career professionals "to help promote understanding between the United States and other nations and between other nations and the United States."
Fellows were expected to use "the knowledge gained from their Fellowship for the benefit of the common man of their country."
1954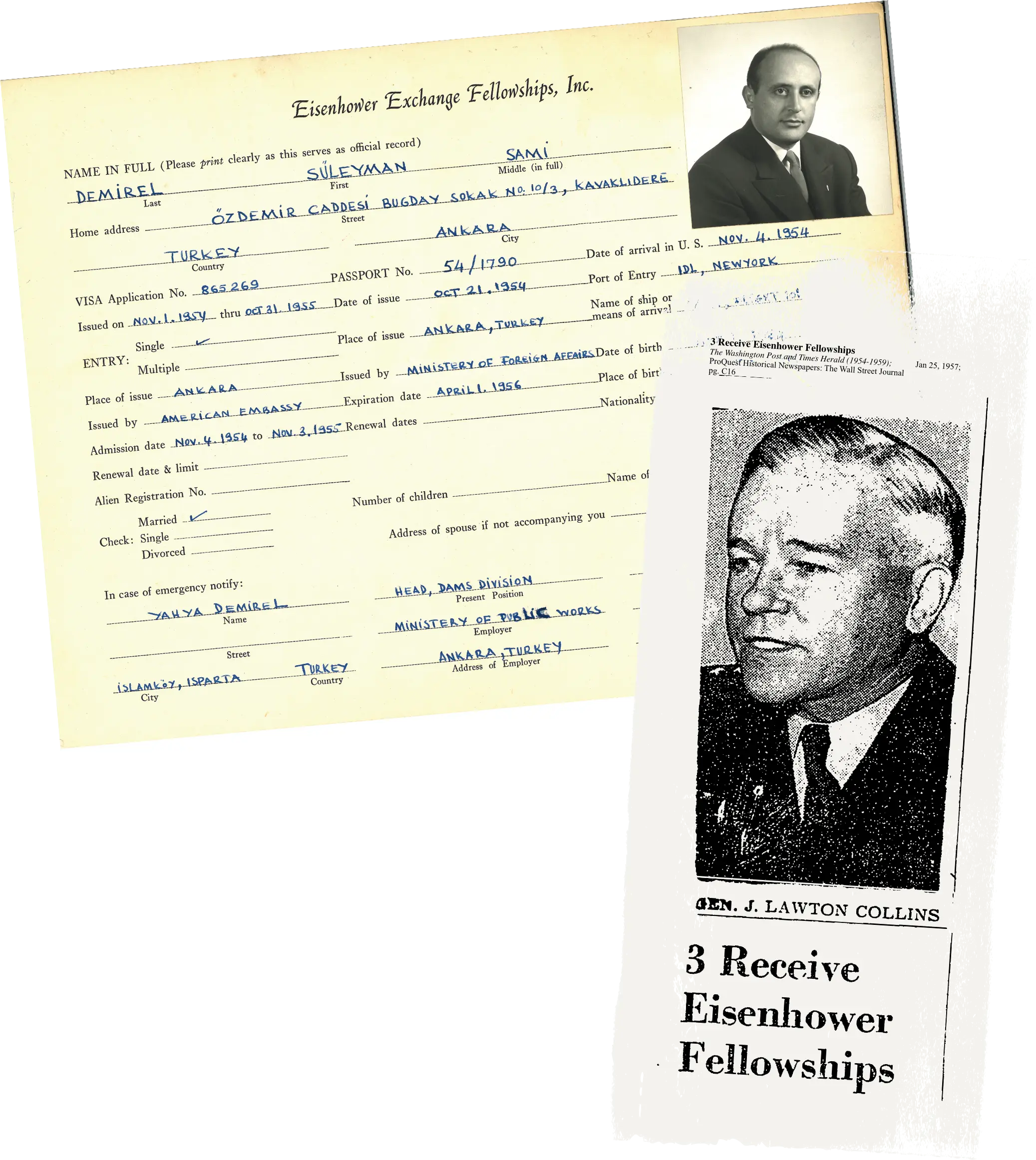 John B. Fox, assistant dean of the Harvard Graduate School, is named Eisenhower Fellowships' first executive director.
The first EF office opens in Cambridge, Massachusetts. Shortly afterward, EF moves to New York, where it would remain for two years.
The first fellowship program welcomes 13 international Fellows and sent three Americans abroad. Among the first Fellows is Suleyman Demirel, who went on to become Turkey's ninth president and seven times its prime minister.
1956
EF receives a $600,000 grant from the Ford Foundation, to be spread over ten years and matched three-to-one with other donation sources. Over the next four years, the Donner, Lilly and Mellon foundations also pledge generous multi-year gifts to the organization, securing EF's credibility and reputation for excellence.
1957
Chairman Thomas B. McCabe provides an iconic gift: the Eisenhower Fellowships house in Philadelphia. McCabe funds the purchase of a $35,000 four-story home that would serve as EF headquarters for decades to come.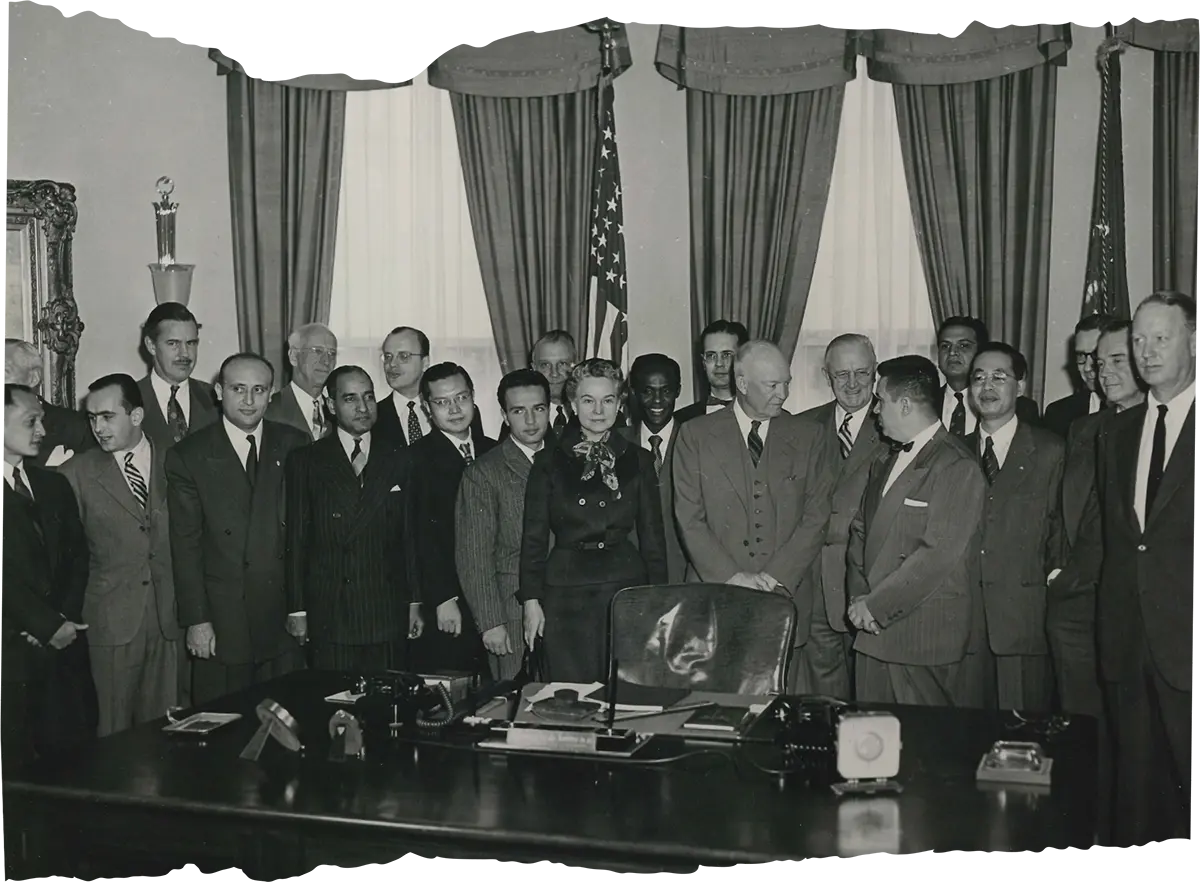 Through a turbulent decade, Eisenhower Fellowships endures and expands, forging international connections through conferences in Geneva, Istanbul and Buenos Aires.
Over its first ten years, the program hosts 211 Fellows from 52 countries, including three heads of state and scores of other high-ranking government officials and business leaders.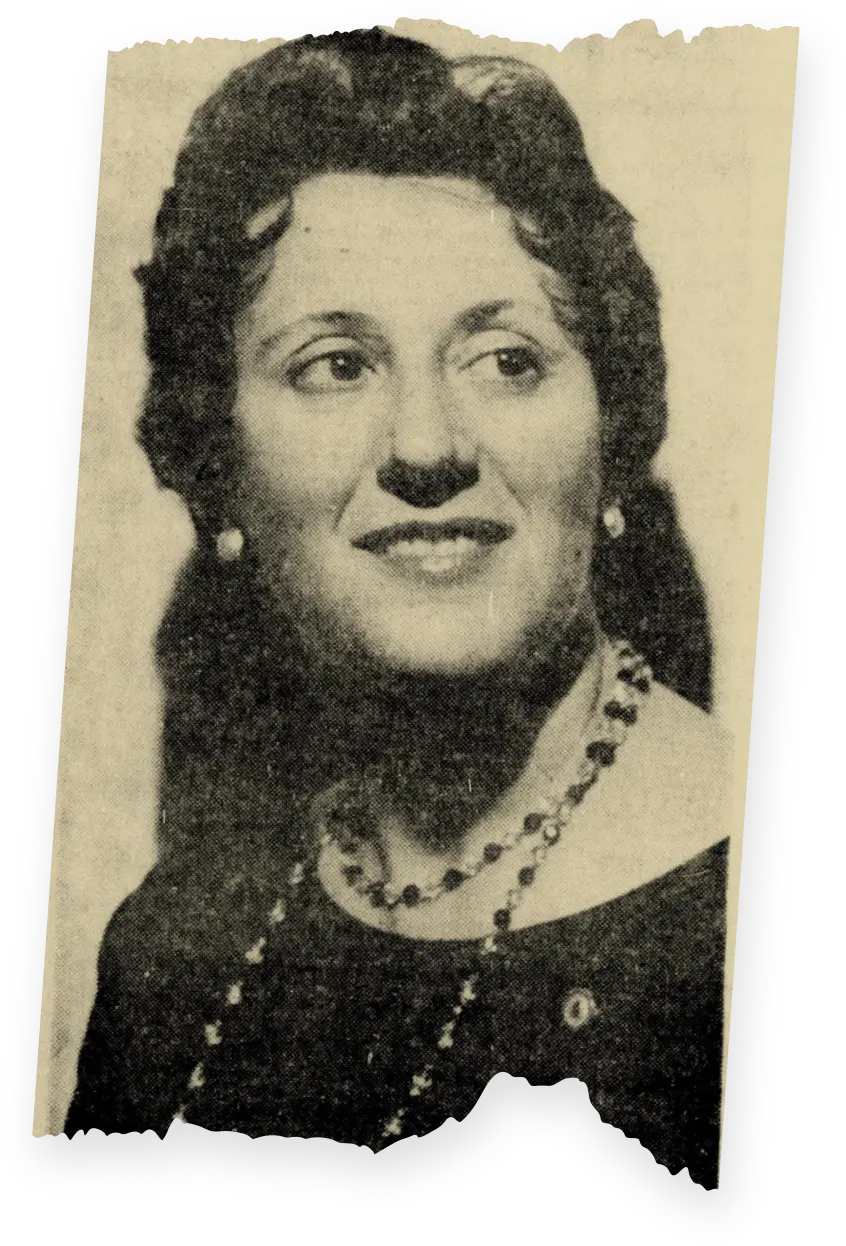 The first woman Fellow, Pilar Villegas of Spain, is selected in 1961.
Highlights for the Fellows include visits to the White House for meetings with President Eisenhower and his successor, President John F. Kennedy. These presidential meetings have marked Fellow classes since.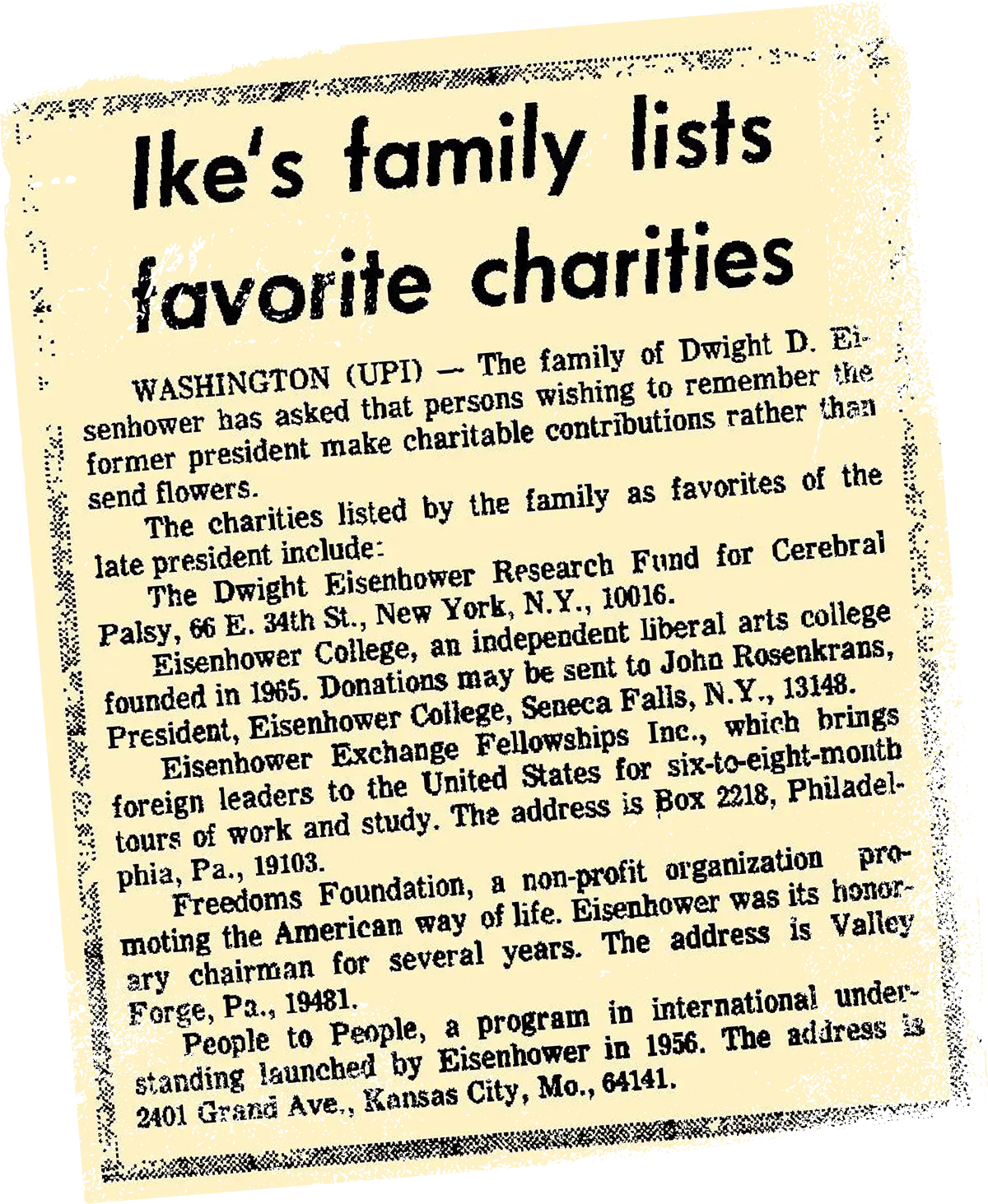 By mid-decade, EF commissions an independent program evaluation to bolster fundraising. Per its recommendations, EF increases its annual number of Fellows to 40. Regular mid-term seminars at the Aspen Institute and concluding sessions in Philadelphia are introduced.
A second Ford Foundation grant of $150,000 over three years encourages EF to experiment with larger programs and increase the number of Fellows per year to 43 by 1966. By 1969 the number drops back to 40.
Due to financial constraints, no U.S. citizens are selected as Fellows for more than a quarter-century.
President Eisenhower's death in 1969 marks the end of an era. Ike had been a strong supporter of EF, personally engaging with Fellows and publicly promoting the program. EF receives more than $400,000 in one-time donations in honor of the late president.
Despite the grants from the Ford Foundation, additional major funding proves elusive.
Facing rising operating costs, EF retrenches. Annual Fellow numbers drop to 28 in 1971 and again in 1974 to 22. By 1975, the length of the fellowship also decreases from 12 months to four.
1976

After hosting 549 Fellows from 86 countries over its first 21 years, financial difficulties force Trustees to suspend the 1976 program for a comprehensive assessment of the organization's future.
The process culminates in a conference of Fellows, EF's first global gathering, in San Francisco in May.
Some 101 Fellows from fifty-six countries meet in the Mark Hopkins Hotel in San Francisco for a four-day forum to discuss global issues and EF's future.
Impressed by their loyalty and engagement, Trustees name five international Fellows to the Board, beginning a tradition of always having Trustees who are also Fellows.
1977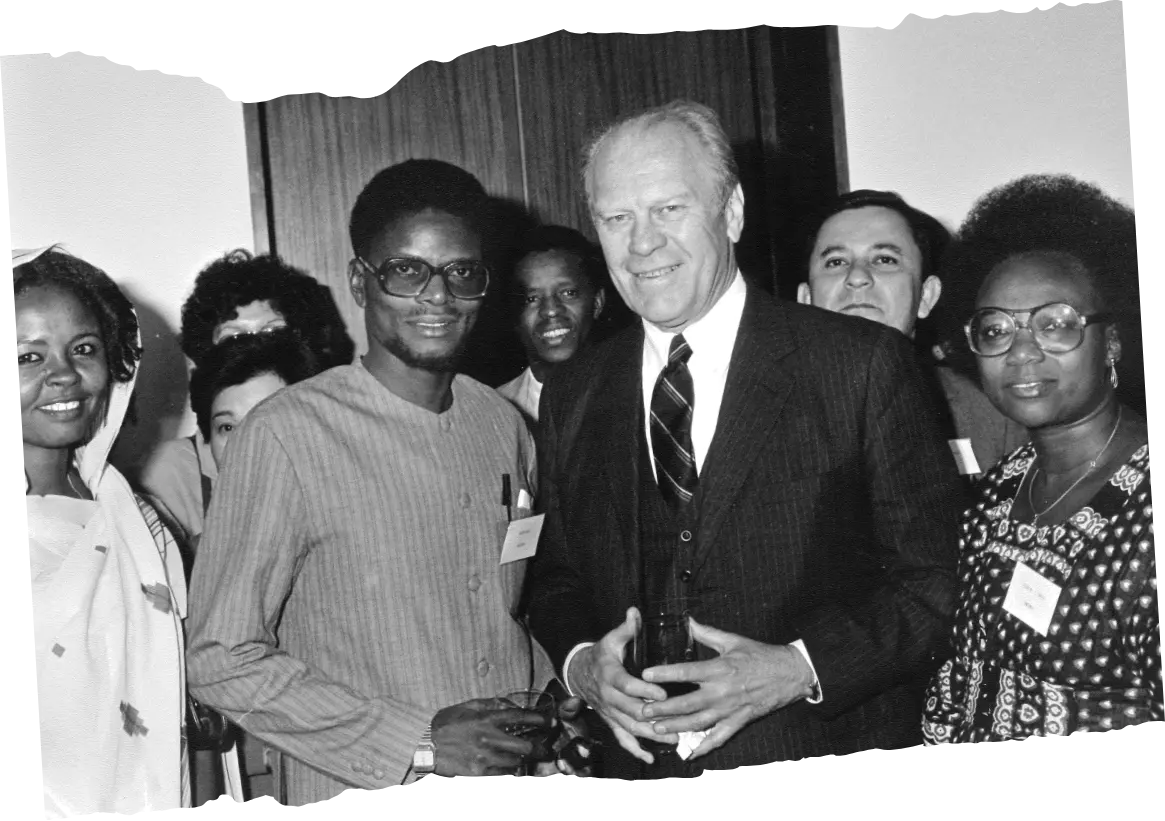 Amid a debate over Eisenhower Fellowships' future home, Chairman Anderson announces that U.S. President Gerald Ford would lead EF after leaving the White House.
In March, Trustees vote to relocate EF to Los Angeles, courtesy of free space from Anderson.
By October, only two EF staff members remain in Philadelphia. In an emergency meeting, Philadelphia Trustees commit to securing financial support to keep EF in Philadelphia.
1978
In February Thomas S. Gates, former U.S. secretary of defense, becomes chairman. Led by a new executive director, former Associated Press Washington news editor Nicholas S. Ludington, EF welcomes the arrival of 20 Fellows in May. 
New fundraising initiatives see success, featuring invitation-only lunches with President Ford hosted by Trustees across the country and significant support from the J. Howard Pew Freedom Trust.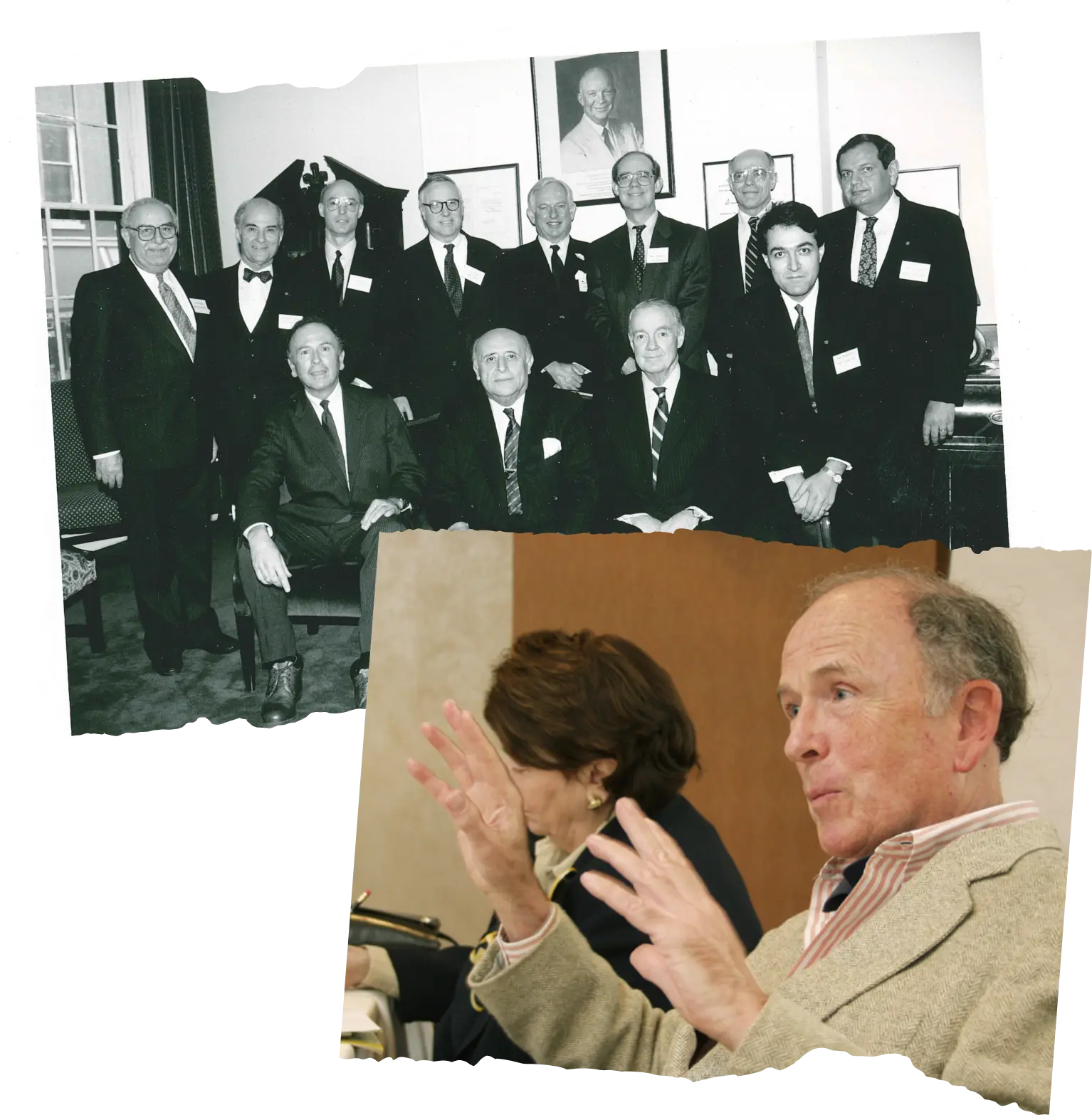 In 1982, the organization loses its founding chairman with the passing of Thomas McCabe. A year later, in 1983, Chairman Gates also passes away, and the president's position is left open.
To maintain continuity, President Ford returns as chairman. In 1984, Trustee Theodore "Dorie" Friend, a noted historian and former president of Swarthmore College, becomes the seventh president of EF.
In 1983, Fellows visit President Ronald Reagan in the White House.
1986
In May, EF celebrates President Ford for his service to the organization, introducing the annual Gerald R. Ford Fellowship.
Donald Rumsfeld, former U.S. secretary of defense and ambassador to NATO, is named chairman.
The Board of Trustees approves an ambitious five-year plan to increase its annual number of Fellows to 50, nearly triple the number of Fellows hosted in 1985.
The new Single-Nation Program extends the EF experience to emerging leaders from one selected country each year, mimicking the format of the traditional Multi-Nation Program.
EF urges Fellows to sustain the camaraderie and insights gained during their fellowship travels. International Fellows host U.S. Fellows, begin public-private sector dialogues and organize conferences of Fellows.
1988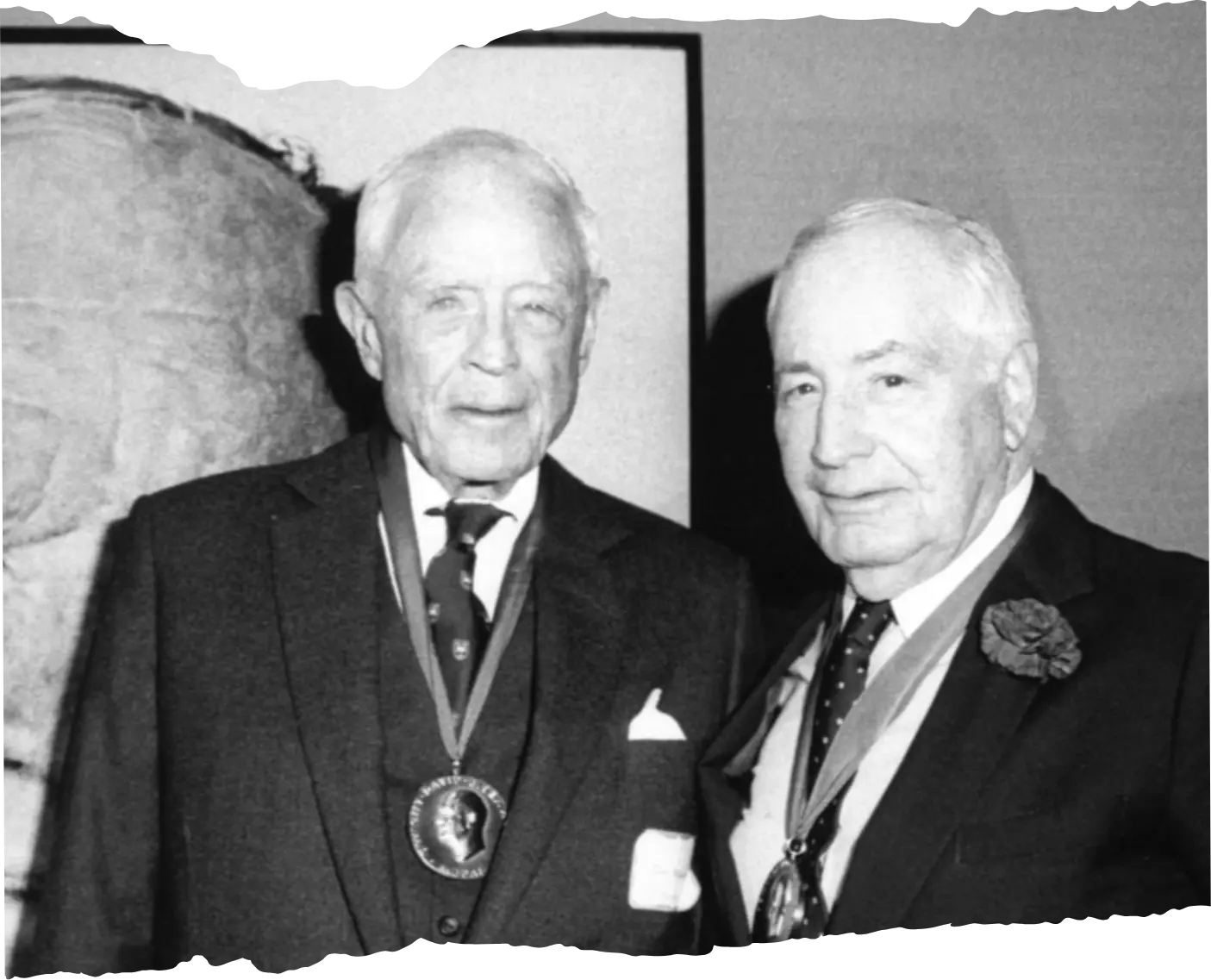 Trustees establish the Eisenhower Medal for Leadership and Service to recognize a nationally or internationally known figure for their work in enhancing international understanding. The first honorees are founding Trustees Walter Annenberg and Thomas Watson.
1989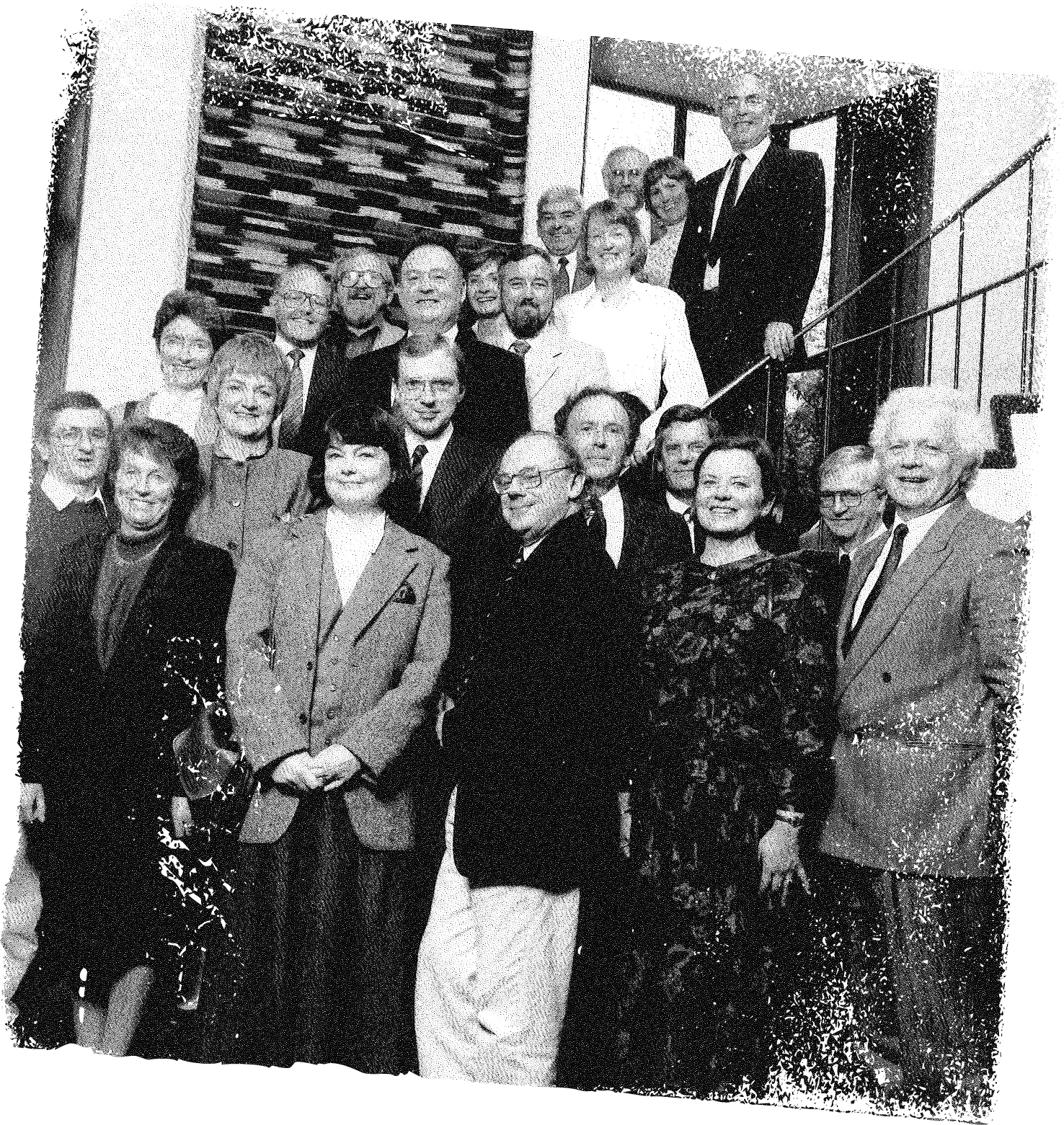 EF hosts a groundbreaking Island of Ireland Single-Region Program, bringing to the U.S. 14 Fellows from Northern Ireland and Ireland. Less than a decade later, Fellows on both sides are directly involved in negotiating the Good Friday Peace Agreement that ends political violence on the island, underscoring the power and promise of EF's unique brand of citizen diplomacy.
After a 26-year hiatus, EF resumes its USA Program. Five American Fellows—three men and two women—are selected from among 600 who contact EF about the program.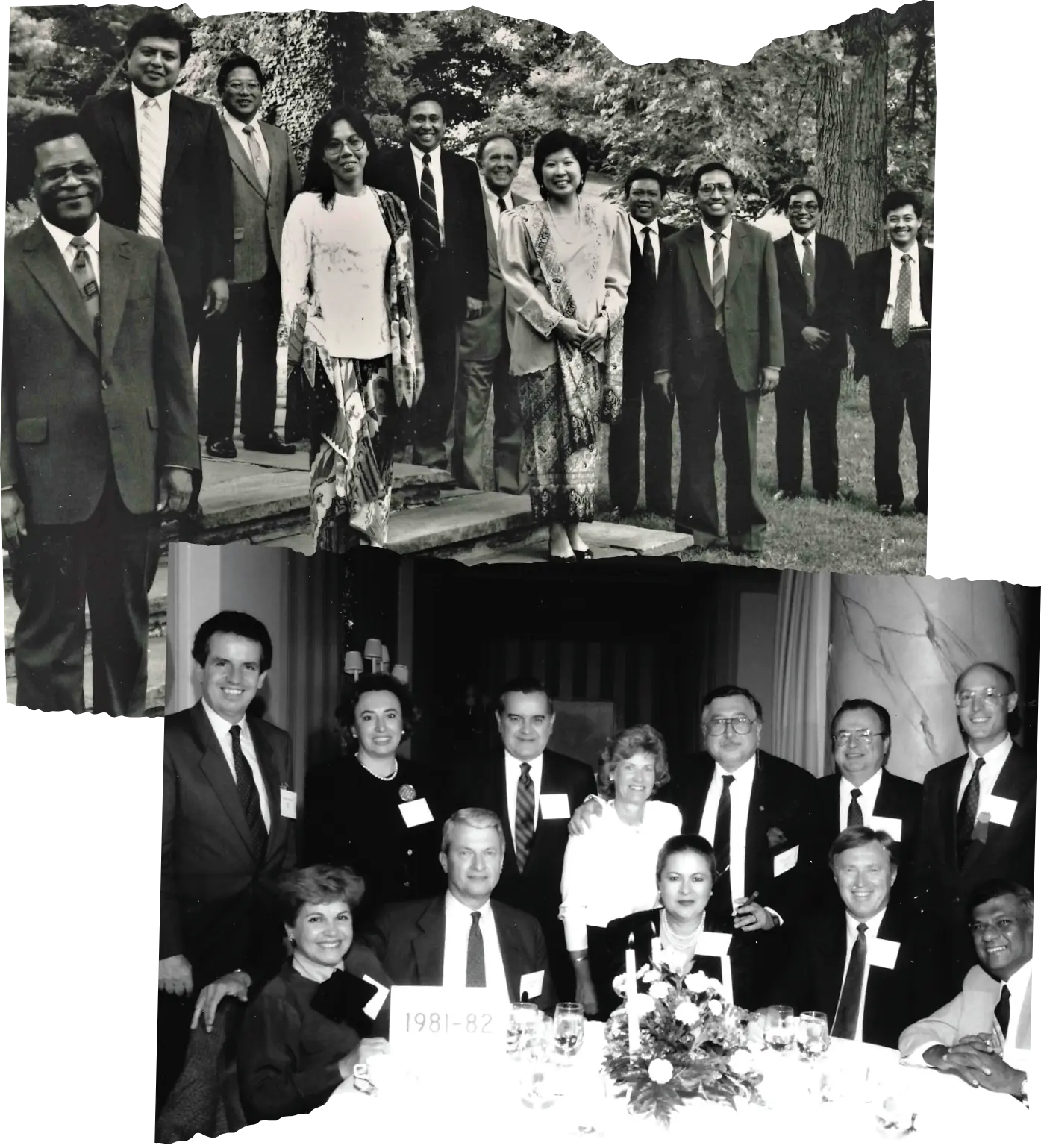 In October 1990, President George H. W. Bush signs a bill sponsored by Senator Robert Dole and Representative Pat Roberts of Kansas permanently endowing Eisenhower Fellowships with the annual interest from a $5 million federal trust fund that grows to $7.5 million after receiving $2.5 million in matching private donations.
That month EF hosts its first World Forum since 1976. Some 208 Fellows from 63 countries gather in Philadelphia, many of them with spouses and children, for a four-day conference, "From Fellowship to Partnership."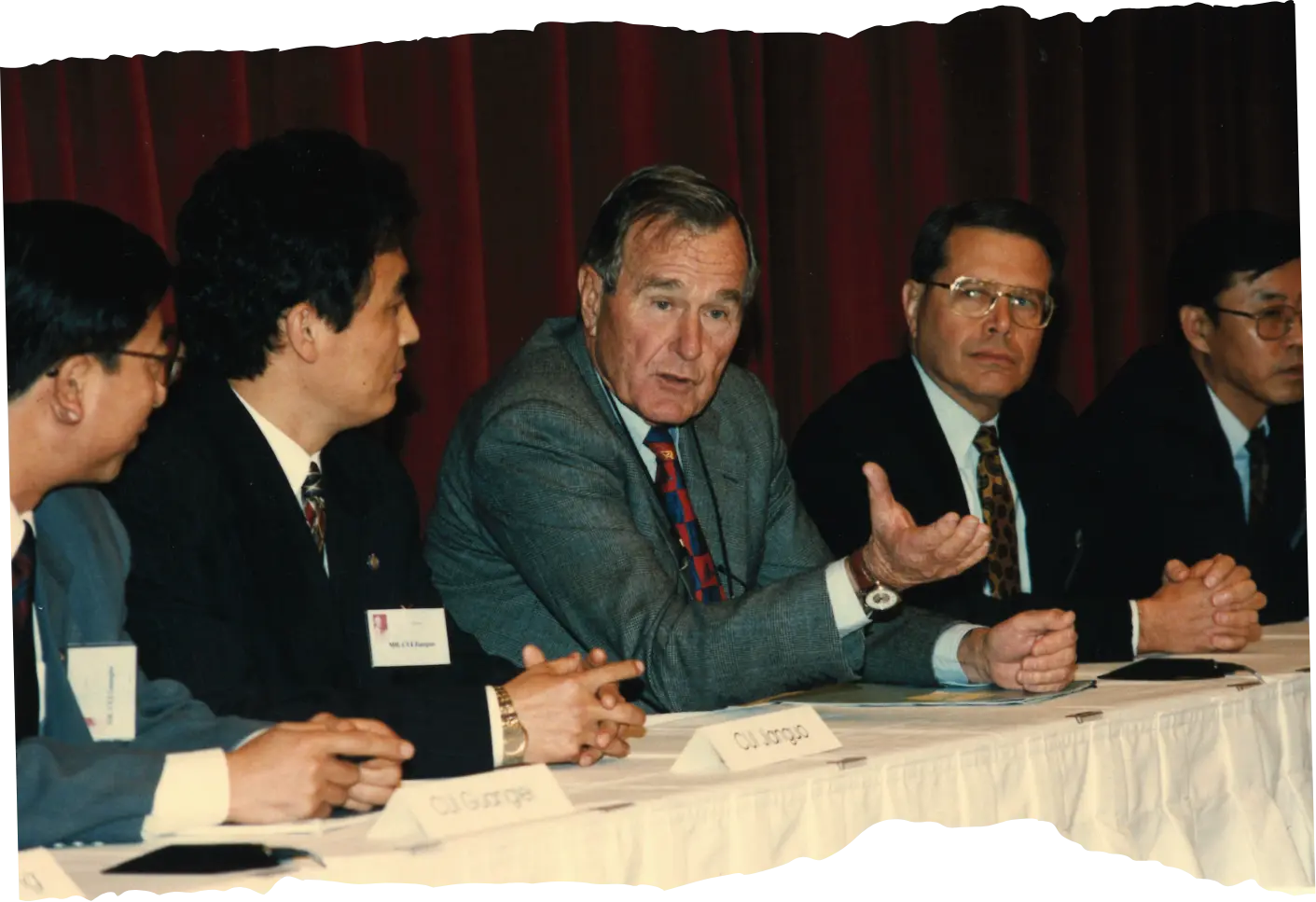 In 1991 EF raises more than $10 million for its endowment in a successful capital campaign, capped by $1.2 million in gifts from Fellows around the world.
In 1993, former President George H. W. Bush becomes EF chairman. By the end of the decade, his personal efforts help establish two programs for China, reflecting that country's growing influence.
After South Africa ends apartheid, EF hosts a South Africa Single-Nation Program in 1994, hosting 13 Fellows drawn from that country's major ethnic groups.
1995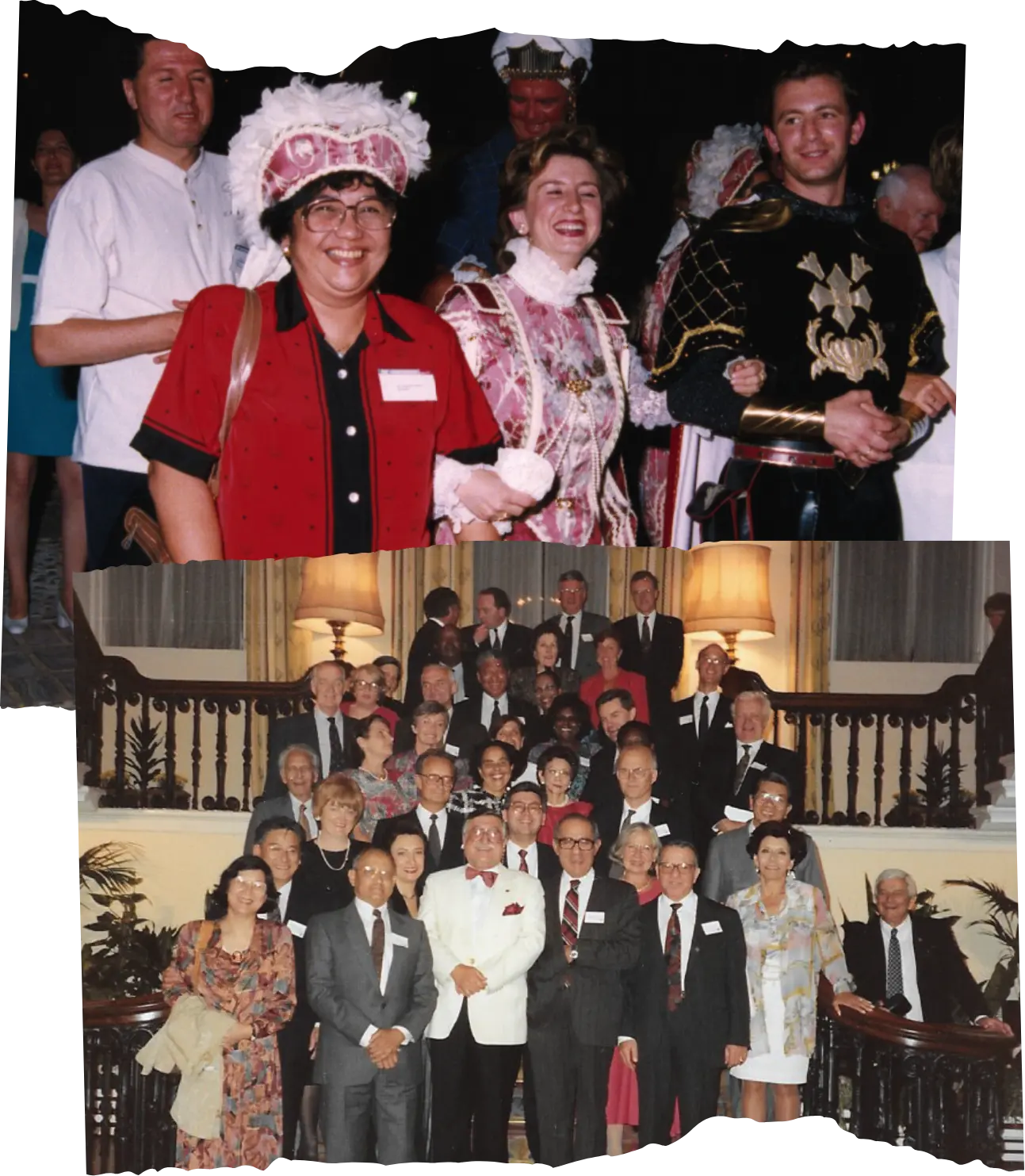 A conference in Athens underscores the commitment to strengthening the global network, attracting Fellows from around the world. Fellows' activities flourish, with formal associations formed in Mexico, Italy and Brazil.
Fellows from Argentina, Brazil and Poland launch websites, with EF unveiling its official site soon afterwards.
1996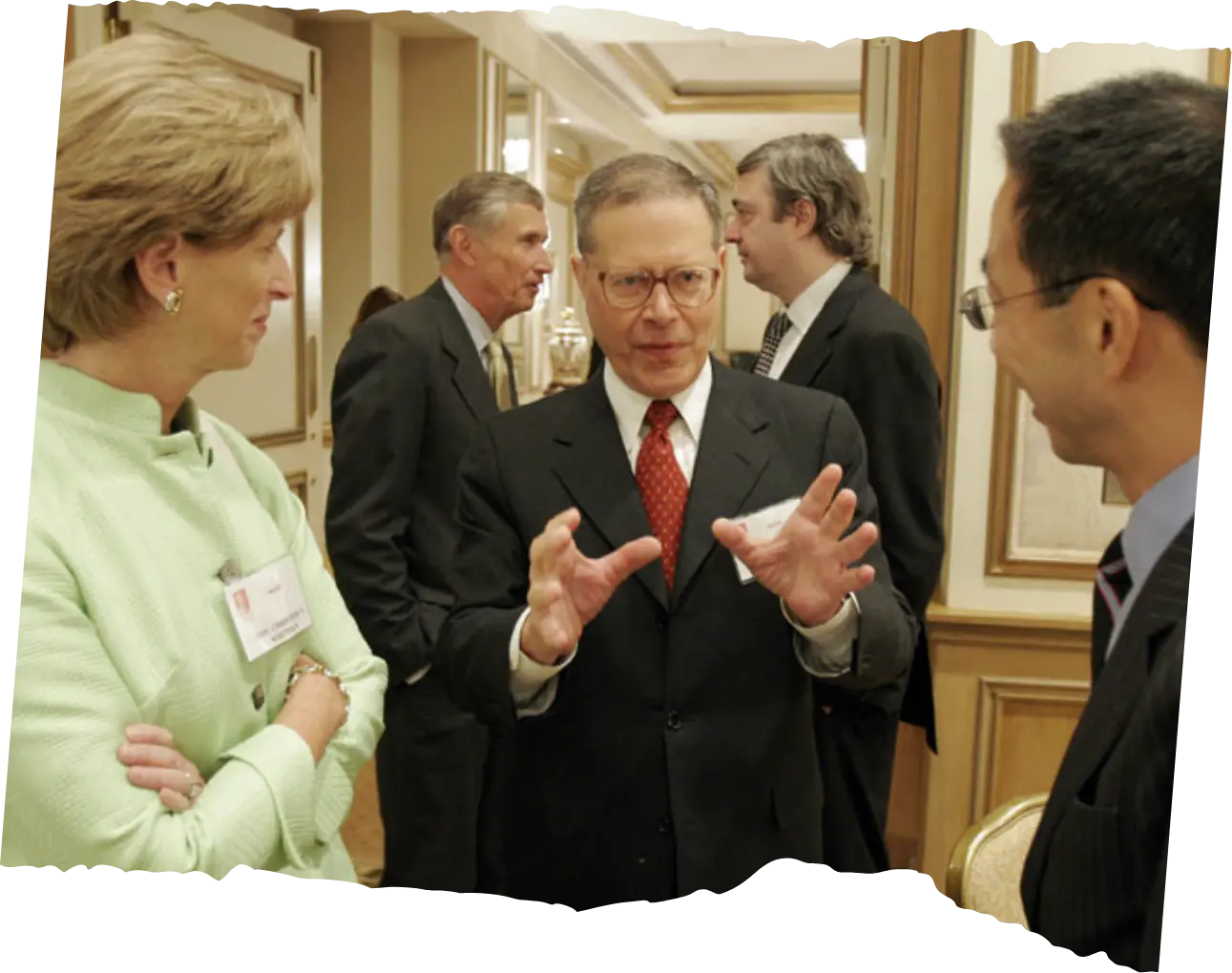 Distinguished American diplomat Adrian Basora, former U.S. ambassador to Czechoslovakia and director of European affairs on the National Security Council, is appointed the eighth president of EF.
The Multi-Nation Program hosts its largest group since 1989 with 25 Fellows. Ten U.S. Fellows visit seven countries, including first-time destinations Bulgaria and Malaysia.
1997

The Multi-Nation program features a record ten women among its 24 Fellows. The Fellows Network gathers at a global conference in Alicante, Spain, drawing 110 international attendees.
1998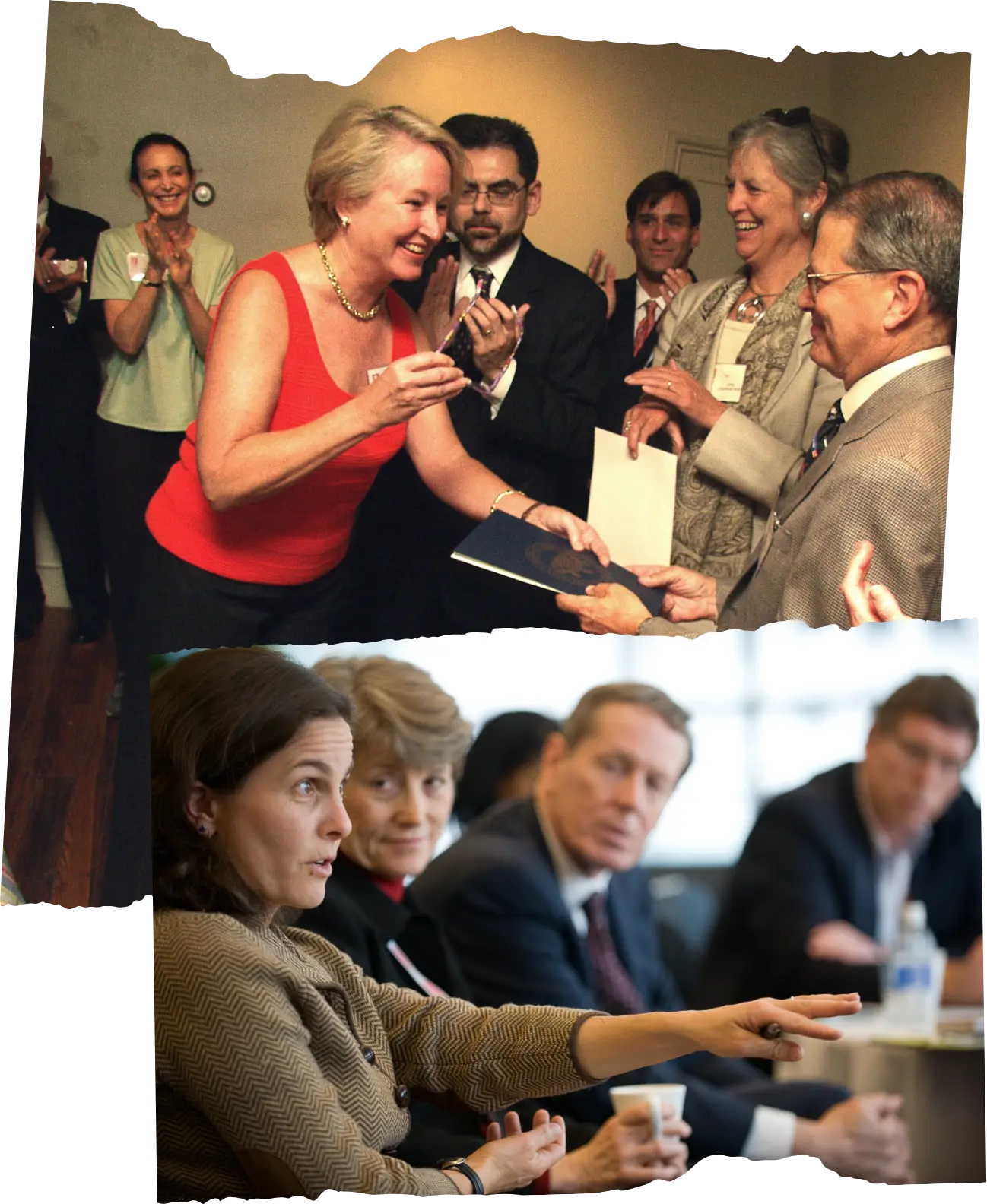 A task force of Trustees, Fellows and staff develop a new USA Program aimed at American leaders in fields critical to the nation's needs. Modeled after the international programs, the smaller new USA fellowship sends five American fellows abroad each year for five years.
A committee of prominent business leaders in North Carolina's Raleigh Research Triangle helps launch EF's first Regional Initiative, a pilot program of the new USA Program. It would sponsor Fellows from that region to travel abroad, and later host international Fellows in North Carolina.
Shortly thereafter, Philadelphia follows suit with its own Regional Initiative, a USA Program hub in EF's home city.
1999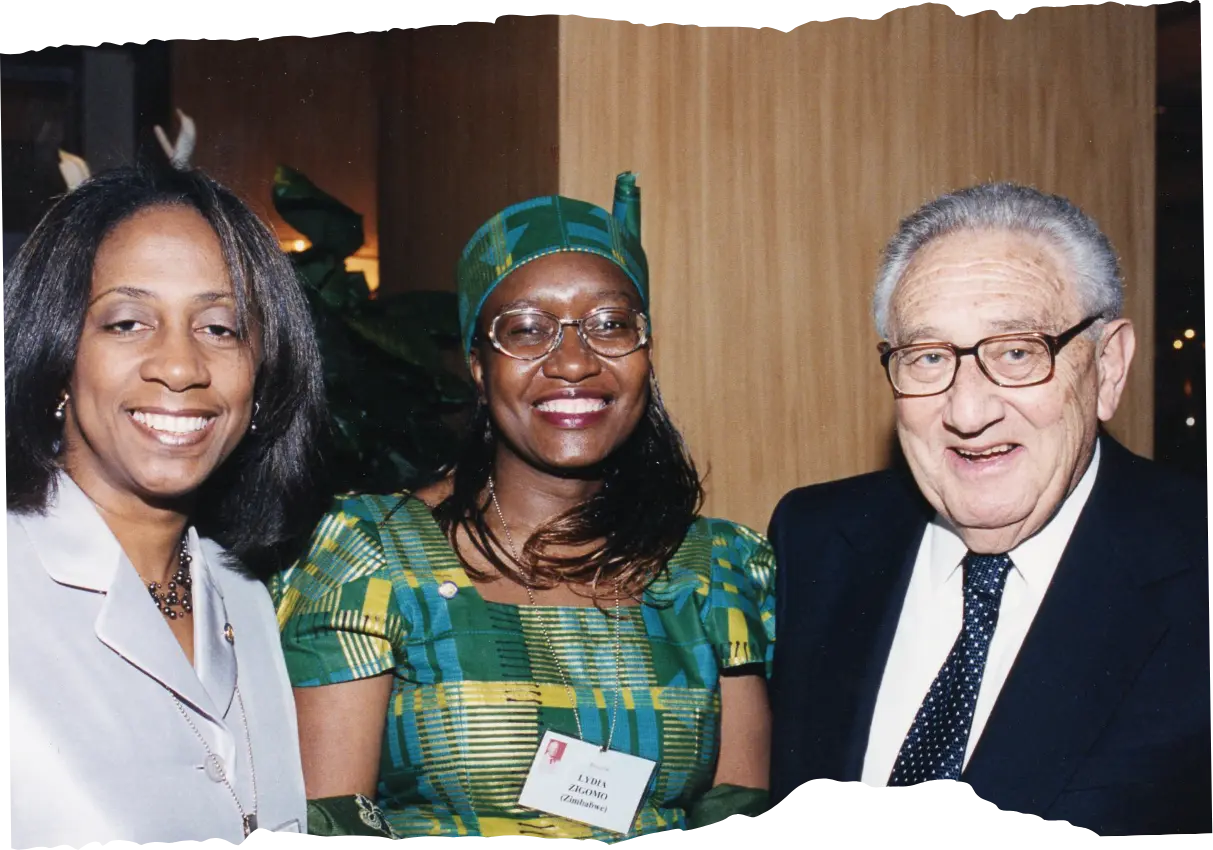 Former U.S. Secretary of State Henry A. Kissinger becomes chairman in January. He maintains the tradition of holding informal Chairman's seminars with Eisenhower Fellows.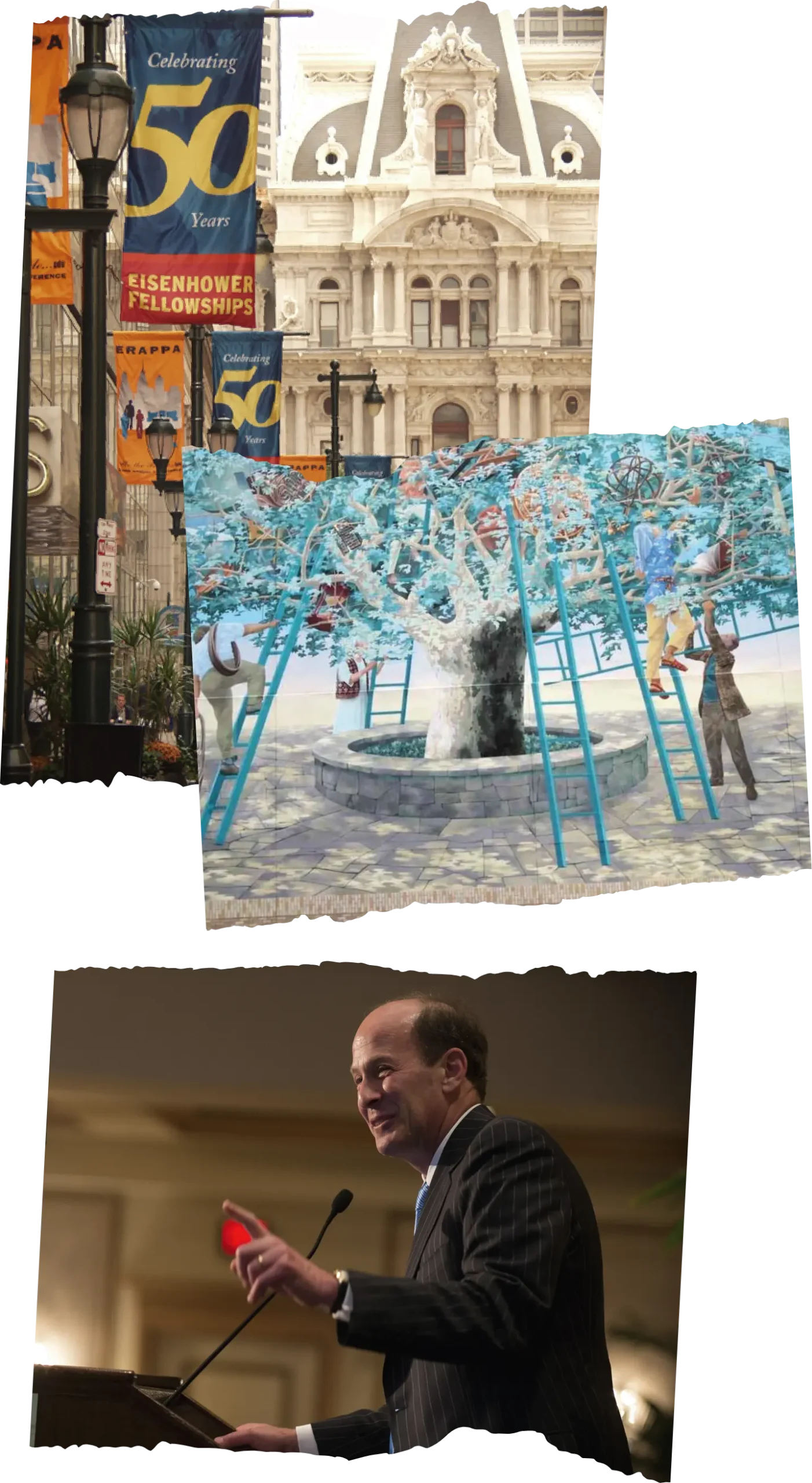 In 2003 Eisenhower Fellowships celebrates its 50th anniversary with a global conference in Philadelphia. The city hangs banners down Broad Street and a mural is unveiled near City Hall.
Distinguished American diplomat John S. Wolf, former assistant secretary of state for nonproliferation and U.S. ambassador to Malaysia, is named the ninth EF president in 2004.
That year Trustee Florence Davis and the Star Foundation announce a $1 million capital gift to the EF endowment.
2006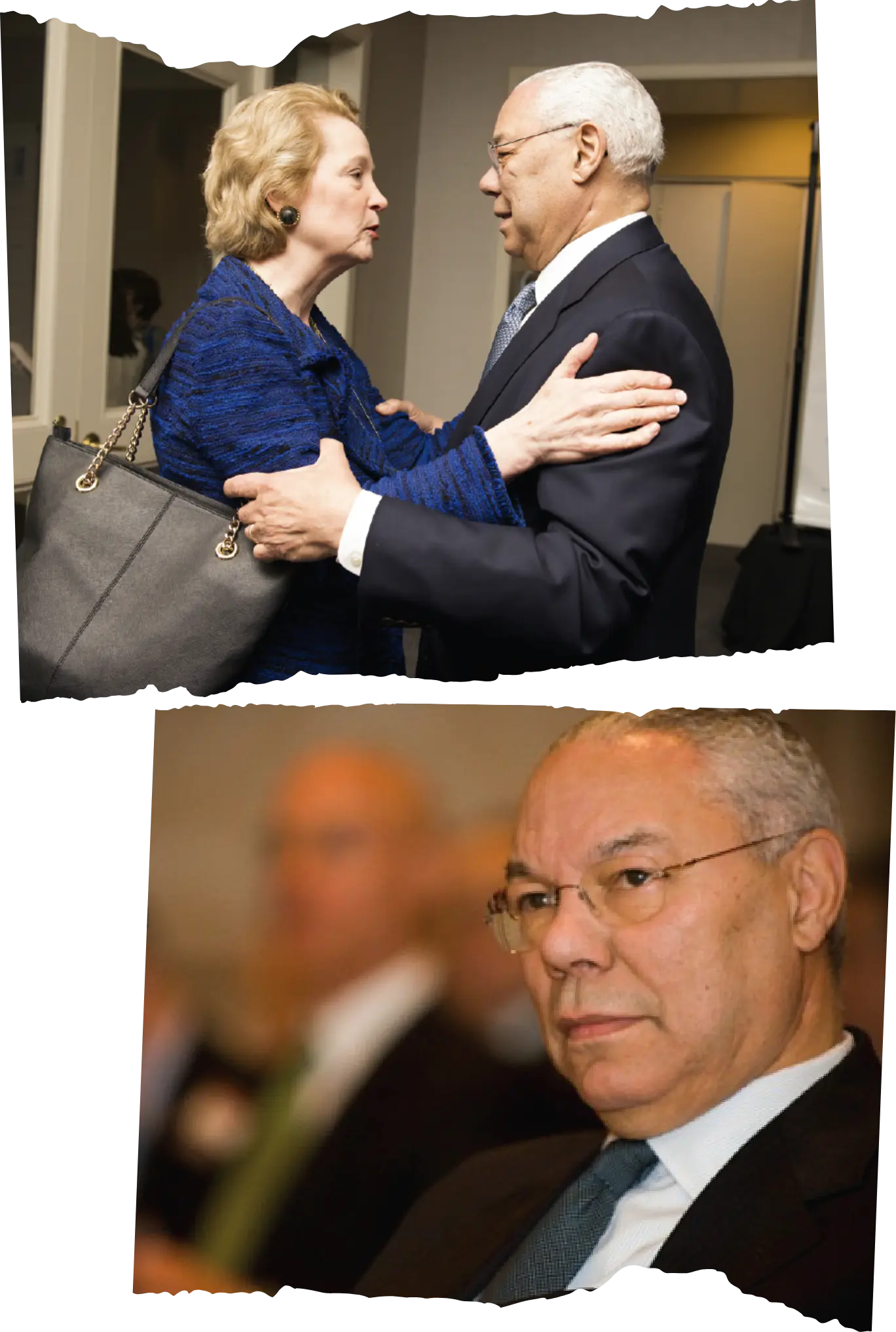 General Colin L. Powell, former chairman of the Joint Chiefs of Staff and U.S. secretary of state, becomes EF chairman.
EF creates new regional hubs for its USA Program in New England and St. Louis.
The Annenberg Foundation, the family philanthropy of EF co-founder Walter Annenberg, announces a $1 million capital gift.
2007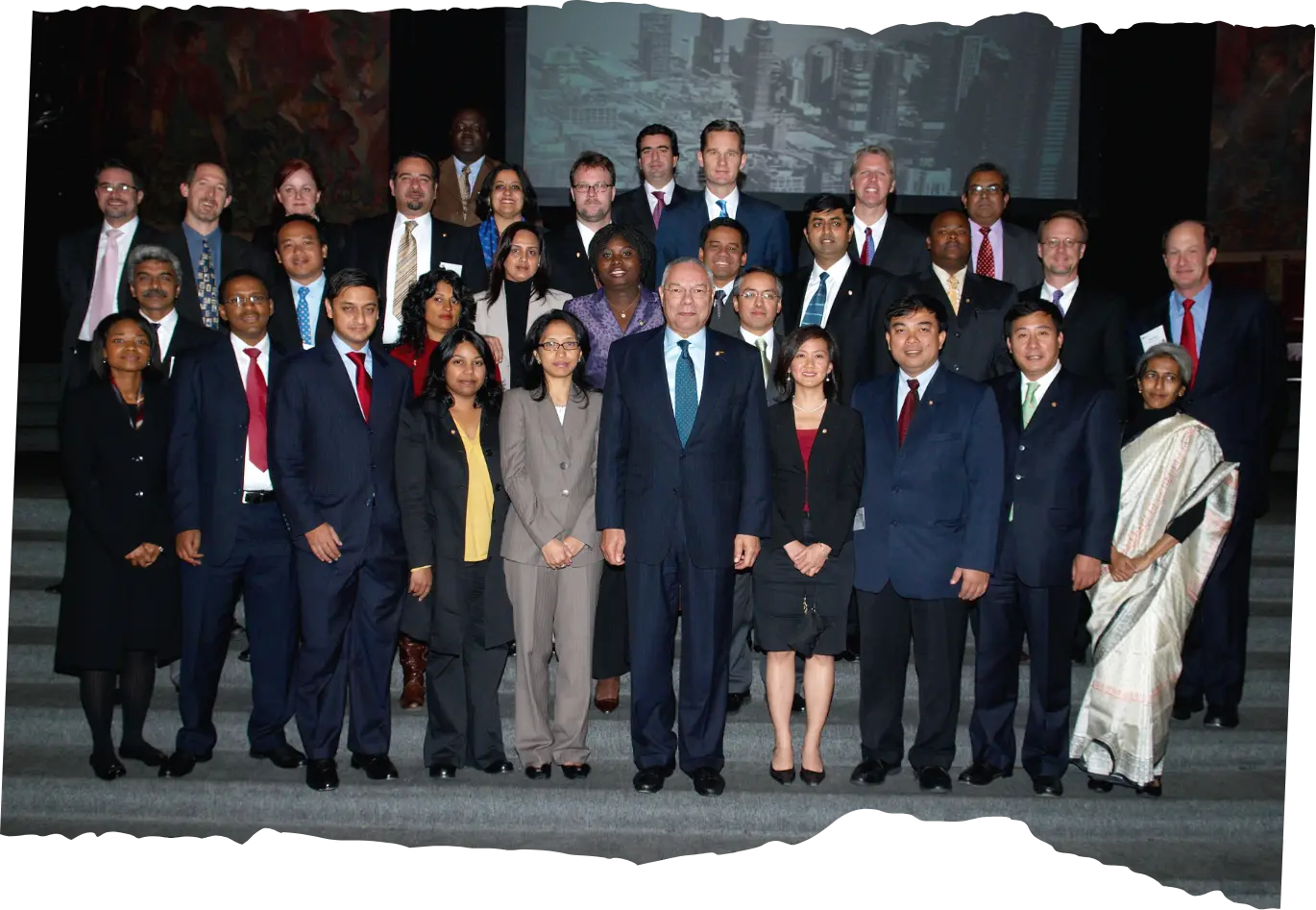 EF introduces its Common-Interest Programs, tailored to individual professional sectors, complementing annual fall programs focused on specific countries or regions of the world.
2008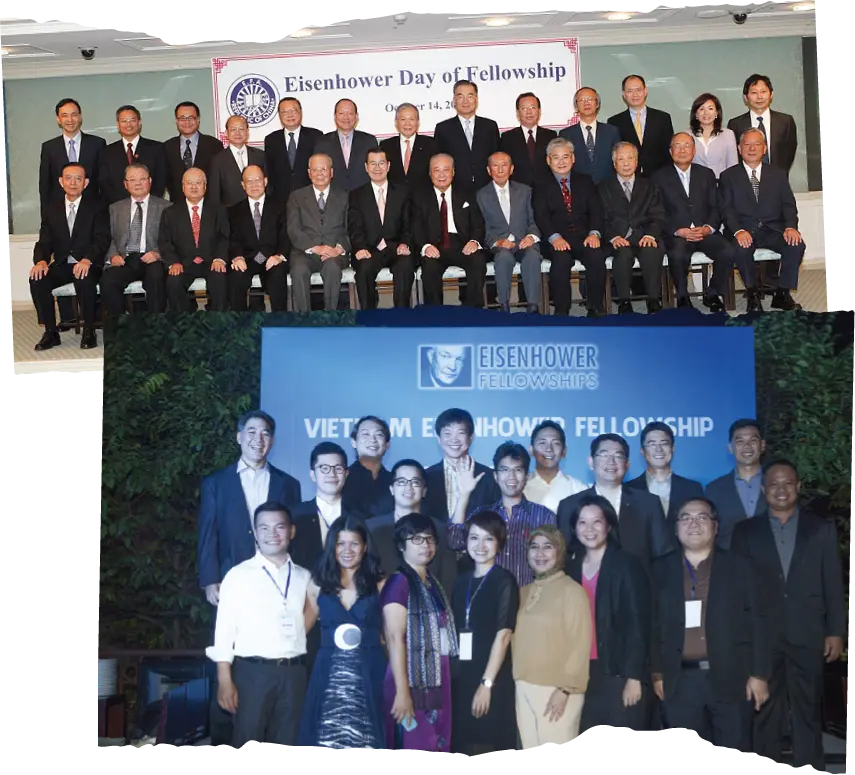 EF establishes the annual Eisenhower Day of Fellowship on October 14, Ike's birthday, to elevate the organization's visibility and advance its mission. Fellows are urged to convene and undertake activities to foster understanding.
The Board of Trustees establishes the annual Distinguished Fellow Award to honor a Fellow or Fellows for outstanding leadership within the EF network and significant professional achievement.
2010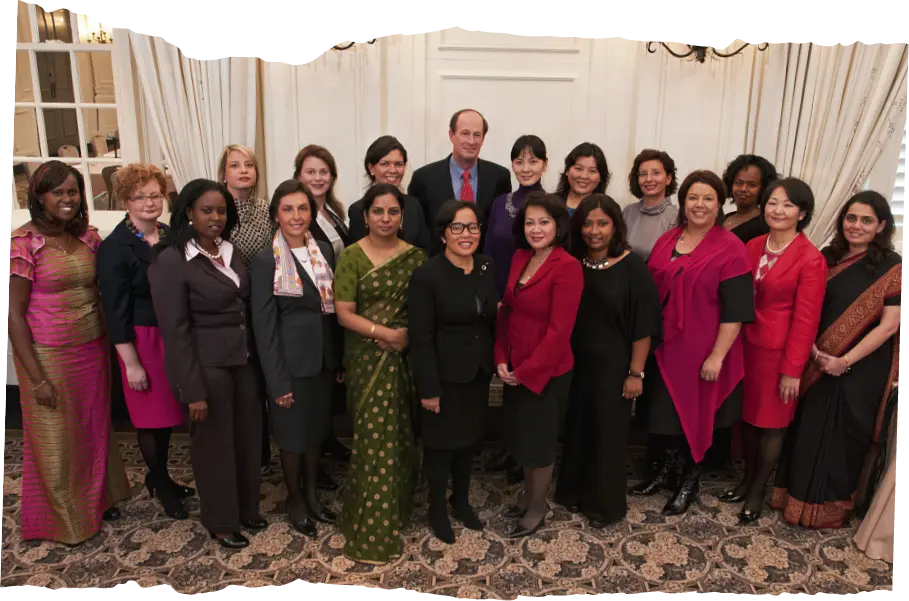 EF introduces its first Women's Leadership Program, hosting 19 women from 14 countries.
2011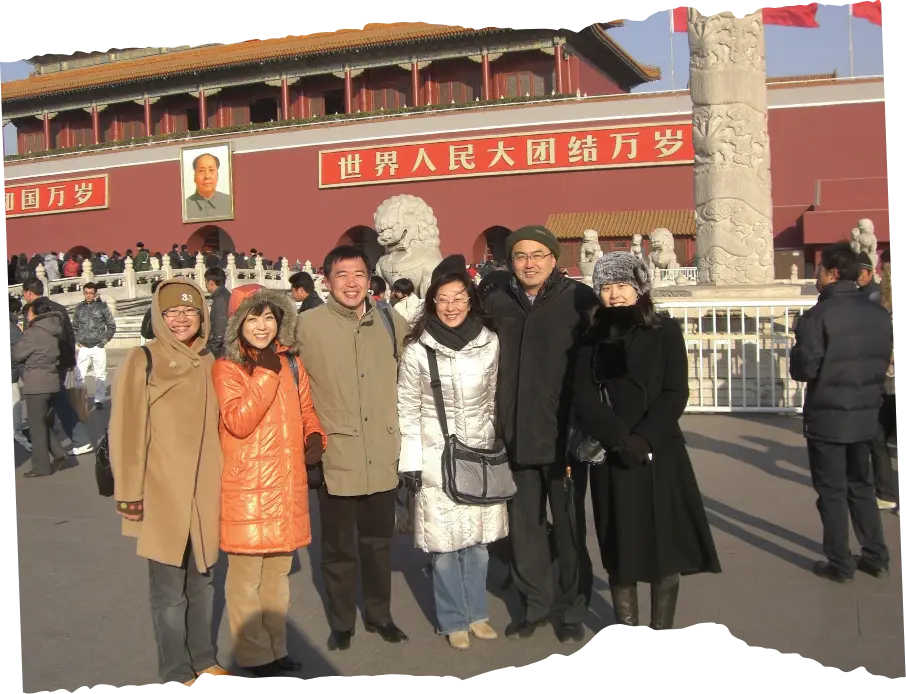 EF's Northeast Asia Regional initiative brings together Fellows from China, Taiwan, Japan, South Korea and Mongolia, aiming to strengthen ties within the region and with the U.S.
2012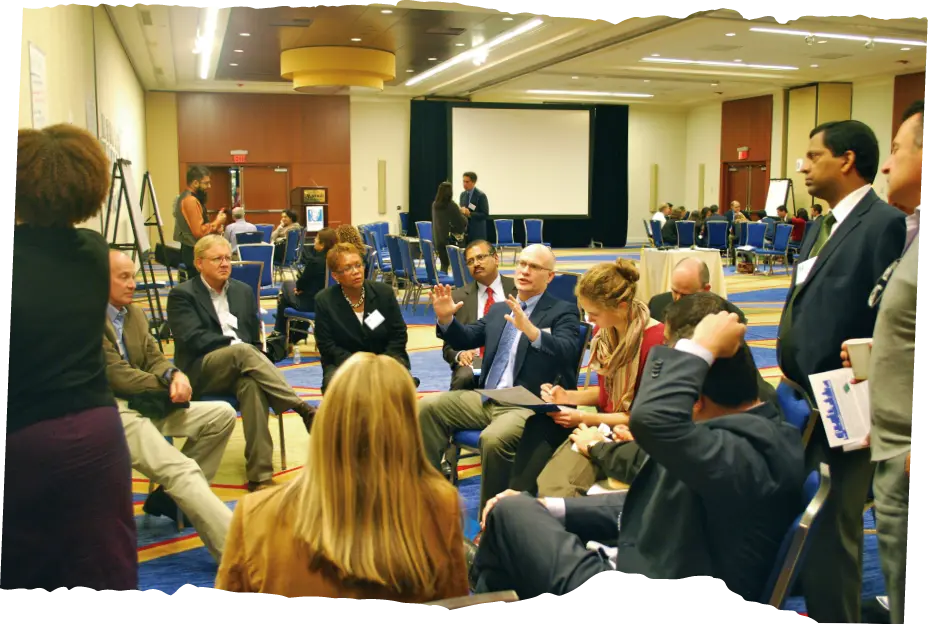 Fellows in New England organize EF's inaugural "unConference" in Boston, aimed at fostering innovative project collaborations globally. The gathering attracts 60 Fellows from eight nations.
In Colombo, Sri Lanka, South Asian Fellows convene a regional conference, "South Asia on the Move: Achieving 21st Century Potential."
2013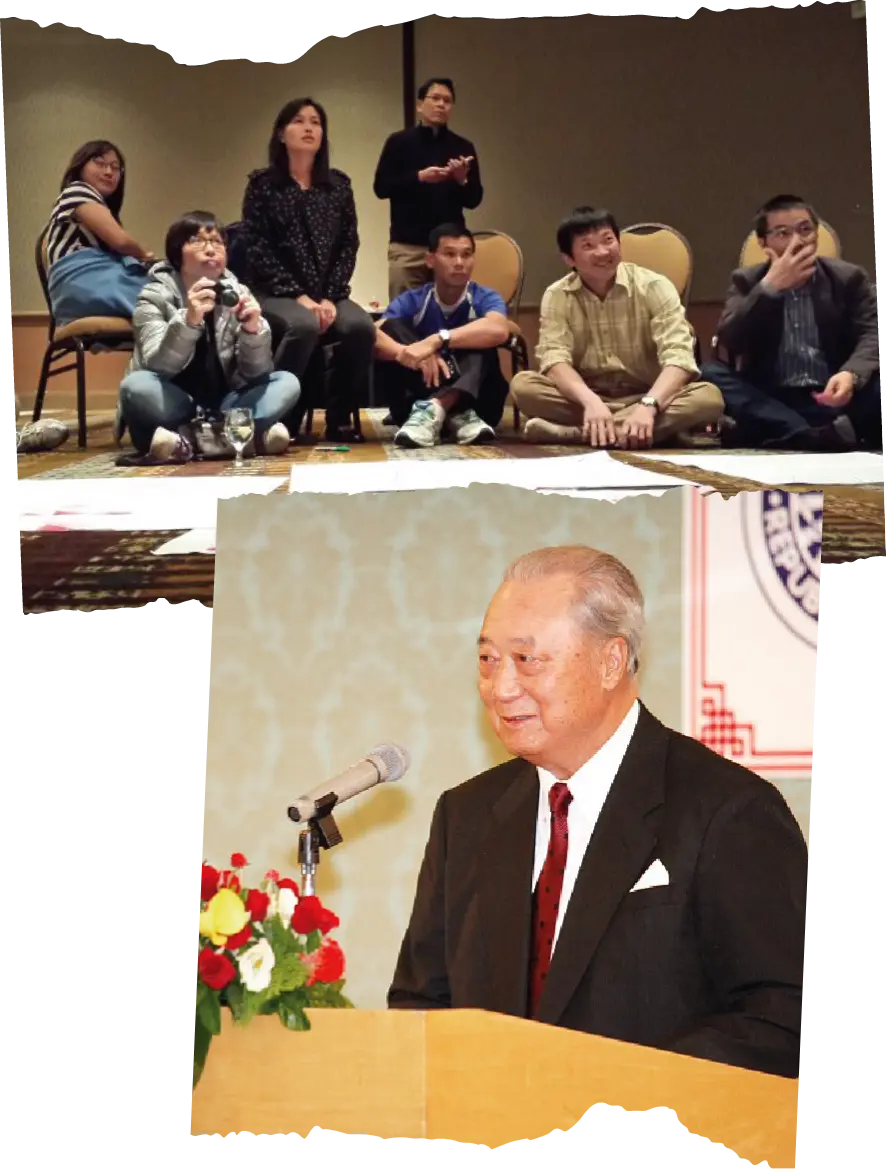 EF hosts a groundbreaking Southeast Asia Program, bringing to the U.S. for the first time Fellows from Vietnam, as well as other countries from the region.
The second international "unConference" is held in St. Louis, focusing on global issues, drawing Fellows from more than 20 countries.
Taiwan entrepreneur Dr. Jeffrey Koo announces a $1.25 million capital gift to establish an annual China Trust Koo Fellowship.
2014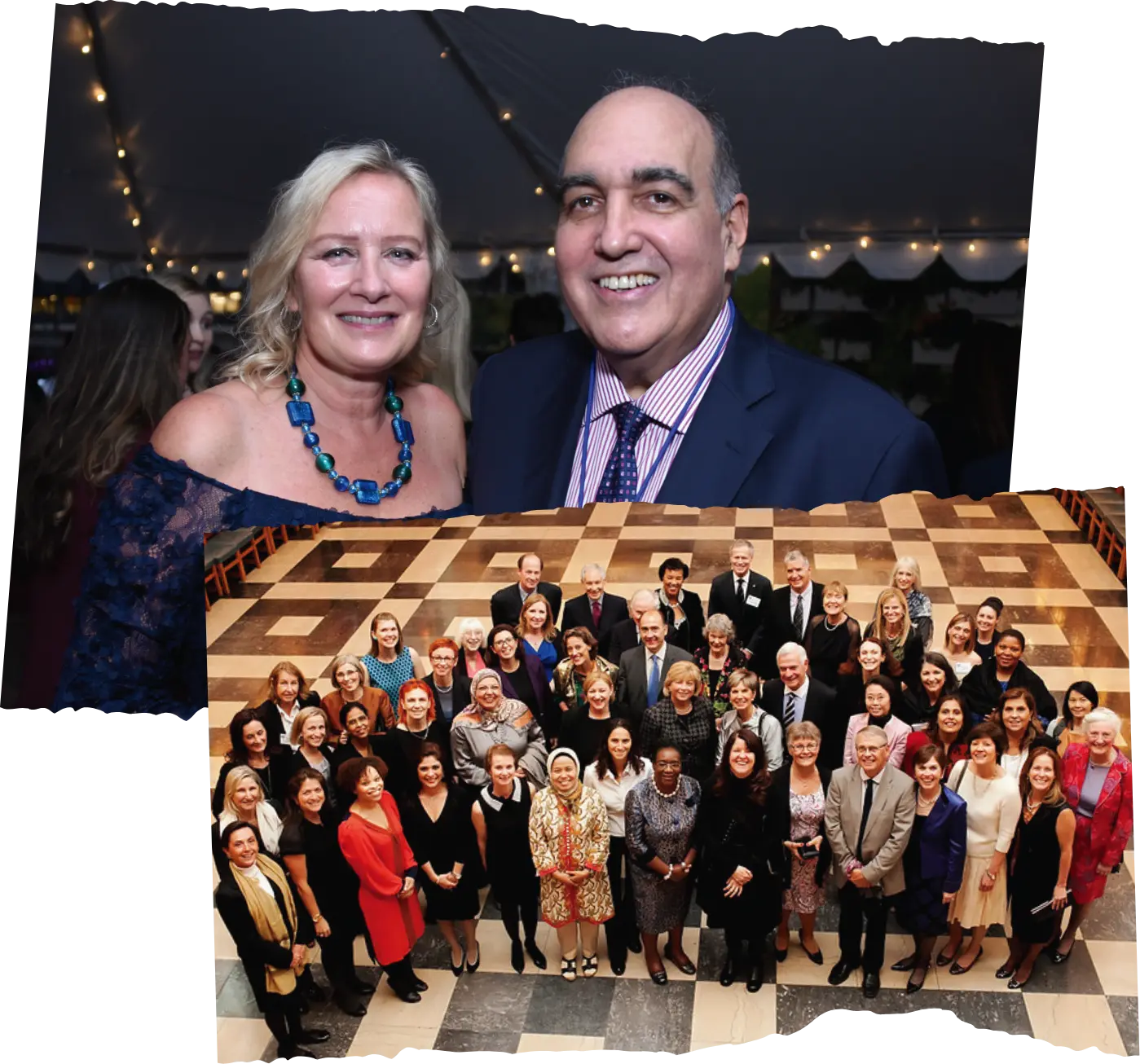 George de Lama, a distinguished American journalist and former international development official, is appointed EF's 10th president.
EF hosts a Women's Leadership Conference in London, U.K., focusing on using the EF network to support the personal and professional growth of women leaders in politics and other fields.
2015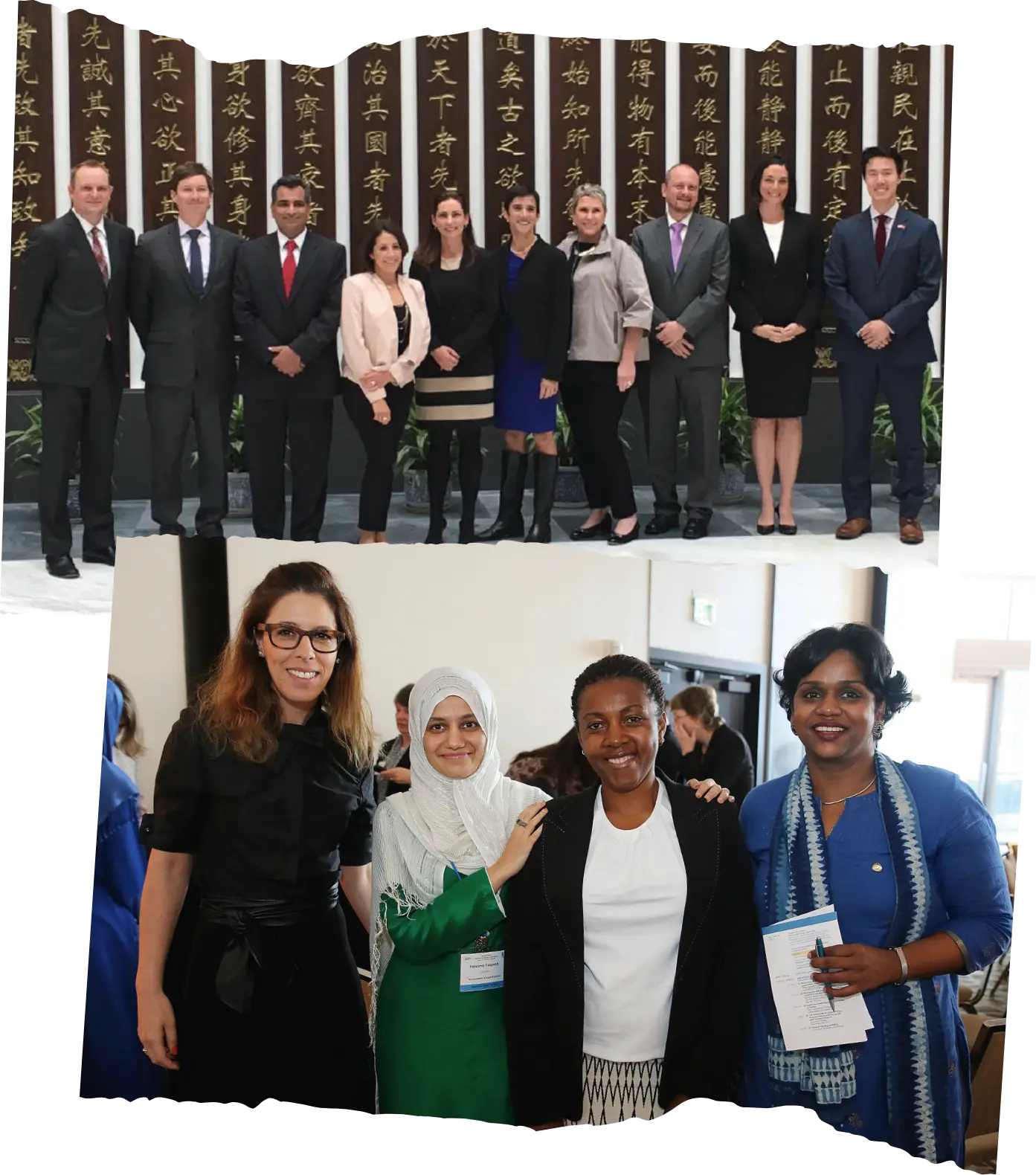 EF launches the Zhi-Xing China Eisenhower Fellowship, sending 10 American Fellows to China yearly, doubling the size of the USA Program to 20 Fellows per year.
EF establishes new requirements that all Fellows must carry out concrete projects with a tangible, real-world impact and mentor younger leaders behind them.
EF's second Women's Leadership Program concludes with a stirring conference in Miami, "Advancing Women's Leadership" co-hosted with other organizations, attracting more than 220 participants from 41 nations.
2016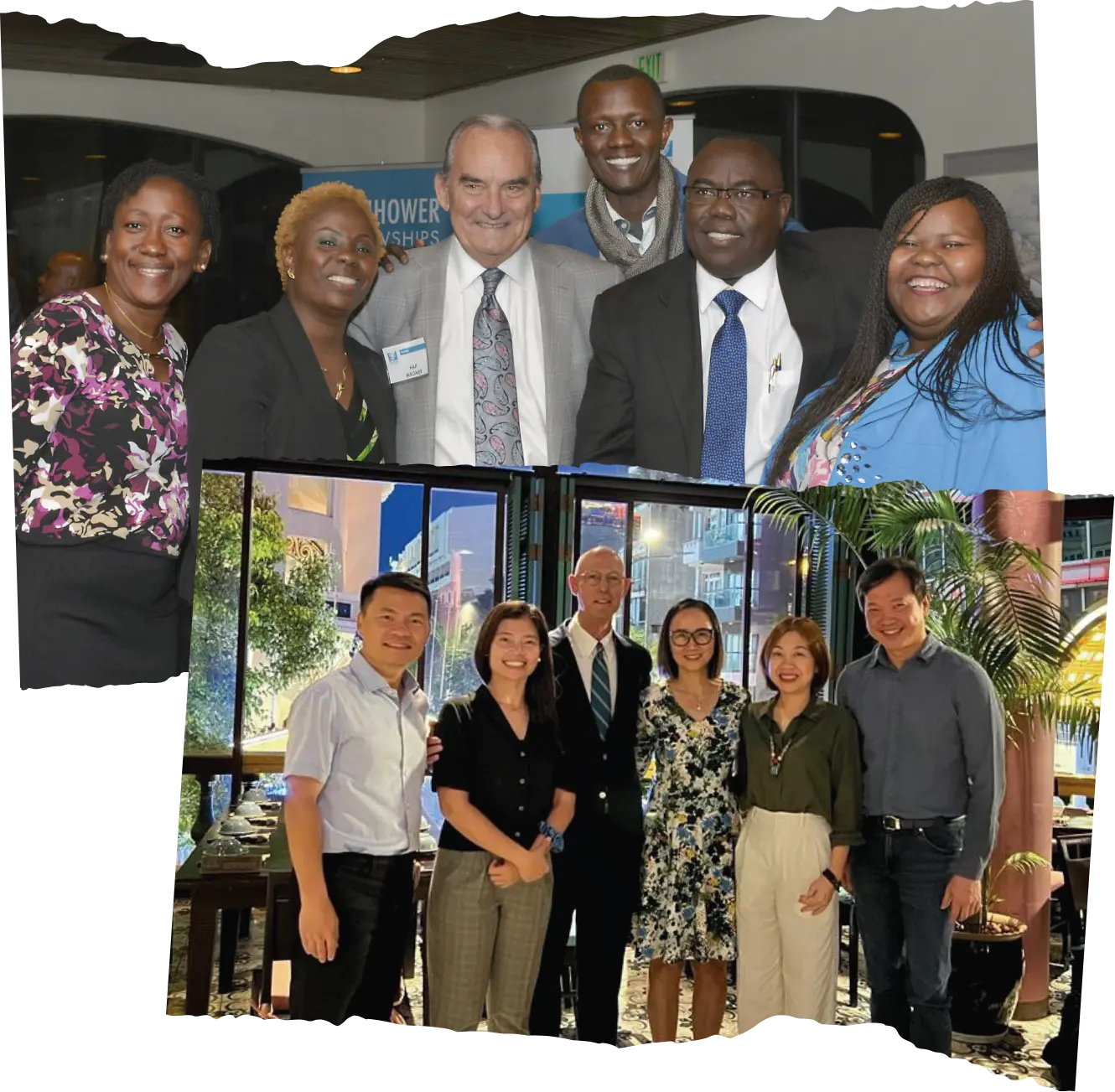 The Board of Trustees approves a new five-year strategic plan calling for maximizing the impact of EF's programs, expanding the USA Program, intensifying network outreach, diversifying its Board governance, increasing its annual fundraising and growing its endowment.
Over the next few years, Trustees Harold "Hap" Wagner, John McDonnell, Mark Grier, James Hovey, Edgar Cullman, Roger Nores and former staff member Constance H. Williams all give or pledge seven-figure gifts to EF.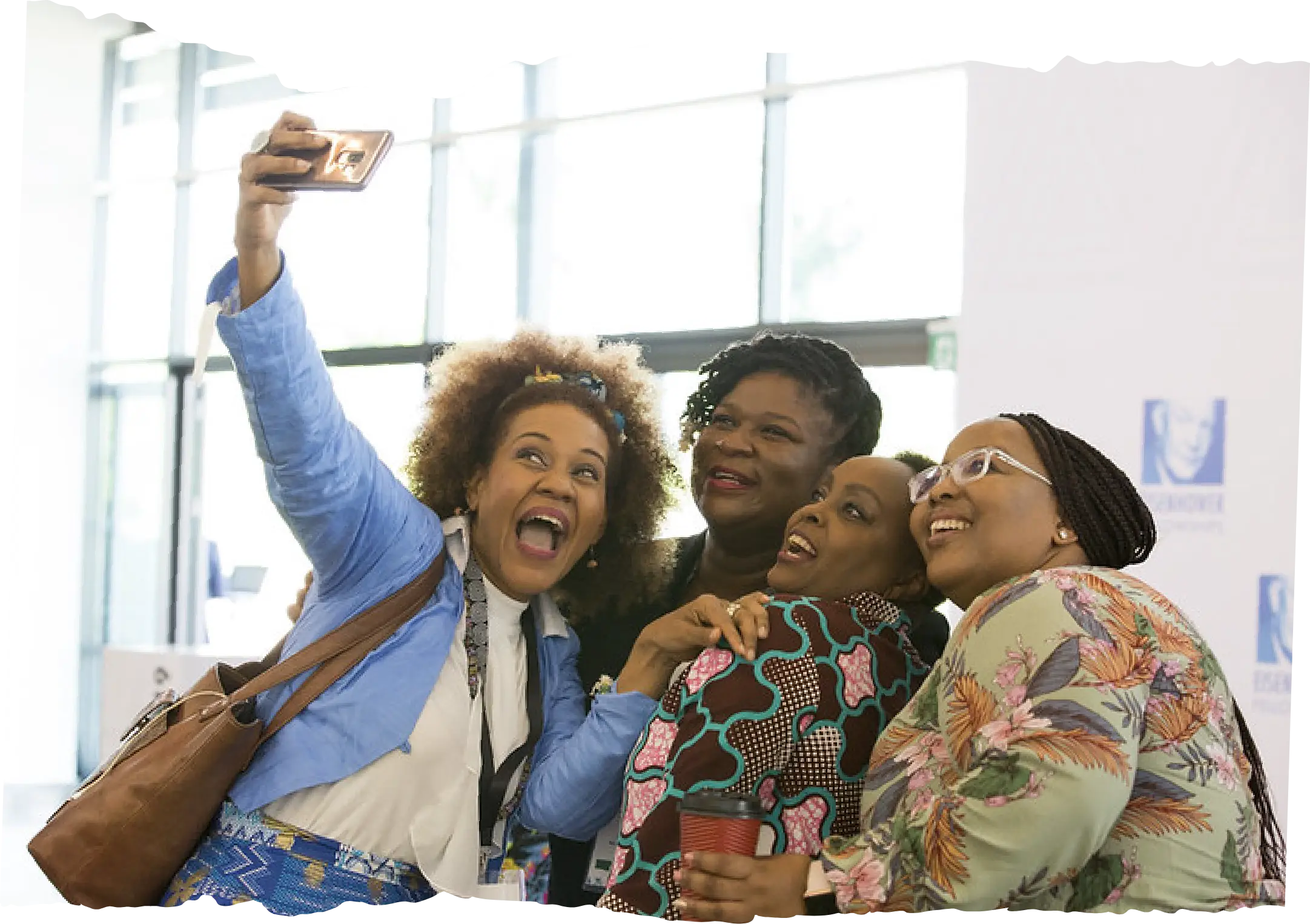 They join longtime Trustee Keith Wheelock, son of EF co-founder Ward Wheelock, in making individual contributions ranging from $1 million to $2.5 million.
EF expands its USA Program coast to coast, adding regional hubs in Chicago, San Francisco, Los Angeles and Miami.
EF holds its first regional program dedicated to Fellows from Sub-Saharan Africa. A record more than 800 applicants compete for 25 slots. President Obama hosts the Africa Fellows in the White House Rose Garden.
2017
Fellows from India, Pakistan, Sri Lanka and Bangladesh organize a "South Asia Rising" conference in Dubai in February, drawing more than 240 attendees from 19 nations, including ex-Pakistani President Pervez Musharraf.
In September EF holds its first global conference in more than nine years, "The Future of Work," attracting nearly 330 participants from 41 countries to Malaga, Spain. The event showcases Fellows' projects of impact introduces EF's new Youth Leadership Network, 32 young leaders from 20 countries mentored by Eisenhower Fellows.
2018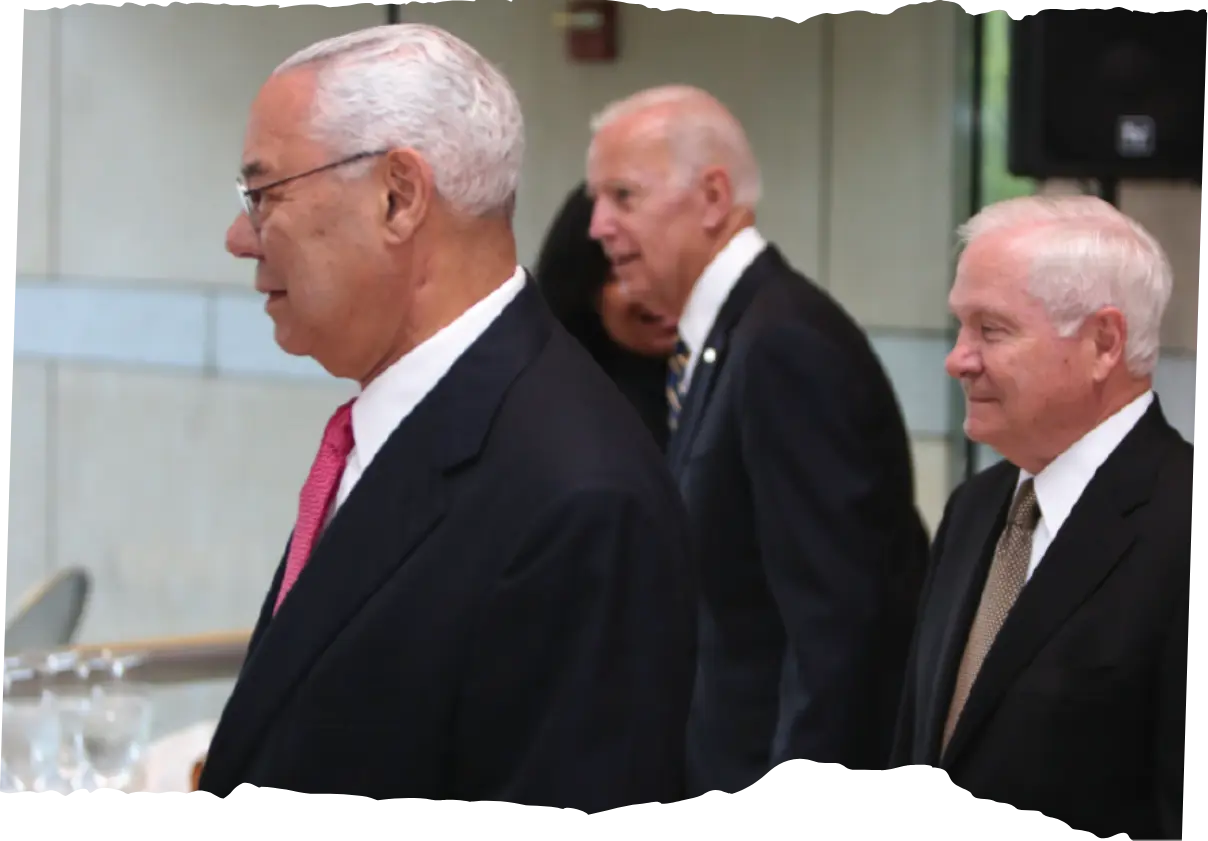 In May, General Colin L. Powell, steps away after 12 years as EF chairman. Former U.S. Secretary of Defense Robert M. Gates succeeds him.
At General Powell's farewell dinner at the National Constitution Center in Philadelphia, former Vice President Joe Biden honors both leaders and celebrates EF with a keynote address before launching his successful run for the White House.
More than 400 invited guests attend the General's dinner and another 330 the Annual Awards Dinner at the Philadelphia Art Museum welcoming Chairman Gates the following evening, a total of nearly 750 people in two nights.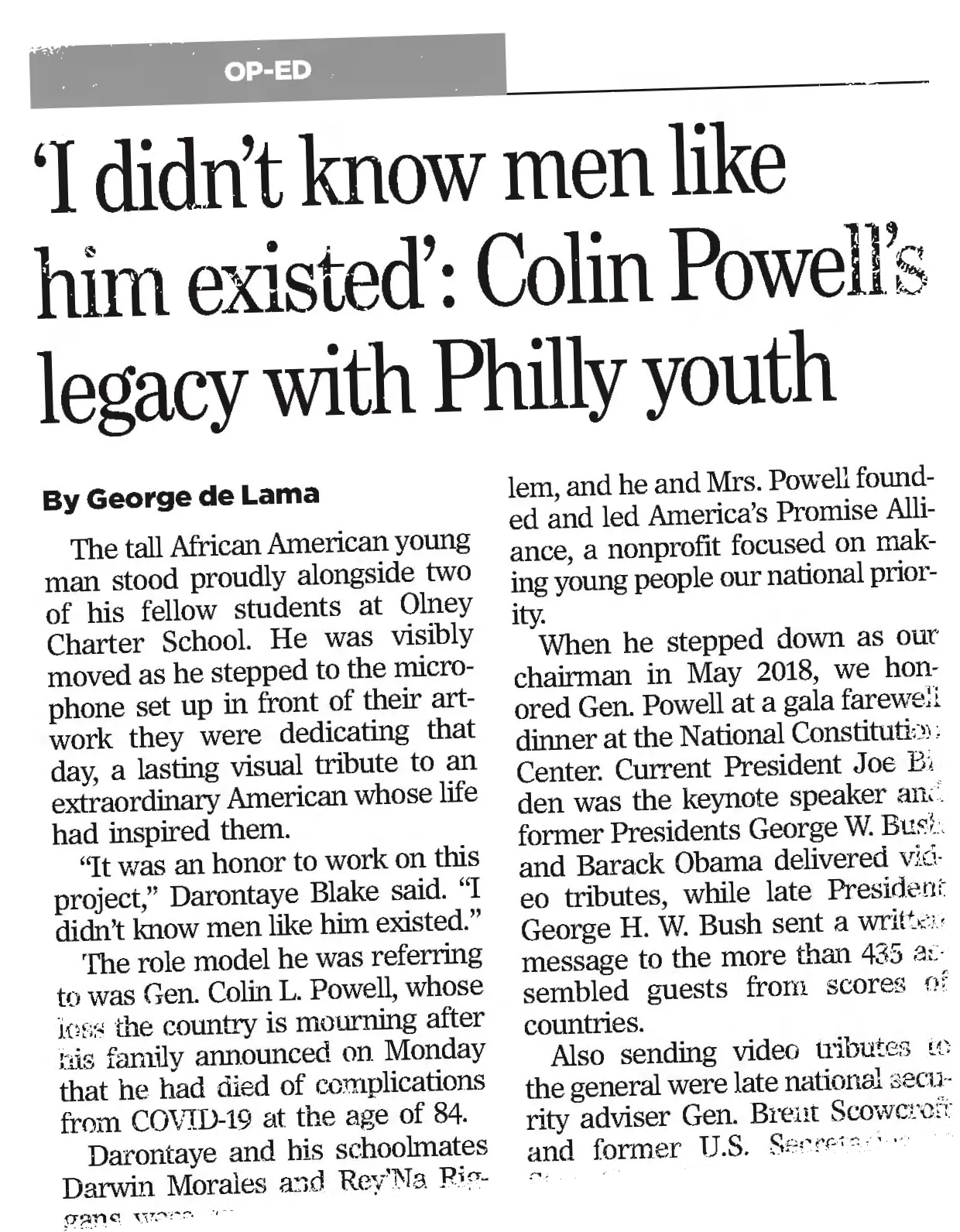 EF hosts a record 75 international and USA Fellows, secures record annual operational revenue for a third consecutive year and welcomes to the Board its first Trustees from India and Pakistan
In October EF hosts a special Saudi Arabia Program, with seven dynamic women leaders among the 11 Fellows brought to the U.S.
In November, Fellows organize a Women's Leadership Conference and European regional conference in London.
2019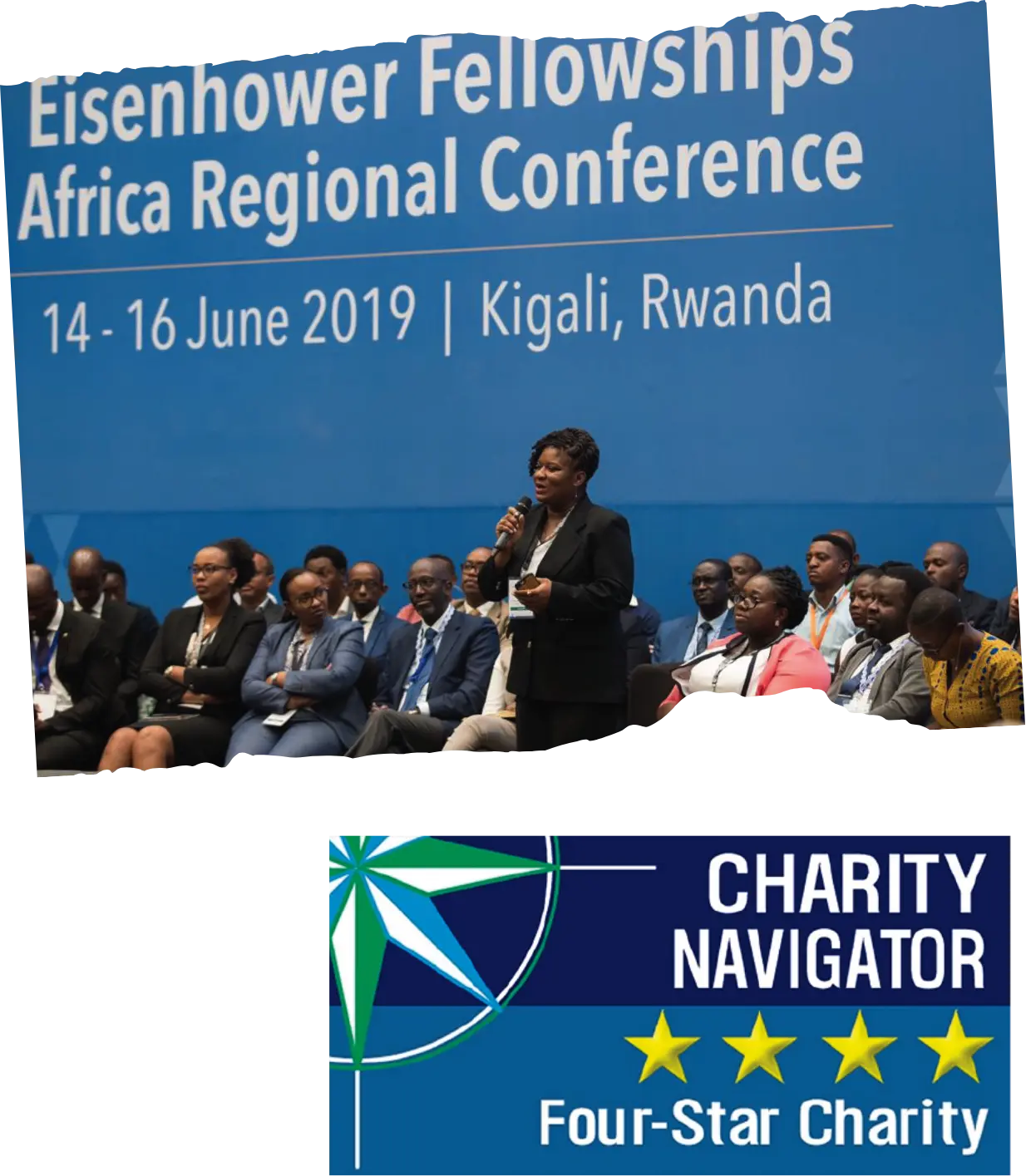 In April EF marks the 30th anniversary of its 1989 All-Ireland Regional Program with an "Island of Ireland" Program, selecting 14 Fellows, seven from the North and seven from the South.
In June EF holds its first Africa conference in Kigali, Rwanda, attracting more than 220 participants from 21 countries, including seven Trustees. Rwandan President Paul Kagame is interviewed on stage by EF President de Lama and takes questions from Fellows for 90 minutes.
EF hosts a record 79 international and USA Fellows, registers its fourth consecutive year of record annual fundraising and earns Charity Navigator's top four-star rating for the sixth straight year.
2020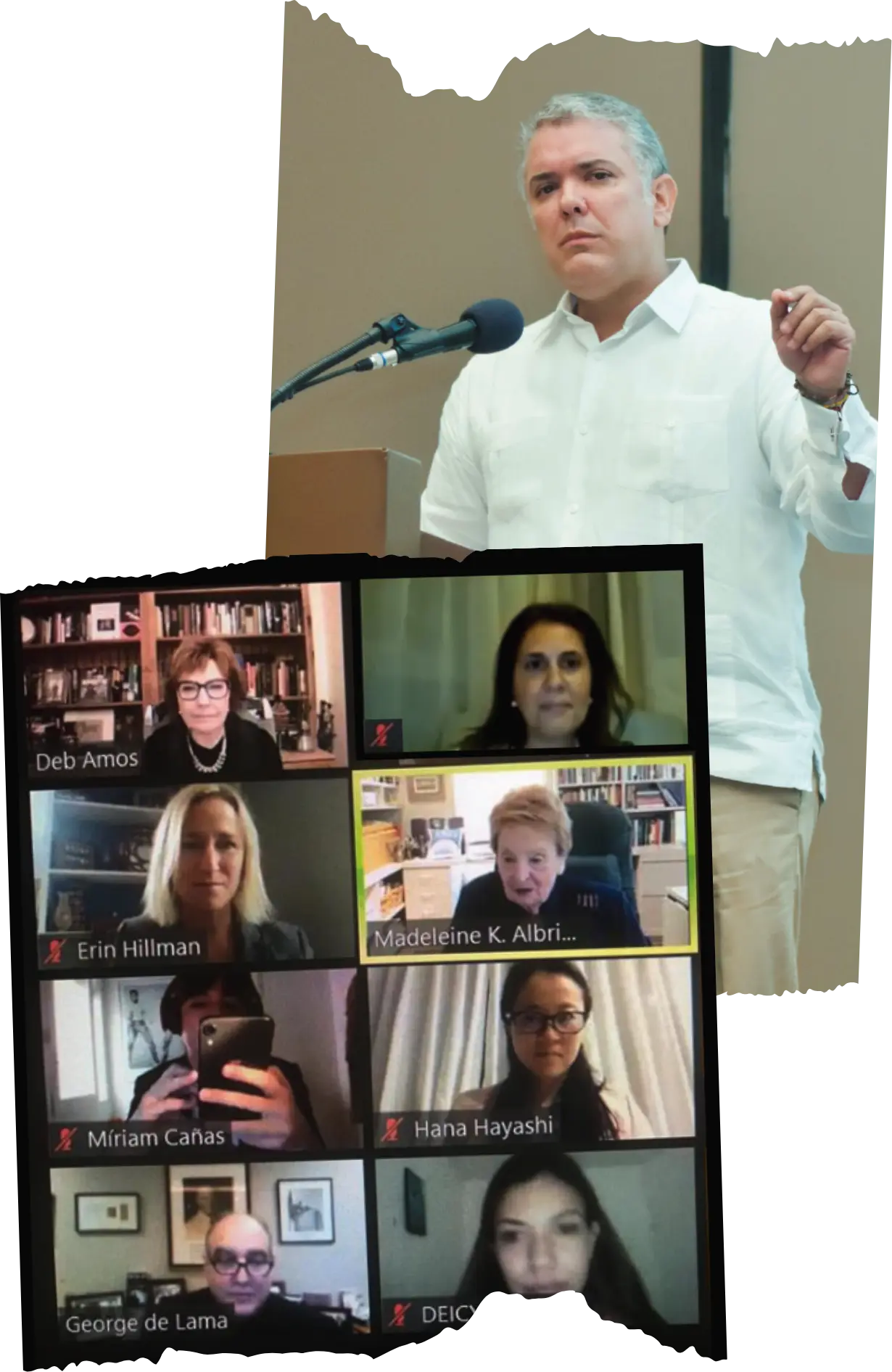 In February EF holds a global conference, "The Future of Education" in Cartagena, Colombia. Colombian President Iván Duque Márquez delivers a keynote address.
Immediately afterwards, the global Covid-19 pandemic forces EF to shut down its offices, shift to remote work and postpone several programs.
The organization reaches out to everyone who had hosted an Eisenhower Fellow in the U.S. in the previous ten years. Some 6,700 of the top people in their fields respond in writing that they are willing to host Fellows again, in person or virtually.
EF hosts its first all-virtual program, the Fall Women's Leadership Program, and holds its Annual Meeting of the Board of Trustees online.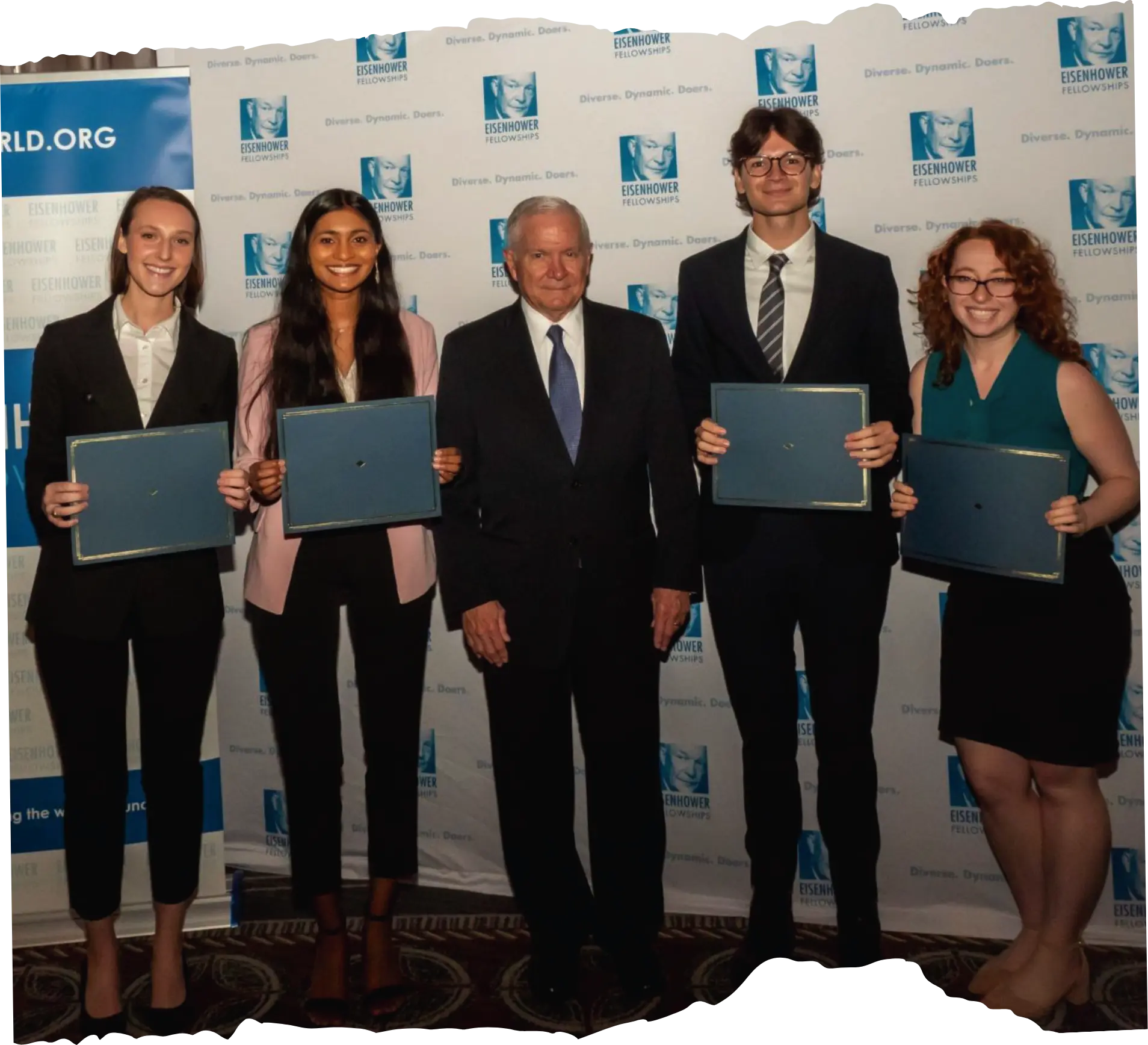 In the midst of the pandemic, EF launches the Eisenhower Global Scholars Program, sending recent American college graduates to the University of Oxford and IE University in Madrid for a year of post-graduate study leading to a Master's degree in public policy or international relations and lifelong immersion in the EF global network.
At year's end, EF announces all future fellowship programs would be hybrid, blending virtual and in-person encounters.
The Board of Trustees elects EF's first Trustee from Africa.
2022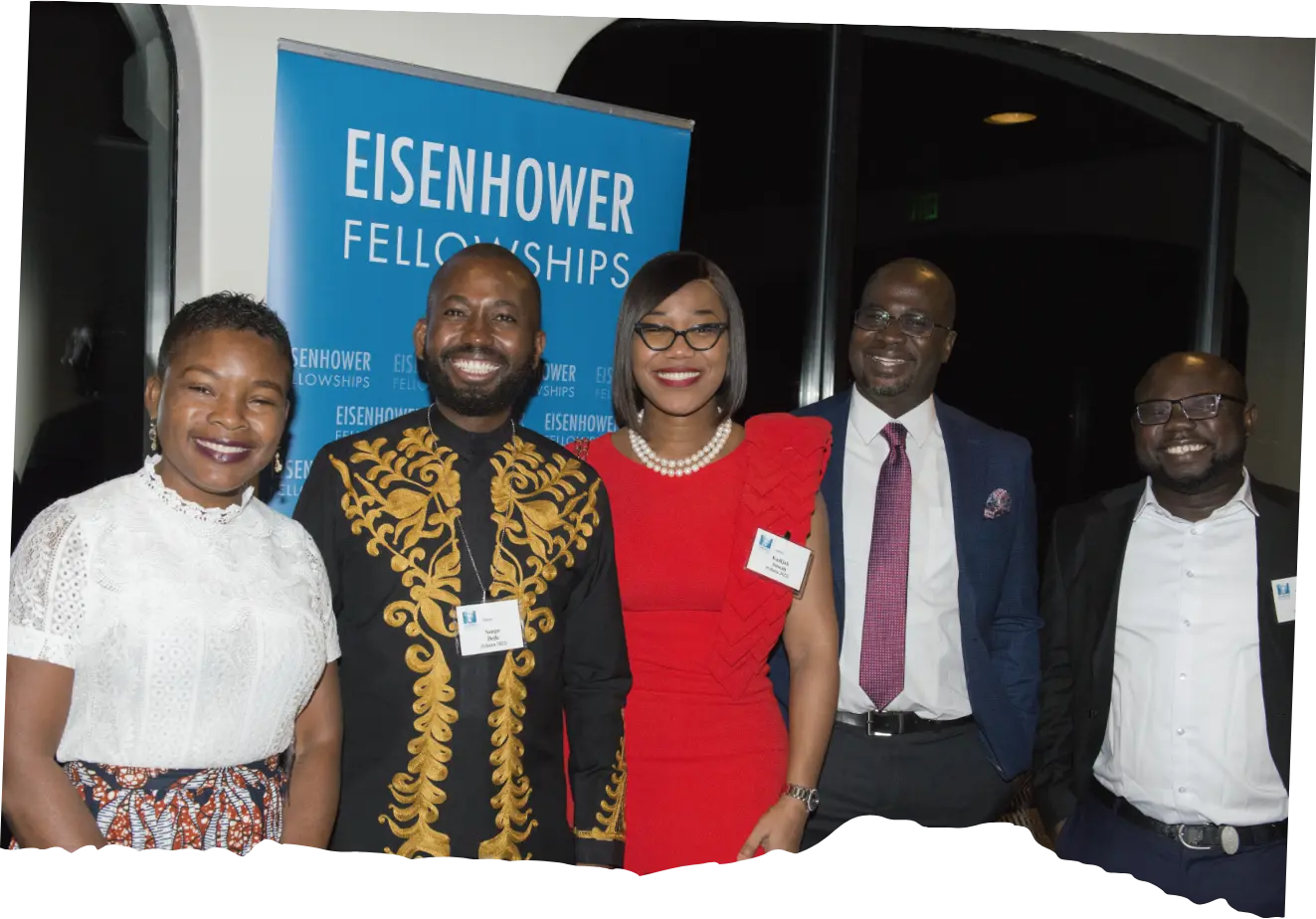 In-person Fellowship programs and EF events resume after two years of pandemic.

In the spring EF hosts its second Africa regional program, 25 exceptional leaders from Sub-Saharan Africa working to combat the various dimensions of climate change ravaging the subcontinent.
EF hosts its first USA Justice Program, 11 outstanding ascendant American leaders from diverse fields working to confront entrenched racism in U.S. society.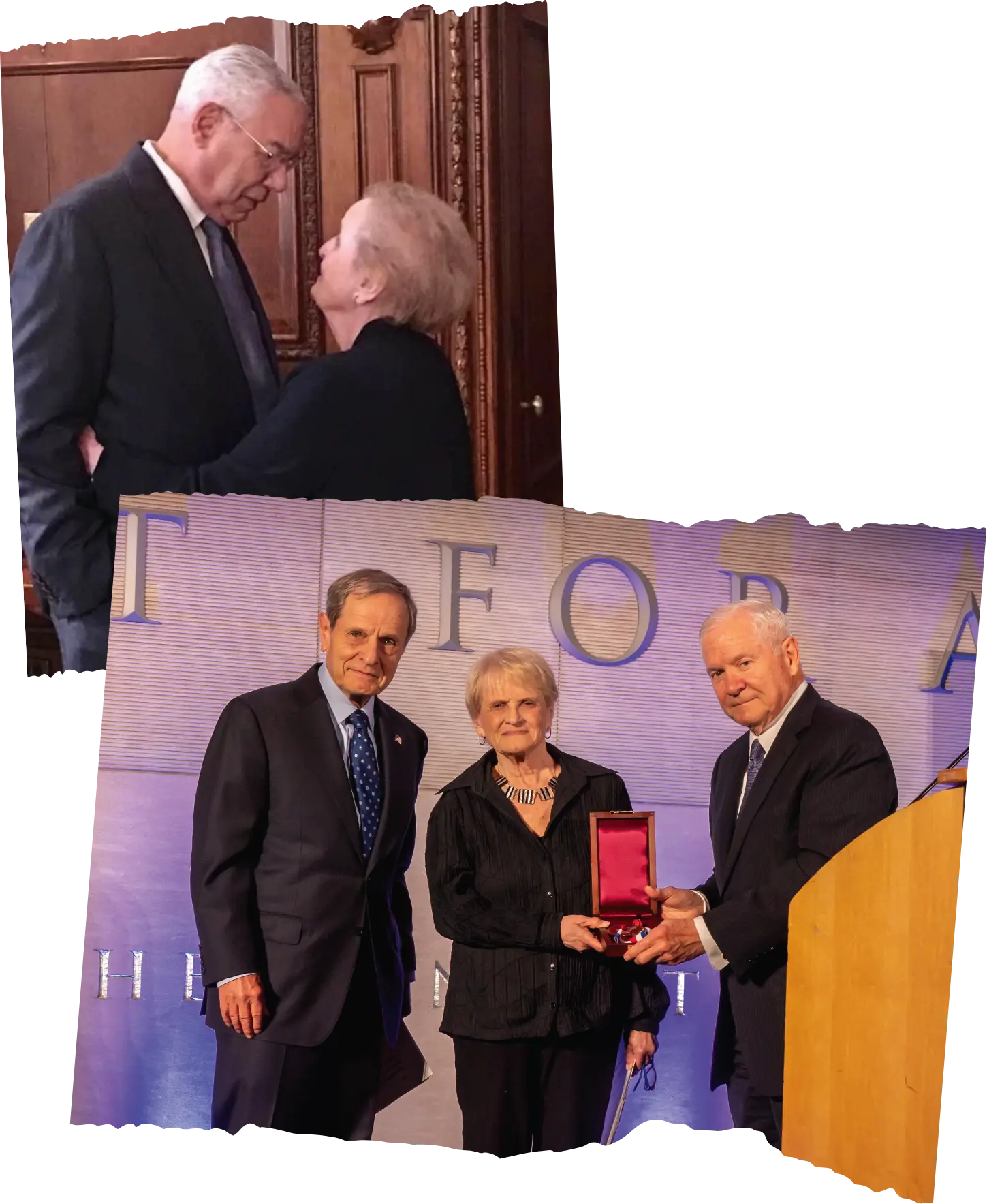 Former U.S. Secretary of State Madeleine Albright, an EF Trustee for 22 years, dies in March. She is awarded the Eisenhower Medal for Leadership and Service posthumously in May.
The Board of Trustees approves a new five-year strategic plan calling for intensifying EF's network outreach, strengthening the organization's emphasis on measurable program impact and redoubling efforts to diversify its governance, programs and staff while growing its endowment.
EF earns Charity Navigator's highest four-star rating for a ninth consecutive year.
2023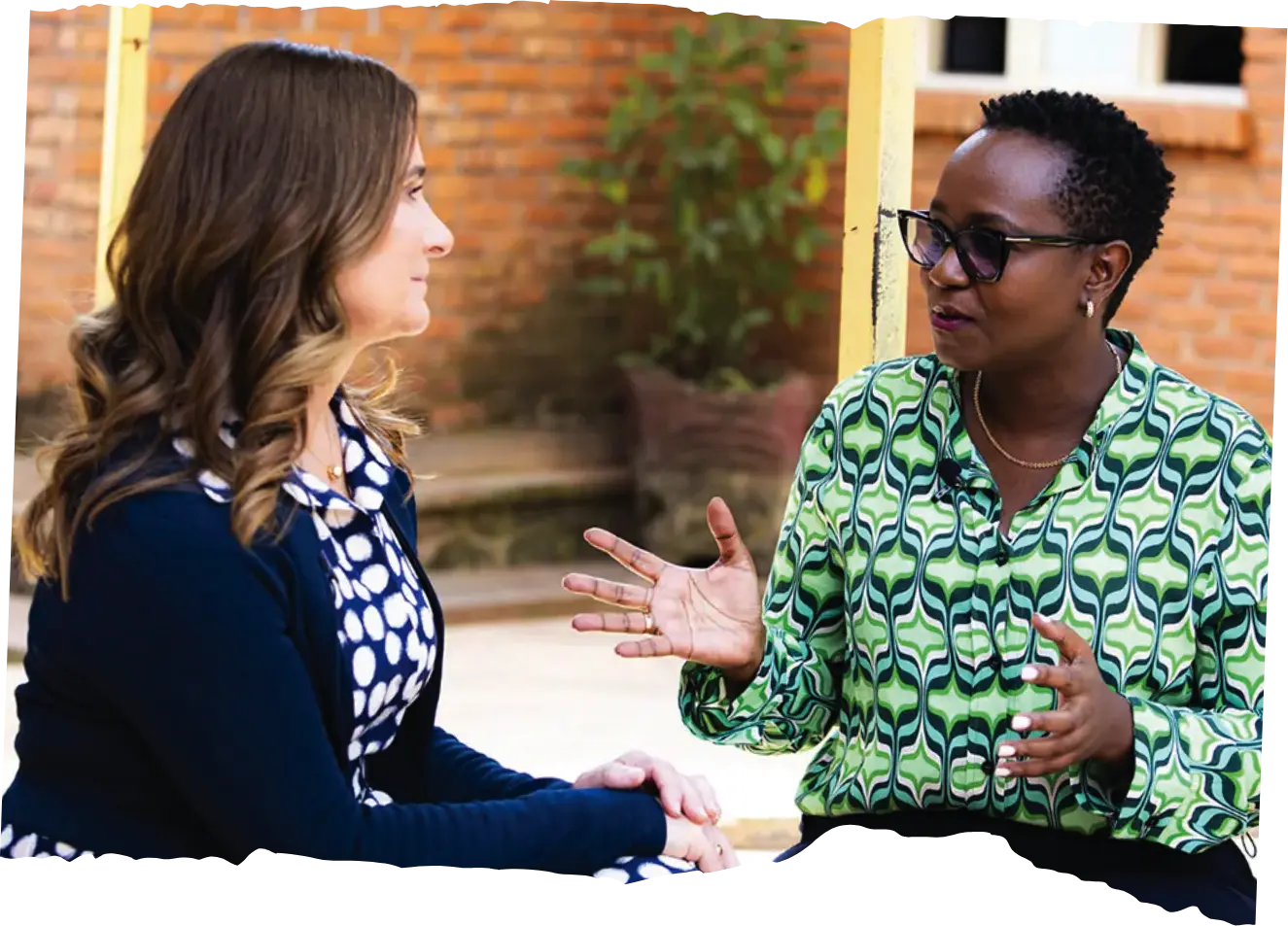 EF hosts a groundbreaking Eastern Europe Program, bringing to the U.S. 20 dynamic leaders focused on strengthening democratic government and advancing human rights in that troubled region in the shadow of Russia's invasion of Ukraine, the largest armed conflict in Europe since World War II.
Eisenhower Fellowships marks its 70th anniversary in October with a World Forum in San Francisco. Evoking the first EF World Forum in 1976, the gathering draws more than 370 participants from 56 countries.
The conference is highlighted by the presentation of the Eisenhower Medal for Leadership and Service to Melinda French Gates for her extraordinary work as an entrepreneur, philanthropist and global advocate for women and girls.
Learn more about the process of becoming an Eisenhower Fellow.