Harare, Zimbabwe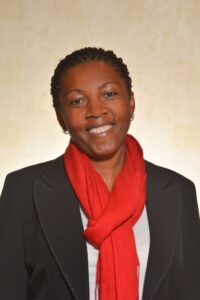 In the midst of a global movement of women taking strides towards political leadership, Chitsike uncovered the barriers that prevent women from succeeding in her country. After her fellowship ended in the fall of 2015, Chitsike secured funding to research why women were reluctant to take on political leadership roles. Even though Zimbabwean women make up 52% of the population, government, political parties and decision-making bodies fail to engage and encourage women to participate in politics. Despite the Zimbabwean constitution's clauses on gender equality and quotas in place, the number of women in the National Assembly has not dramatically increased.
Why is it so hard for women to enter into politics in Zimbabwe?
According to Chitsike, factors that stopped women from running for office include attitudes towards women in politics, lack of support from spouses and family, domestic responsibilities, the absence of the rule of law, and lack of resources for campaigning.  Chitsike discovered, however, that fear and violence, both real and perceived was the most significant barrier.
The real and perceived threat of violence emerged this year when four women ran for the office of the President of Zimbabwe, out of 23 candidates in total. Working with organizations like Women in Politics Support Unit, Women in Politics Incubator Zimbabwe and GenderLinks through the Women's Coalition of Zimbabwe, Chitsike helped deliver programs to raise the number of female leaders in parliament and councils. These female candidates and organizations came up against a fierce battle with hate speech, slander, online bullying, body shaming, sexual harassment and threats of physical violence. According to Chitsike, government and other political parties did not do enough to condemn these acts of violence against women. The election results showed a disappointing 15% support for women candidates despite women constituting 52% of voters.
With the #metoo movement as a backdrop, new strategies were used to fight the backlash facing women running for political office. Some candidates used social media hashtags to reclaim words such as "prostitute" that were once used to wound and target them. Chitsike explains that "if you haven't been called prostitute in your quest to promote and protect women's rights, then you haven't been doing a good job. If you embrace the term, it cannot be used to hurt you."
In the future, Chitsike plans to continue to work behind the scenes to encourage and support women to run for office. Chitsike's counsel to those who stand with her for women's rights is this: "The fight against a patriarchal and misogynistic society is not for the fainthearted. Women's rights activists and women in leadership in any sphere must be prepared for the long haul as changes are not going to happen overnight. Although ground was lost in the July election, there are lessons to be learned that can bring about the desired result, increased women's political participation. These lessons should include supporting the few women that did make it into parliament in whatever way possible. Challenges will continue along the way but anything worth fighting for doesn't come easy."
Listen here for Chitsike's words of wisdom.