Each year in early May, EF's Annual Meeting Day brings together in Philadelphia our Board of Trustees, staff and Fellows from around the world for a day of seminars, discussion groups, networking and a renewed call to our guiding mission of making the world more peaceful, prosperous and just.
This year the events kicked off on May 8, when our 2018 USA and Zhi-Xing and 2019 Global Fellows participated in a Fellows' Showcase. Fellows were invited to share their stories of fellowship and reflect on the transformative journey they'd experienced. That evening, EF welcomed New York Times journalists Maureen Dowd and Carl Hulse to the rooftop garden of the Kimmel Center for the Performing Arts for a conversation on the current state of U.S. politics. The prominent Washington-based journalists offered their no-holds-barred take on the 2016 presidential election, the current political strife in the nation's capital and a preview of the 2020 election campaign as they took questions from the audience.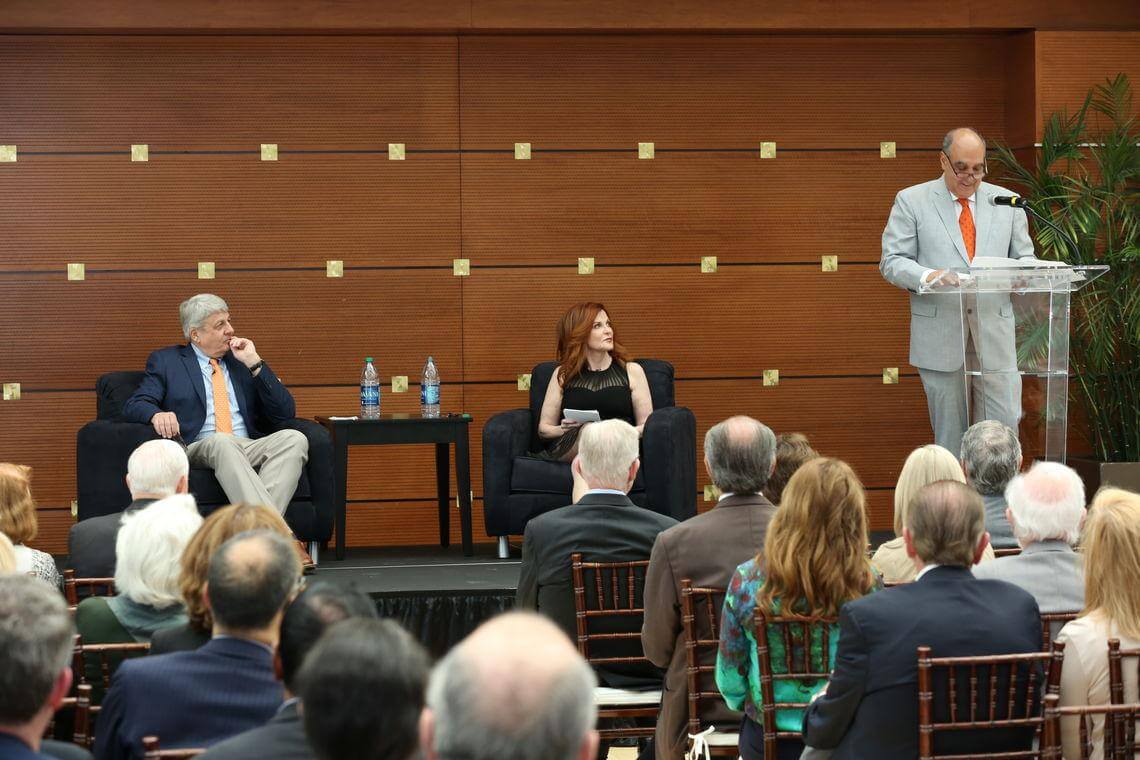 On Thursday morning, May 9, the Board of Trustees held their Annual Meeting, while USA Fellows in town for the day's festivities gathered at the EF house for a network meeting. At the Fellows Network lunch, Fellows from this year's Island of Ireland Program and previous Irish Fellows held an informal panel on their fellowship experiences and highlighted the impact the fellowship can have, especially in light of the chaotic Brexit process that threatens the hard-won peace on the island. Eisenhower Fellow Irina Anghel-Enescu (Romania 2008) spoke about the importance of women on corporate boards, and USA Fellow Patrick Schaefer (USA 2018) discussed his work in the bi-cultural West Texas Paso del Norte region and his developing partnership with the Shanghai International Shipping Institute. The lunch discussions underscored the vital global impact of an Eisenhower fellowship.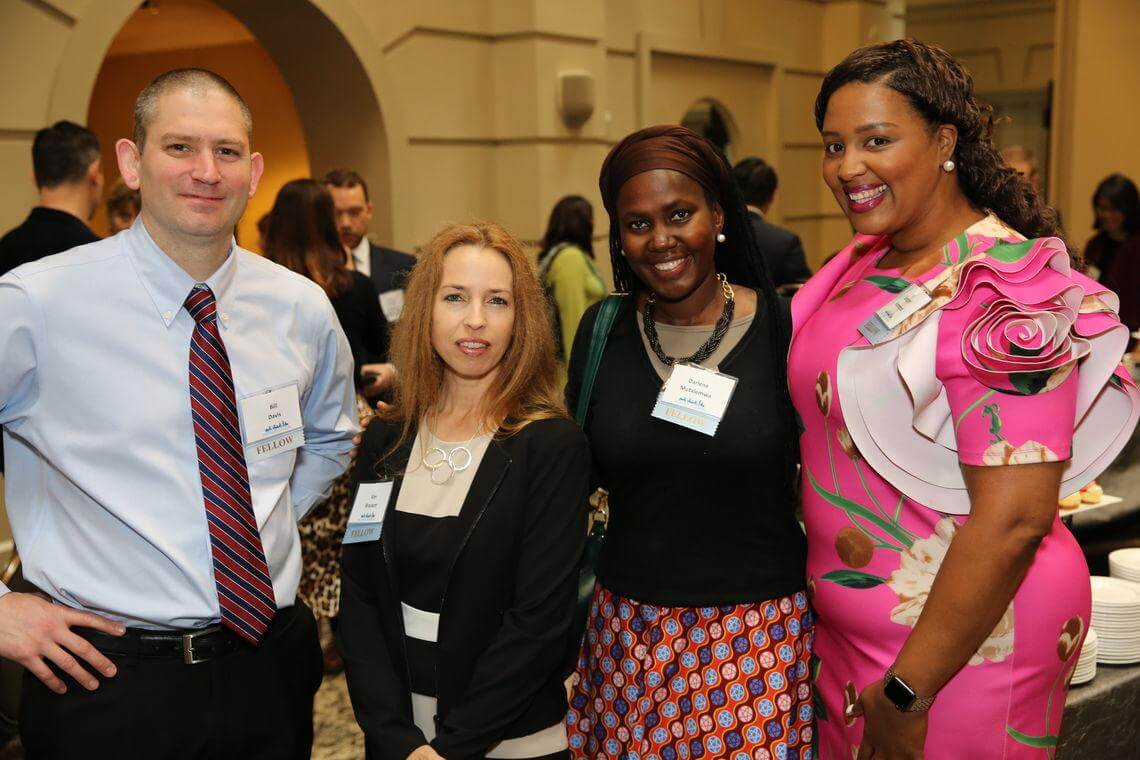 EF Chairman Dr. Robert M. Gates hosted an off-the-record seminar with Fellows in the afternoon. Dr. Gates spoke candidly to a packed room, answering questions from the 2018 USA and Zhi-Xing and 2019 Global Fellows and providing his unique personal insights about international relations and foreign policy issues around the world. A class of high-school students from the Philadelphia Military Academy attended the session, and one cadet had the opportunity to ask Dr. Gates a question. Afterwards, EF president George de Lama and Dr. Gates awarded the Eisenhower Fellows their certificates and pins for completing their fellowship travels. And with that, another 42 Fellows joined the influential EF network of diverse, dynamic doers.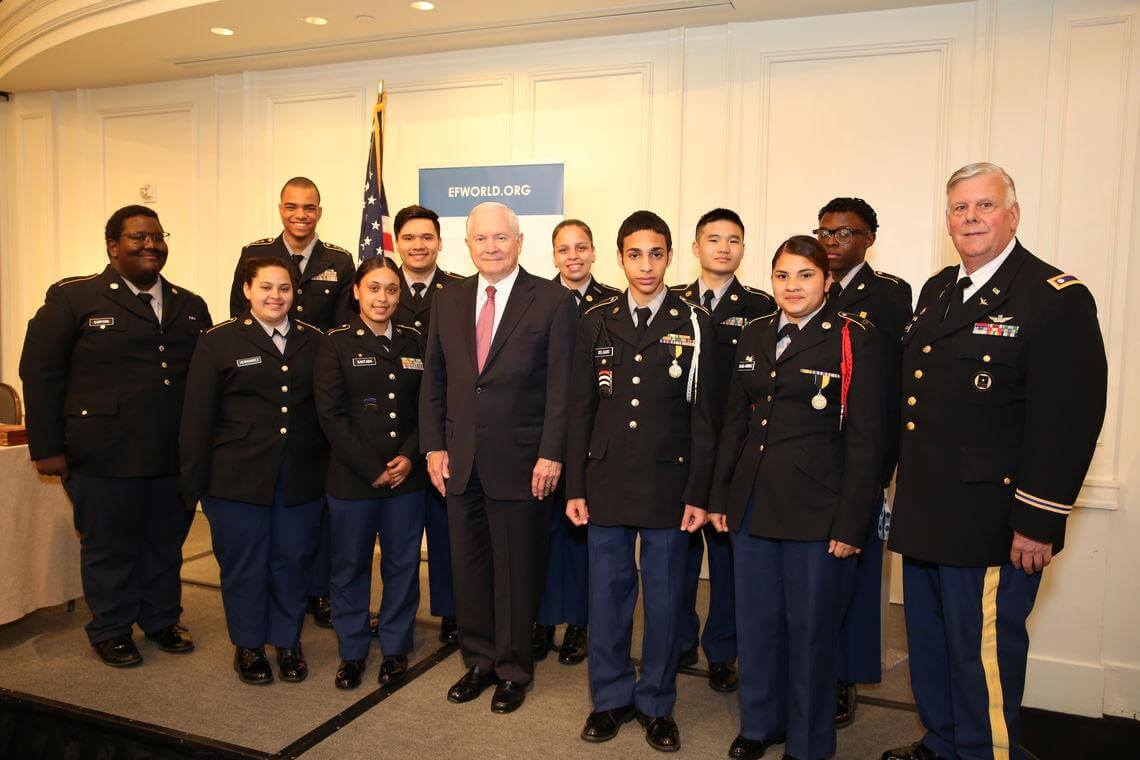 Distinguished NPR and ABC News journalist Deb Amos served as Master of Ceremonies for the evening Annual Awards Dinner. Fellows Najla al-Midfa (UAE 2019) and Beau Seil (USA 2018) took the stage to reflect back on their fellowship experiences. EF Board Vice Chair Christine Todd Whitman gave a moving tribute to the late Harold "Hap" Wagner, the longtime EF Trustee and steadfast supporter who passed away in July 2018. He was a member of the Executive Committee of the Board and served for years as Chair of the Development Committee and the San Francisco hub for EF's USA program. "If you never met Hap, I feel sorry for you," Whitman said in her remarks. Led by Gov. Whitman, EF also honored two other recently deceased Trustees, former President George H.W. Bush, EF's longtime Chairman, and Dr. F. Richard Hsu.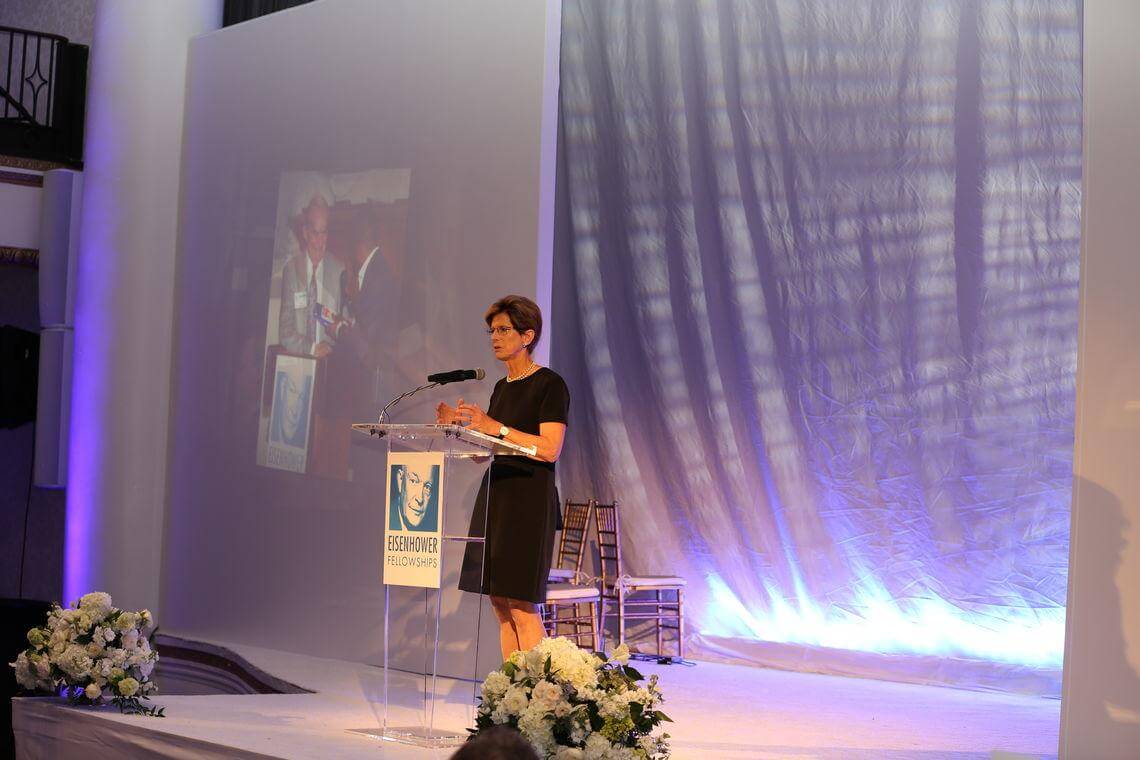 Each year, EF awards the Dwight D. Eisenhower Medal for Leadership and Service to a leader of government, business, civil society or other public figure or organization advancing President Eisenhower's vision of a world more peaceful, prosperous and just. This year, EF awarded the Eisenhower Medal posthumously to late U.S. Senator John S. McCain III in recognition of his decades of leadership in the United States military and the Senate. Secretary Gates presented the award to Sen. McCain's son, Douglas, who accepted the honor on his father's behalf.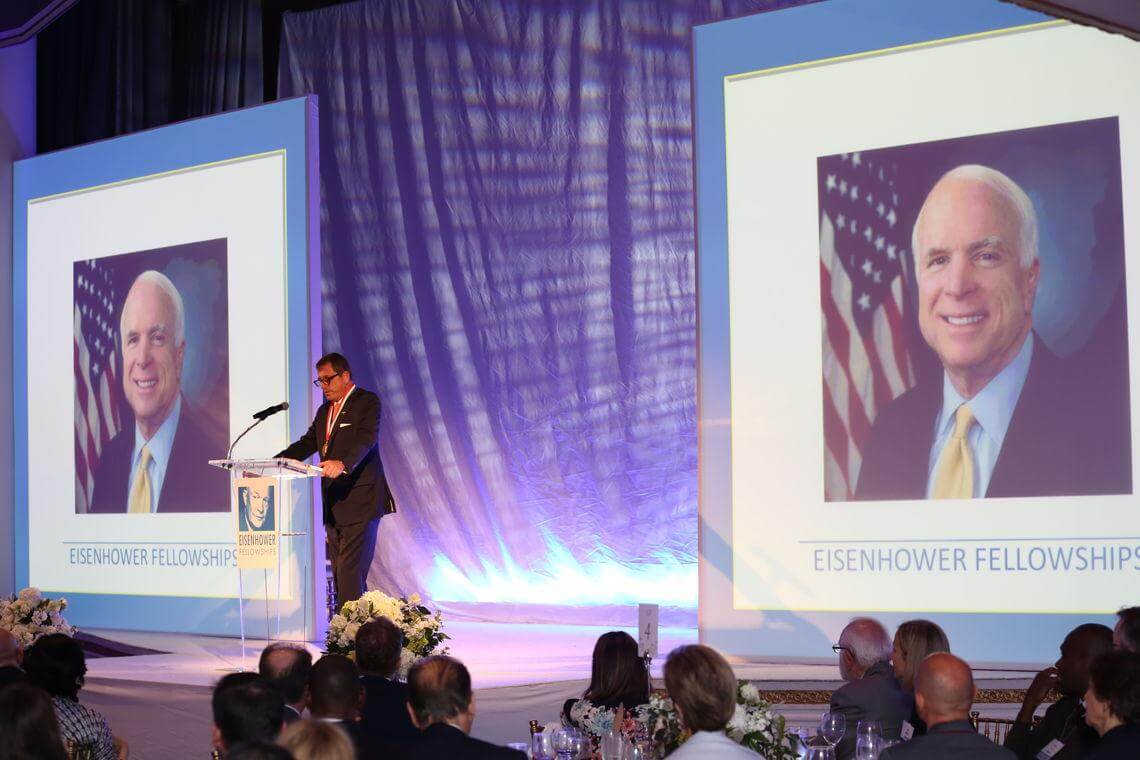 The Distinguished Fellow Award is an annual recognition of an Eisenhower Fellow who has made a significant contribution to his or her field and to the EF global network of more than 1,600 active Fellows. The 2019 Distinguished Fellow Award was given collectively to the 36 Eisenhower Fellows of Sri Lanka for their indispensable role in the healing of their war-torn nation after more than 30 years of armed conflict and their deep engagement with EF. The Sri Lankan Fellows exemplify EF's vision of an influential network of change agents who have generated a powerful positive impact on their country.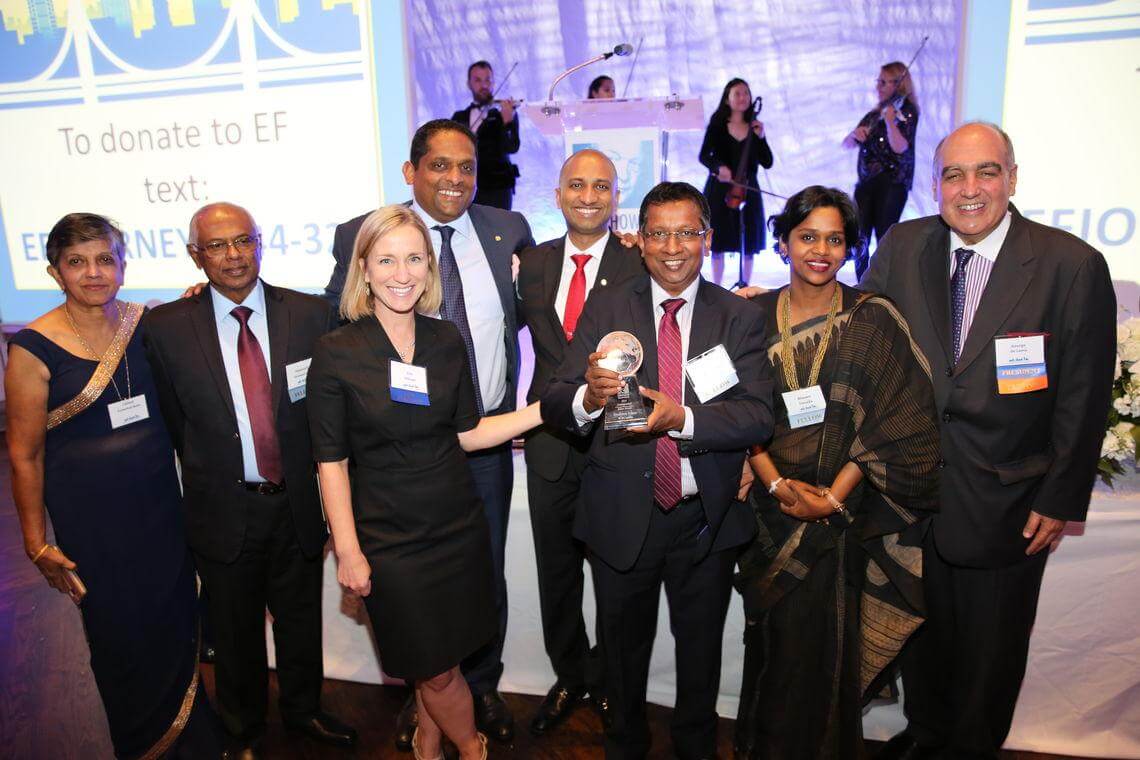 All told, nearly 400 Trustees, Fellows and honored guests attended the events across both days. We look forward to seeing you next year.