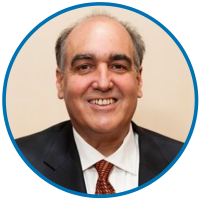 George de Lama
President, Eisenhower Fellowships
George de Lama is president of the Eisenhower Fellowships. A nationally prominent journalist, former international development official and entrepreneur, de Lama became EF's 10th president in August, 2014.
In a distinguished career at the Chicago Tribune, he rose through the newsroom ranks from summer reporting intern to metropolitan reporter, national and foreign correspondent, chief of correspondents, associate managing editor, deputy managing editor and ultimately, managing editor for news.
At the Tribune, de Lama worked as a correspondent in nearly 60 countries and covered the White House and American diplomacy in Washington. As an editor he helped oversee foreign and national reporting that won journalism's top honors, including two Pulitzer Prizes. A three-time winner of the Tribune's Edward Scott Beck Award for foreign and national reporting, he received the National Education Writers Award for crisis coverage of the Chicago public schools.
De Lama played a leading role in discussions that led to the Tribune Company opening a news bureau in Havana in 2001, the first American newspaper office in Cuba in 35 years. He served as a two-time Pulitzer Prize juror, including chair of the International Reporting Jury in 2008, and was the first Latino to appear on the masthead of the Chicago Tribune.
After leaving the Tribune, de Lama headed the Office of External Relations at the Inter-American Development Bank in Washington, leading the multilateral organization's strategic communications in support of development operations and strategic initiatives across Latin America and the Caribbean.
Later he became president of Global Development for Answers Media LLC in Chicago and launched a startup firm, Answers Learning LLC, to produce education solutions for parents, students, educators and public and private organizations.
De Lama is a member of the Advisory Board of the Nieman Foundation for Journalism at Harvard University and was twice elected to the Board of Governors of the Overseas Press Club of America.
The son of Cuban immigrants, de Lama was born in Chicago. He and his wife Carrie, an accomplished independent film maker, live in Philadelphia.