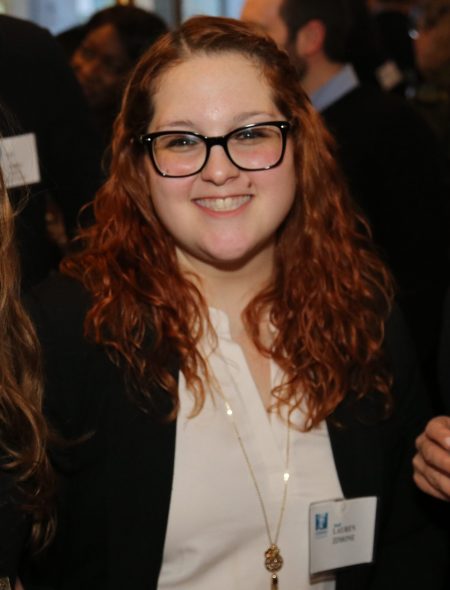 Lauren Zimone
RIP
(1988-2022)
Eisenhower Fellowships mourns the passing of Lauren Zimone, our outstanding Director of International Fellowship Programs. Lauren died in Philadelphia August 9 in the loving company of her husband Joshua Palmer after a short but intense battle against cancer.
Lauren leaves us far too soon with a giant hole in our hearts and in our organization. A warm and compassionate colleague, at the tender age of 33 she had already hit her professional stride as a thoughtful and creative leader of our international fellowship programs, a role she relished, Josh said.
Lauren ascended to that leadership position in December 2021 after a rapid rise up the ranks of the EF staff. She joined Eisenhower Fellowships in September 2015 as a part-time assistant in the Global Network office before becoming a Program Assistant, Program Officer, Deputy Director of International Programs and ultimately a member of EF's senior management team.
At every step of the way, Lauren distinguished herself by her keen eye for talent, her consistent excellence, her quiet drive and her willingness to roll up her sleeves and do anything that needed doing.
A native of New Jersey, Lauren Zimone received a Bachelors of Arts in History and Political Science from Rutgers University in 2013. During her undergraduate tenure, she studied abroad in England, France and the Czech Republic. She received a Master of Arts degree in International Relations from Kings College, London, where she focused her studies on diplomacy and conflict resolution.
She will be missed by our Eisenhower Fellows, our Trustees, our staff and all the program contacts and other friends of the organization with whom she worked to continuously improve EF's fellowship programs. On behalf of everyone in the EF global family, we extend our profound condolences to her husband Josh, their 18-month-old son Parker, her parents Judy and Frank Zimone and her brother Frank.