Paraguay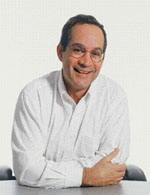 For Martin Burt (Paraguay '94) his work is a team effort with other Eisenhower Fellows. In 1985, he co-founded Fundacion Paraguaya with Guillermo Peroni (Paraguay '70), to provide entrepreneurial skills to marginalized young people. Today, of eight Paraguayan Eisenhower Fellows, five of them—Burt and Peroni, along with Raul Gauto (Paraguay '89) , Pascual Rubiani ('99), and Yan Speranza ('14)—work at Fundacion Paraguaya. "Eisenhower Fellowships helped us see beyond our own borders" in an effort to alleviate poverty.
Fundacion Paraguaya is an NGO whose mission is to "develop and implement practical, innovative, and sustainable solutions to eliminate poverty in order to create decent conditions for all families." Fundacion Paraguaya achieves these goals by promoting four inter-related strategies: (1) a microcredit program, (2) an entrepreneurial and financial education program for youth, (3) financially self-sustainable high schools that train the children of farmers to become rural entrepreneurs, and (4) a separate NGO, TeachAManToFish, that spreads the self-sufficient school model around the world.
Perhaps Fundacion Paraguaya's most successful program has been its "Poverty Stoplight," a tool that measures poverty across 6 dimensions and 50 indicators. Poverty Stoplight and Fundacion Paraguaya's self-sustainable farming school model are now used around the world to enable families to overcome poverty. In 2017, Truelift, a nonprofit, recognized Fundacion Paraguaya as a Global "Leader" in anti-poverty strategies.
Burt and Peroni founded Fundacion Paraguaya because they wanted to create a specialized social enterprise that would promote capitalism for all, a "market economy that works not only for the powerful and rich but all members of society." In 1985, Paraguay, under the rule of dictator Alfredo Stroessner since 1954, had severe wealth and opportunity inequality between different members of society. When Stroessner was overthrown in 1989, Burt and Peroni saw the opportunity to help create "an informed democracy" that delivers foods, services, and livelihoods to marginalized Paraguayans.
When he came back to Fundacion Paraguaya after his fellowship, Burt immediately implemented changes. "We said why not take Fundacion Paraguaya programs overseas?" and thus they started sharing their programs and methodologies with other countries in Latin America, Africa, and Asia. Fundacion Paraguaya now also has programs in the UK and United States.
Additionally, Burt's organization has been working to bring youth entrepreneurship training to Paraguayan high schools. The focus is on rural communities so that young people can see jobs and wealth creation opportunities in their communities and don't feel forced to move to a city for work. "Eisenhower Fellowships showed me the role of civil society leaders. It used to be that government and business were two separate sectors of society. But now there's a clear need for civil society to push government and business on certain issues that require a coordinated approach, like poverty, environment, human rights, and freedom."
"Without Eisenhower Fellowships, I wouldn't have contacts around the world with whom I can talk about my poverty programs," he said. In particular, Burt has remained engaged with Eisenhower Fellowships' Latin American network, which recently met in Chile. "Eisenhower Fellows are authorities in their field…they have a consortium of leaders in public and private and civil society sectors that no other organization has."
Article credit: Nico Lake