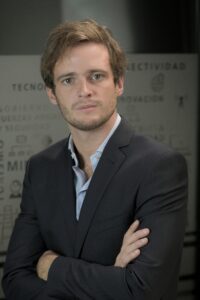 After graduating from Torcuato Ditella University, José Ignacio Sanchez Elia has become president of Tesacom Group, a satellite telecomunitactions company with operations in Argentina, Chile, Paraguay, Uruguay and Peru. Tesacom has spent the last five years working with the Argentinian government to take connectivity to remote and rural areas. Sanchez has long been involved with social and philanthropic projects and advocates for inclusivity in all societies. After attending the Future of Work conference in Malaga in 2017, Sanchez worked with the two other Youth Leaders from Argentina, as well the Argentinian chapter, to create a scaled down version of EF's conference for local university students.
"Having the intention to help your country is not enough. Leaders should aim to be as prepared as they can to confront the coming new reality. I believe that to truly contribute to my state's development, I need to focus my whole attention in becoming the best version of myself. Taking this into account, I have worked very hard in my academic formation. On the other hand, I have tried to achieve changes in my community through different charitable initiatives. Nevertheless, meeting and discussing with young leaders committed to prosperity is an invaluable experience."
PROJECT REPORT
Inspired by the Future of Work conference in Spain, the three Youth Leaders from Argentina (Jose Sanchez Elia, Sofia Terrile, Carolina Zaccato) joined forces to organize a similar conference for 250 high school students in Buenos Aires. The one-day event took place at the Universidad Catolica Argentina. Fellows from Argentina were among the presenters. The project report is a detailed breakdown of the extremely successful event, from the planning to reflections afterwards.