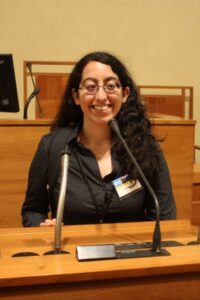 Carolina Zaccato holds a BA in International Relations from Universidad de San Andrés (UdeSA). She also completed a postgraduate program in International Security at the Nonproliferation for Global Security Foundation (NPSGlobal). She works as a researcher and professor in the field of IR, in topics such as international security, Argentinian foreign policy, nuclear non proliferation and Hemispheric affairs.
Carolina has also completed short exchange programs at the Institute for Training and Development and Amherst College in Massachusetts (USA), Charles University in Prague, and Universidad de los Andes in Chile; all of them thanks to different leadership fellowships.
She believes that incentivizing entrepreneurship skills and the creation of new small and medium size enterprises (SMEs) will create better employment opportunities.
"The Future of Work conference provided me with valuable new insights and ideas on topics such as the current panorama of employment, the rapid advances in technology, new business models and globalization. It was great to take part in all these debates and exchange ideas with other young leaders."
PROJECT REPORT
Inspired by the Future of Work conference in Spain, the three Youth Leaders from Argentina (Jose Sanchez Elia, Sofia Terrile, Carolina Zaccato) joined forces to organize a similar conference for 250 high school students in Buenos Aires. The one-day event took place at the Universidad Catolica Argentina. Fellows from Argentina were among the presenters. The project report is a detailed breakdown of the extremely successful event, from the planning to reflections afterwards.