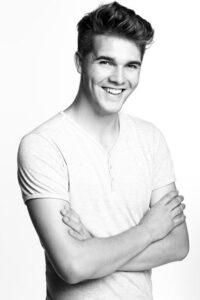 Perttu Pölönen is a musician turned entrepreneur and inventor. At age 15, Pölönen invented MusiClock, which helps children express their creativity through music without theoretical limitations. Pölönen co-founded 360edVR, a non-profit organization designed to encourage collaboration and the sharing of best practices amongst teachers in developing countries with the use of virtual reality.
"I care deeply about the future of education, the potential we have with all the technologies and how it'll change how we learn and think. During my 5-month-stay in Silicon Valley learning about the next big trends, I developed a deep understanding on how our daily lives – including work – will drastically change in the coming years. I believe that the global EF network could help me on my journey to make a meaningful impact on the world. The possibility to challenge myself – and the other participants of the program – is what I'm looking for since I'm always up to deepening my understanding and hearing other people's views. I see EF as an opportunity to trigger not only my but other people's brain as well in search for something bigger than us."
Musiclock wins bronze at the 2017 UX Awards
www.perttupolonen.com
PROJECT REPORT
Pertu Polonen created a video to explain his year since the Future of Work conference in Malaga, Spain in 2017. He has given over 100 presentations in Finland and relates much of his experiences to the Future of Work conference in Malaga. He also worked on a teaching project in Myanmar.