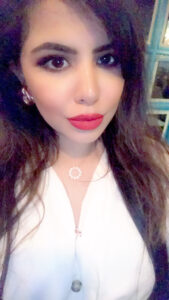 Israa Al Bargoothy founded Change a Million Souls to raise awareness of peoples' rights and need for education. She is Vice Chair for the Lazord Alumni Committee at the Lazord Foundation in Jordan as well as Partner at Dar Al Manhal Publishers. She has worked on many projects, including Takafo Project for Persons with Disabilities, Mediation in Schools, Civic Pulse Survey in Jordan and the Citizen's Budget. She is a certified trainer for the European Union through Civil Society Facility South Project in Tunisia, specializing in social accountability. Early in 2020 Al Bargoothy was selected for a two-week program on foreign policy in the US. She met with senior level managers at the Department of State, the Pentagon, the Congress, World Bank, U.S Chamber of Commerce and the International Monetary Fund. Al Bargoothy will graduate with her master's degree in global affairs later this year.
"I believe that when youth are empowered and encouraged to thrive to get their rights, that is when our society will move forward to a democratic and peaceful one. I exist to equip and inspire youth about their rights and education. In my vision youth are the key to a brighter, transparent and more democratic future."
PROJECT REPORT
Inspired by the Future of Work conference in Spain, Israa Al Bargoothy's organization, Change a Million Souls, hosted 'The Future of Work for Us' in Amman, Jordan. 50 children from the Palestinian Al Nasir refugee camp were invited to spend the day at workshops encouraging them to make plans for the future. Using interactive games, reading and face painting, these children learned communication techniques and life lessons in a safe and fun atmosphere. Partnering with Dar Al Manhal publishers, Al Bargoothy hopes this event will be the first of many workshops in the future.
Israa Al Bargoothy Project Report