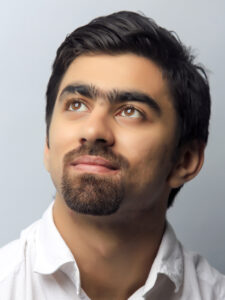 As a Wing Commander at the Buraq Space Camp, Bassam Yousuf mentors cadets in academics, physical fitness, and teamwork. Yousuf, a computer science major at the American University of Sharjah, believes that Pakistanis can best anticipate the future of work by establishing a technology incubation center where enterprising students in their final years of university have access to seed capital, mentorship, and a space to exhibit their ideas and prototypes in Islamabad.
"My objective is to employ my skills and talents to contribute to an organization that creates true value for its members and its customers. I wish to learn and work with excellence and to exemplify the spirit of teamwork that I been accustomed to throughout my education. Most of all, I am single-mindly focused on making a significant positive impact. We face challenges of both the old world and the new one. Tremendous penetration of broadband and smart devices has connected us to the world but structural inequities continue to plague the middle class entrepreneur. Corruption, lack of transparency and recourse to justice remain fundamental challenges. The private sector and the rise of technology may offer respite. A technology incubation centre that offers enterprising young people in their finals years of undergraduate education access to seed capital, mentorship or at the very least a platform to exhibit their ideas, prototypes and products would go a long way in helping create jobs and a positive outlet to creative energies of the youth bulge."
PROJECT REPORT
Recently graduated from the American University of Sharjah, Bassam Yousuf combined his project with his senior thesis on a smart parking system.