2019 marks 30 years since EF's historic Single-Area Program brought together Fellows from Ireland's North and South. Choosing cross-community conciliation in a divided society, they played key roles in the negotiations that produced the Good Friday Agreement and the efforts to preserve the peace on the Island of Ireland since then.
Watch pioneers from the Good Friday Agreement and Eisenhower Fellows from the 1989 Island of Ireland program share their story here.
Northern Ireland Fellow Tom Frawley (1989) shares his life lessons learned and how he made an impact after his Eisenhower Fellowship here in an interview conducted by Eisenhower Fellow Rabia Garib (Pakistan 2007).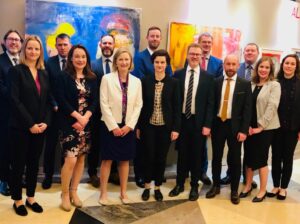 Read Trudy Rubin's article in the Philadelphia Inquirer on how Eisenhower Fellows were involved in building the Good Friday Agreement.