El Paso, Texas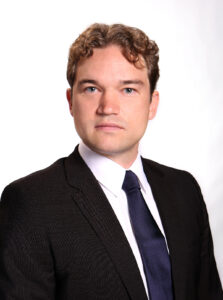 An economist specializing in international trade and leading a university-based research center, Patrick Schaefer (USA/Zhi-Xing 2018) forged a partnership with China's premier government think tank, the Shanghai International Shipping Institute. Patrick's center — the Hunt Institute for Global Competitiveness at the University of Texas, El Paso — produced research for the Shipping Institute that put the bi-national Paso del Norte region (which includes Texas, New Mexico and northern regions in Mexico) on the map as a major influential trade hub that is significantly impacted by recent trade wars between China and the U.S. The data will be used by local, state and federal decision-makers who are at the helm of opening opportunities that will strengthen economic growth in the U.S. and China.
Every morning, Patrick watches the shipping containers from Chinese and other Asian companies pass by his office window on the Union Pacific rail lines. With nearly 48% of all import products arriving at the Los Angeles port coming from China, this lion's share of goods eventually makes its way into the rest of North America by passing through the Paso del Norte region. This hub represents connection points between the U.S. and Mexico and between the east and west coasts of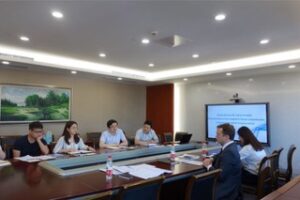 the U.S., and has historically been a point of convergence for many people of different backgrounds, continuing through today's times. A border town of recent U.S. news spotlight, El Paso in particular prides itself on being a city where two different cultures, languages and ways of life can live in easeful confluence.
How do these cultural lessons influence international trade agreements and relationships?
With cultural knowledge and awareness of how to effectively and respectfully approach a foreign government, Patrick came prepared to hit the ground running in China. Before arriving in China, his center produced a report that analyzed U.S.-China maritime trade flows, and had it translated into Chinese. With the Chinese version of the report in hand, Patrick successfully convinced the Shanghai International Shipping Institute to consider a partnership or agreement with his center. The result was the commissioning of a follow-up report that shows the specific effects of recent U.S.-China trade policies and tariffs.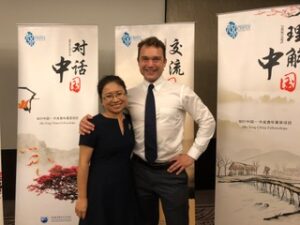 This relationship with China brings a new dimension to his work at the university that goes beyond bi-nationalism. Patrick has not only exposed China to the importance of the Paso Del Norte region, but he has brought China to El Paso, including to the students that he works with at the university, lawmakers and government administrators. The ultimate goal is to use data to "break away from isolation" and help "distant parties to learn about each other," according to Patrick. Learn more about the importance of the Paso del Norte region here through Patrick's TED talk.
Watch Patrick in action with counterparts in Beijing and Shanghai while on his #EFjourney.