George de Lama, president of EF, with Fellows Florence Gatome (Ghana 2016), Leonard Mungarulire (Rwanda 2016) and Diana Mpyisi (Rwanda 2017)
In June, Eisenhower Fellowships hosted a dynamic regional gathering in Kigali, Rwanda. The conference was the first on the continent of Africa in EF's history, following up on EF's first Africa program which brought 24 visionary African leaders to the U.S. for a seven-week fellowship journey in 2016. The three-day summit brought together leaders in government, business and civil society to discuss the future of Africa's global integration and provided a platform for Eisenhower Fellows from across the continent and other regions to explore innovative global partnerships within the EF network.
More than 350 people registered for the conference, including 50 Fellows from 21 countries and three EF trustees. The participants explored exciting new partnerships aimed at combating rising inequality. The opening ceremony featured a conversation between EF president George de Lama and H.E. Paul Kagame, president of the Republic of Rwanda, followed by a Q&A session with conference participants.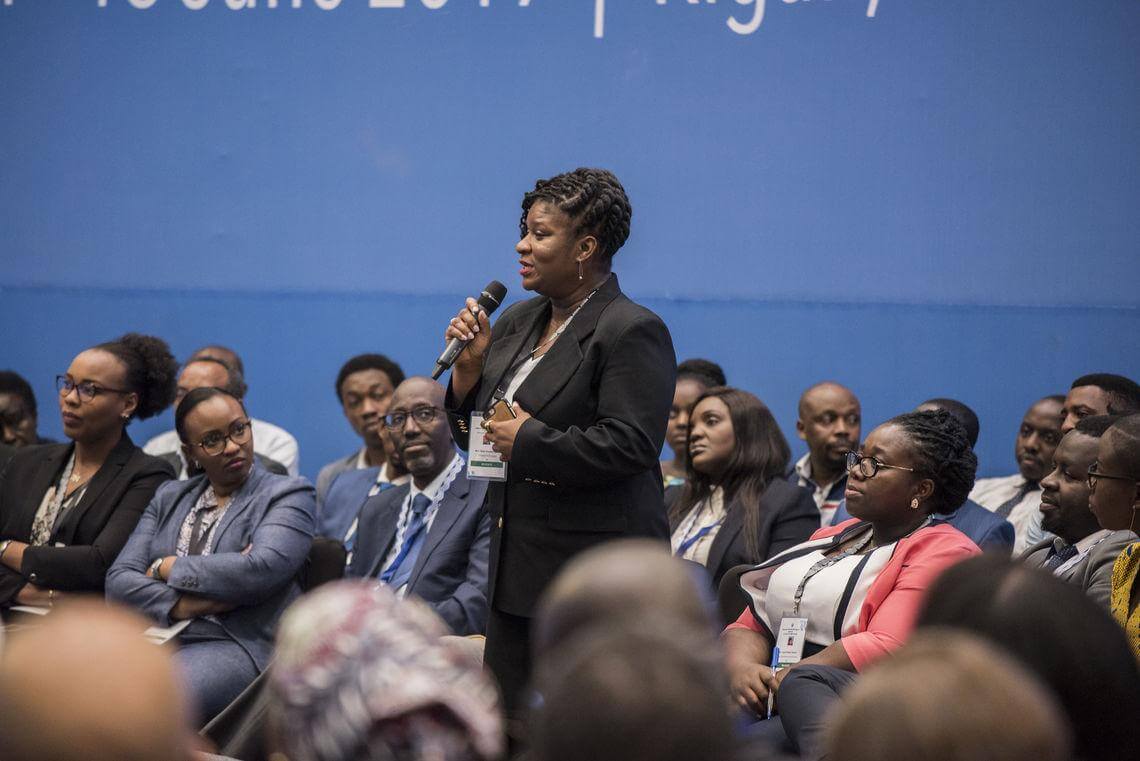 Eisenhower Fellow Yawa Hansen-Quao (Ghana 2016) asking President Kagame a question
Plenary panels over the three days featured topics ranging from the future of trade and work, to closing the digital divide, strengthening governance and creating new frameworks for national, regional and global cooperation to drive inclusive economic growth. Videos of the plenary sessions are online. Conference attendees took to Twitter to share their in-the-moment experiences using the hashtag #EFA2019.
At the conclusion of the conference, attendees had the opportunity to explore Kigali and visit the Kigali Genocide Memorial, where more than a quarter-million of the estimated 800,000 to one million victims of the 1994 genocide in Rwanda are interred. There were also excursions to the Nyamirambo Women's Center and Akagera National Park.