New Zealand
"…Regardless of the success or failure of individual initiatives, the Eisenhower Fellowship has the opportunity to be a constant global catalyst and enabler for projects that have a positive impact on fostering peace, prosperity and justice." – Wil McLellan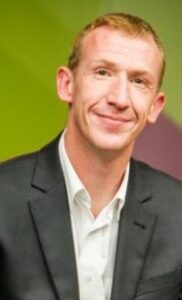 Wil McLellan (New Zealand 2014), co-founder and director of the Enterprise Precinct and Innovation Campus (EPIC), lost everything in the devastating earthquake that struck New Zealand in 2011. Finding shelter in a tent with his wife Diana, McLellan, with deliberate purpose and intention began to rebuild, not only for himself, but for his community. He co-founded EPIC with his friend Colin Andersen, to house displaced technology companies and help people keep their businesses going and rebuild their livelihoods. As a result of being in the midst of natural disaster relief, McLellan came to his Eisenhower Fellowship with his mind extremely focused on building and running the technology center at home in New Zealand. He was being responsive to the crisis faced by his community.
The exposure to other world-class innovators changed him. He was intuitive enough to realize that the real value in being part of a fellowship program was the brainpower, experience and connections of his peers. He was also humbled and inspired to go home and do more. And that is exactly what he did.
EPIC expanded by creating a satellite technology campus in a rural coastal region of New Zealand in a city called Westport, which has been severely suffering from economic decline due to the closure of mines and major plants. The EPIC Westport project, driven in partnership with a local family that served as the anchor,  created new technology-related jobs in the region, yielding a 300% increase in work in the region's technology sector from 2015 to 2016. It also prevented the displacement of some businesses and families from Westport to other more centrally located cities in New Zealand. Families were able to remain connected to their homes and long-time communities.
McLellan then harnessed the global power of the Eisenhower Fellowships network by consulting with Arvind Gupta (India 2014) who leads digital citizenship for the entire country of India. The two collaborated to provide insights for the government of New Zealand in the area of expanding access to the internet. The value of leveraging Arvind's experience and advice between two countries was made possible because of the relationships built through their EF journey.
Active in the field of growth and expansion of technology businesses, McLellan regularly consults with his EF peers from the 2014 Innovation Program, and together they collaborate to build a community of innovators and risk takers.