Sri Lanka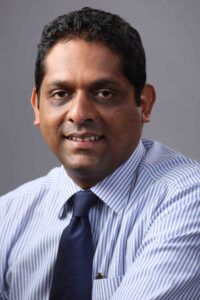 As chief growth officer at MAS Holdings, Nathan Sivagananathan (Sri Lanka 2015) is charged with generating new businesses that will be valued at $2 billion goal by 2020. A 2014 Eisenhower Fellow, his goal was to foster small business development in post-civil war Sri Lanka. After his fellowship, Sivagananathan worked with Eisenhower Fellow Harsha de Silva (Sri Lanka 2011) to launch an online platform that connects entrepreneurs with investors. They enlisted investors to provide $5 million to a total of 20 companies.
This year, their goal is to find investors for 25 entrepreneurs, including one company that will employ approximately 4,000 people.  In April, Sivagananathan opened a 70,000 square foot accelerator/incubator that provides 700 seats for entrepreneurs, 300 of which had already been filled prior to the opening of the space. This $3.5 million project will be not just a co-working space, but will include connections to investors, back office and technical support for the daily needs of an entrepreneur. To target parents, particularly women entrepreneurs, the space will be child-friendly and have adequate play areas.
Having lost his sister to cancer, Sivagananathan has been active in raising money for cancer research in Sri Lanka. In 2011, to raise funds for the treatment centers, he launched 'Trail', a walk spanning 27 days across the country, which engaged over 200,000 Sri Lankans to develop a cancer hospital in the previously war-torn northern region. The walk, which harnessed the power of social media and crowdfunding, raised over $2.5 million from across the globe. In 2016 he launched Trail – The Walk Back, this time going from north to south, and raising millions to establish the country's third public cancer facility, which will be completed in 2020.
His vision is to promote "One Sri Lanka", a country that is not divided by religion or region, but that is united. Listen here to learn more about his next steps to continue the work of reconciliation in Sri Lanka.