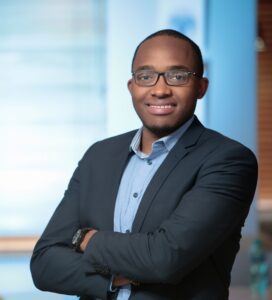 A graduate from Columbia University, Shadrack Kiratu is committed to community development in Kenya. Kiratu is dedicated to employing technology in order to revolutionize the workplace to embrace technology and design new ways of working. He believes more innovative approaches that take advantage of digital tools should be considered to solve future of work issues.
"Being an Eisenhower Youth Leader provides me access to a strong and invaluable network of like-minded people from across various regions of the world. So far in my education and short work experience I have come to realize how crucial relationships are in effecting change. The Eisenhower network has an unparalleled reach of members who are achieving a lot in their respective fields; from ministers and government officials to entrepreneurs in the technology and social impact space, to executives in the private sector. As an Eisenhower Youth Leader, I have the opportunity to build networks and relationships with these individuals."
PROJECT REPORT
Growing Africa (GA) Capital is a venture capital fund which invests in small and medium-sized enterprises in Kenya. Founded by Shadrack Kiratu and four friends after graduating from university, GA Capital aimed to help inexperienced entrepreneurs expand new businesses. Kiratu's project report shows us the evolution of GA Capital, from the first investment to a realization that Kiratu himself needed to improve his own knowledge and skill set before further investments are made. GA Capital continues to maintain investments and support to current partnerships while Kiratu completes his MBA in December 2018, when he will then explore new ways of growing his company.