EF President George de Lama and his wife Carrie Holt de Lama have been on the move over the last few weeks, visiting eight countries in February and March to meet with Fellows, Trustees, donors and other friends of EF from Taipei to Istanbul. In the process, they met with senior government officials in Sri Lanka and Pakistan and with Carrie's Bollywood colleagues in India, collecting stories of impact from our Fellows and helping spread the word about Eisenhower Fellowships everywhere they went.
Their round-the-world tour began in February with a six-country, 21-day trip to Taipei, Jakarta, Hong Kong, Colombo, Mumbai and Istanbul. In Taipei they were greeted by earthquakes on successive evenings, punctuated by a lovely banquet hosted by our Taiwanese Fellows. During their visit George spoke at a major book launch event for Harvey Chang (Chinese Taipei 2002), president of the EF Fellows association there.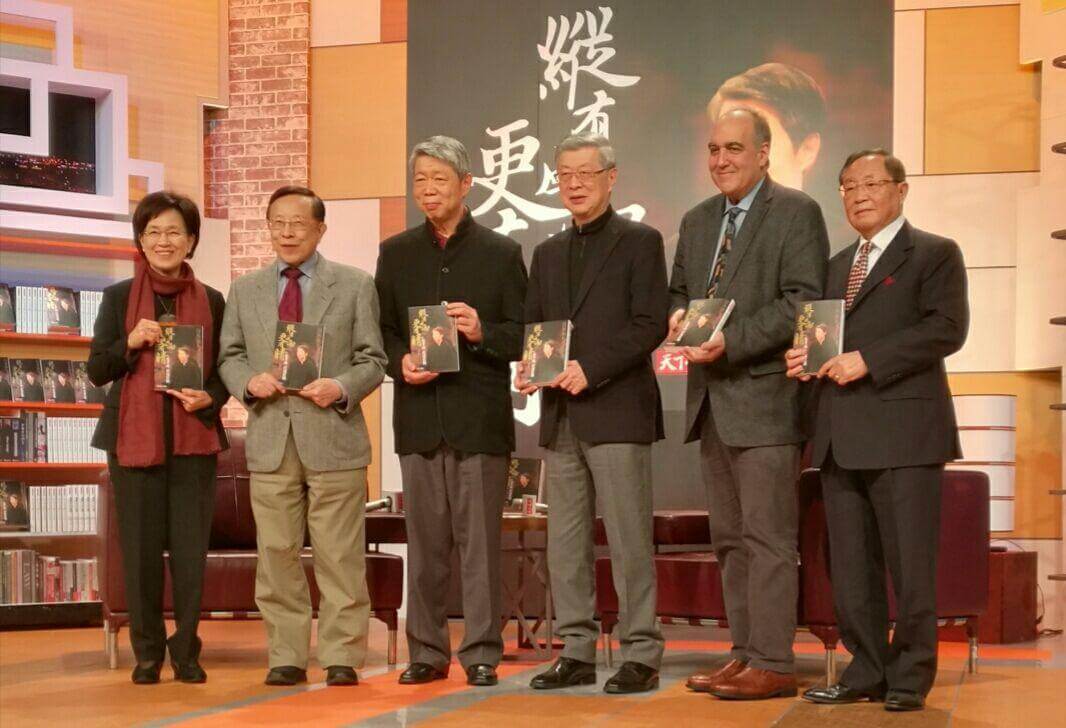 The next evening they dined with EF Trustee Christopher Fang (USA 2011), President's Advisory Council member George Hsieh (Chinese Taipei 2014) and Kin Moy, Director of the American Institute in Taiwan, the official United States diplomatic mission on the island. George and Carrie also paid courtesy visits to Nelson Chang, brother-in-law of the late Eisenhower Fellow Leslie Koo (Chinese Taipei 1999), and to former EF Trustee Morris Chang, Founder and Chairman of Taiwan Semiconductor Manufacturing, Ltd.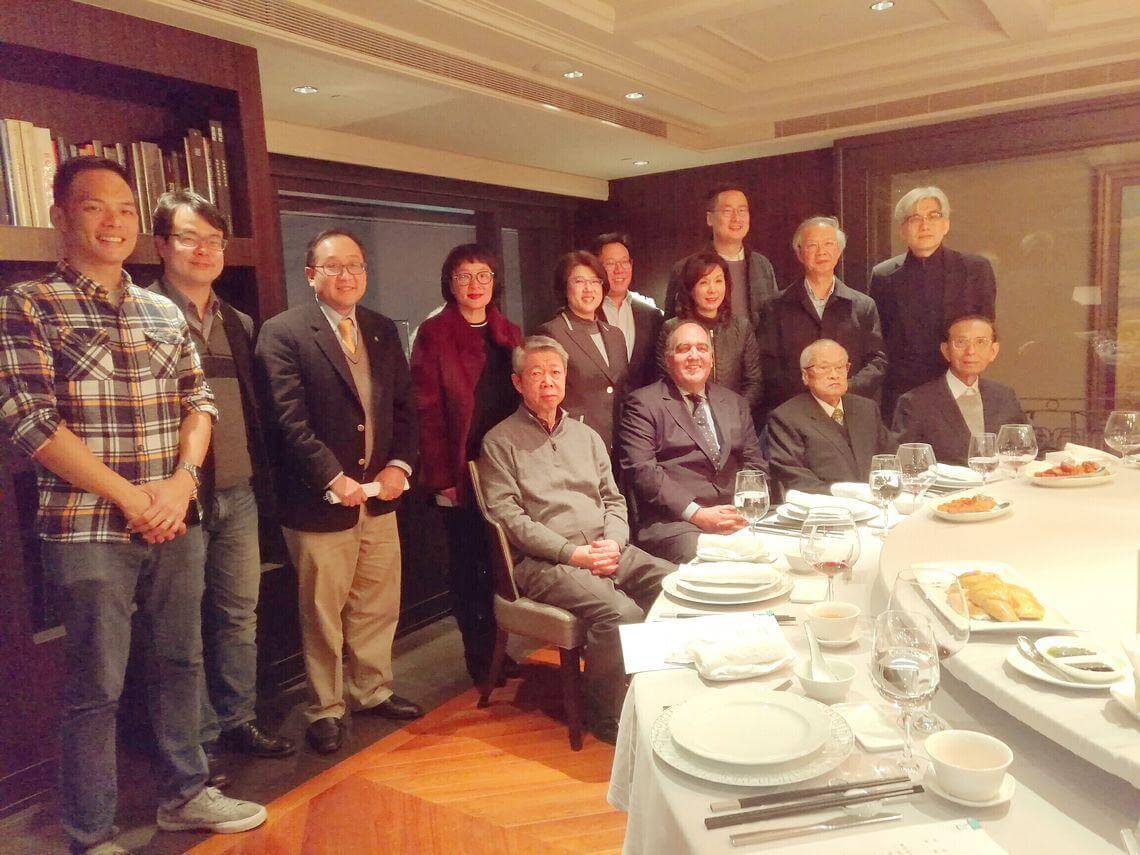 Among the exciting new developments to emerge from the visit: Fellow Albert Ting (Chinese Taipei 2011), a member of the President's Advisory Circle, is organizing a special EF Day of Fellowship that will bring together our Chinese Taipei Fellows and Vietnamese Fellows for a joint celebration in Ho Chi Minh City in October. See Albert for details.
In Hong Kong, George and Carrie visited the Asia Society Hong Kong with former EF Trustee Ronnie Chan, Chairman of the Hang Lung Group, and his wife Barbara. Ronnie is a passionate longtime supporter of EF who traveled to Malaga last fall to speak on the opening panel of the Future of Work conference.
From Hong Kong, George and Carrie flew to Jakarta to meet with our Indonesian Fellows and with EF Trustee Anindya Bakrie, a member of the exclusive President's Circle of EF supporters, along with Anin's wife Dini and two adolescent daughters, Alisha and Azra, who were fascinated by Carrie's Hollywood stories. The Indonesian Fellows were delighted that Fellow Mari Pangestu (Indonesia 1990) will be honored as the Distinguished Fellow Award winner in Philadelphia in May.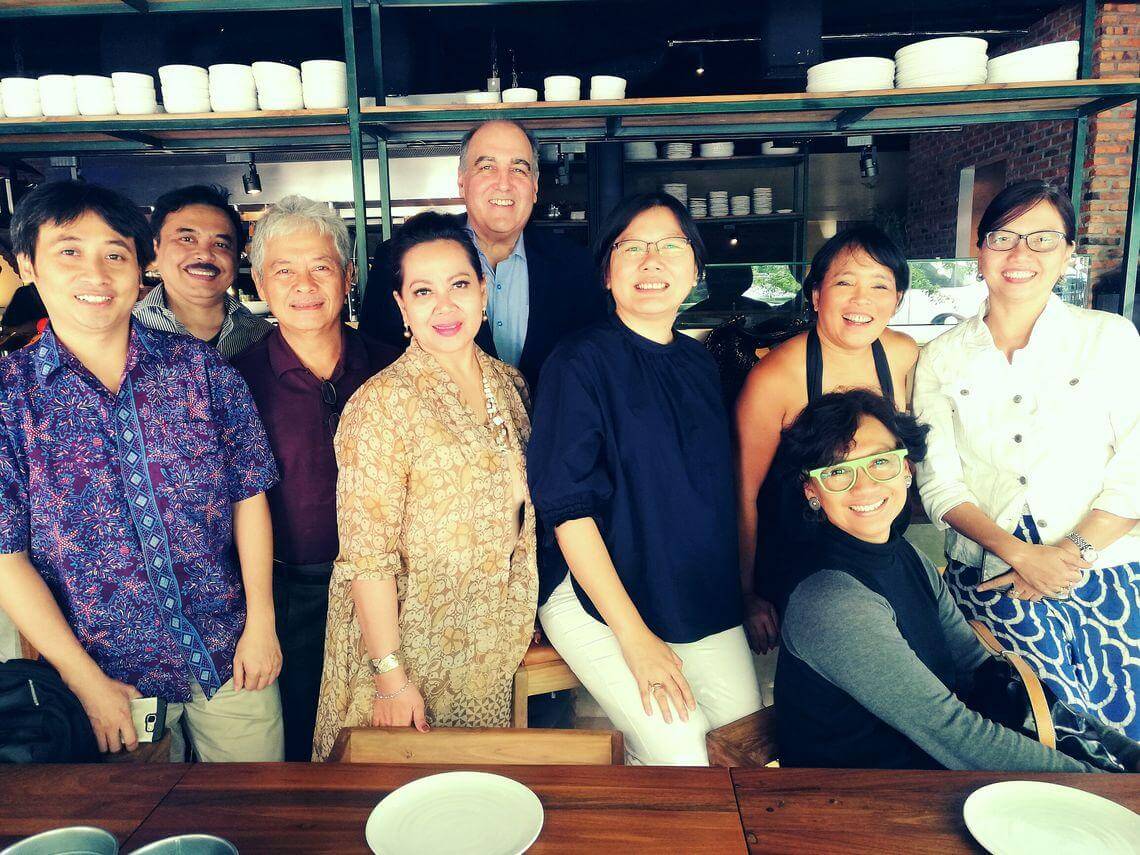 In Sri Lanka, George and Carrie's visit received extensive national media coverage and helped bring together several generations of Eisenhower Fellows for an energizing dinner the EF chapter hosted in their honor. George also spoke at the Ceylon Chamber of Commerce to mid-career CEOs interested in Eisenhower Fellowships.
In Sri Lanka, our Fellows are working with their EF colleagues in India and Pakistan and Bangladesh to explore planning for a possible South Asia regional conference to be held in Sri Lanka in 2019. Accompanied by a number of Fellows, George and Carrie met with Sri Lanka's President, Speaker of the Parliament and Finance Minister, all of whom gave their enthusiastic support for such a gathering.
During their visit, George and Carrie accompanied Fellow Chevaan Daniel (Sri Lanka 2017) to help his nonprofit movement he helped found, Gammadah, or Heart of the Village, dedicate a clean-water sanitation project for impoverished schoolchildren in rural southern Sri Lanka. A national TV network news report about the event is here: https://youtu.be/2gVhILZTfTE
In Mumbai, George and Carrie were hosted by Eisenhower Fellows Sangita Jindal (India 2004), Rajshree Pathy (India 2000) and Raman Madhok (India 2004) to discuss plans to expand and deepen EF's programs and catalyze our Fellows chapter in India. Among the ideas under consideration is a major Eisenhower Day of Fellowship event in India this fall. George and Carrie also visited Bollywood and met with celebrated director Victor Acharya, Carrie's colleague on the blockbuster film Dhoom 3, starring Aamir Khan.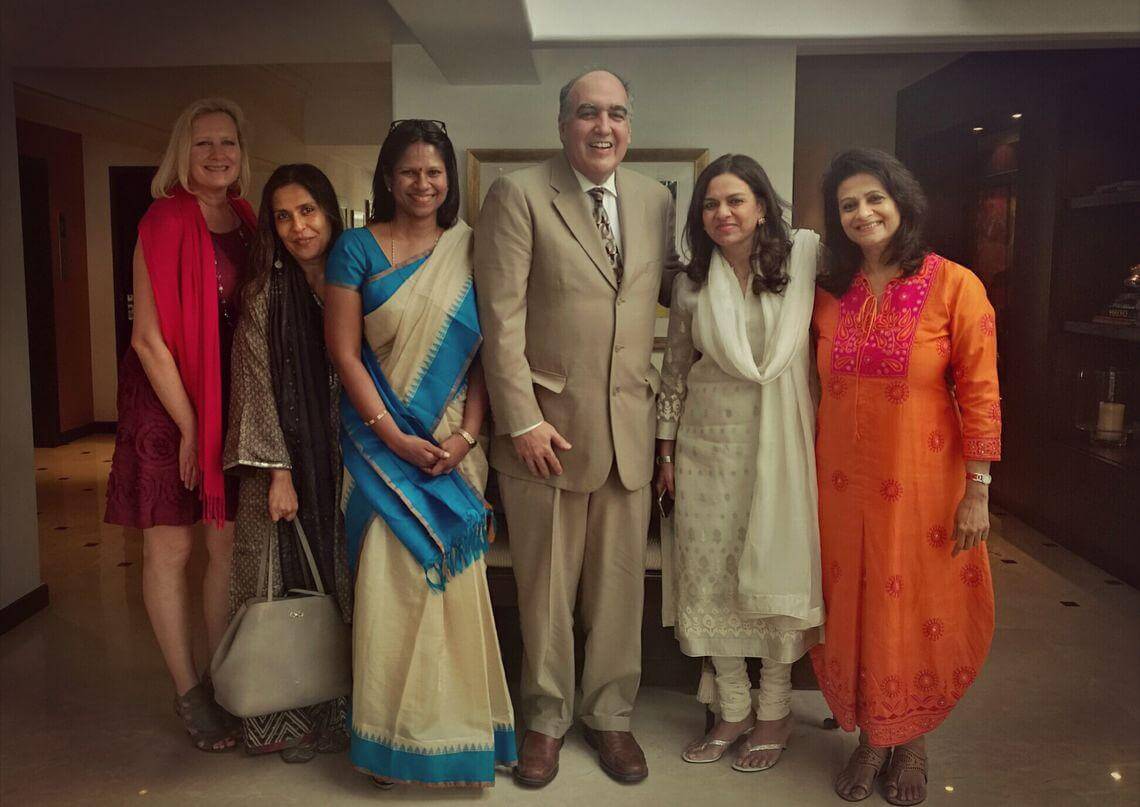 In addition to seeing Indian Fellows, in Mumbai George met with Pawan Singh, Managing Director, Private Equity, for Bain Capital India. Subsequently the Executive Committee of the EF Board of Trustees voted to welcome Pawan as the first EF Trustee in India in the organization's history.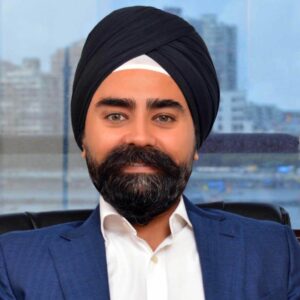 In Istanbul, George and Carrie met with Fellows, including a heartwarming visit to the home of the patriarch of the Turkish Fellows chapter, Nezir Kirdar (Turkey 1957). George presented Nezir with a key to the EF house and Nezir presented him with a book about his life, which includes many vintage photos of his time with EF. Later George and Carrie broke bread with our Turkish Fellows at lunch over the Bosphorus, discussing how to strenghten the Turkish network and bring more Eisenhower Fellows from Turkey to the United States and into our EF global family.
They also enjoyed lively dinners with EF Trustees Fatih Karamanci and his wife Yasemin; Osman Okyay and his wife Zeynep, the daughter of late longtime EF Trustee Ibrahim Bodur; and with the newest EF Trustee from Turkey, Koray Arikan, and his wife Sera. Koray is advisor to the Chairman of the Dogus Group in Turkey, longtime former Trustee Ferit Sahenk, whom he succeeds on the EF Board.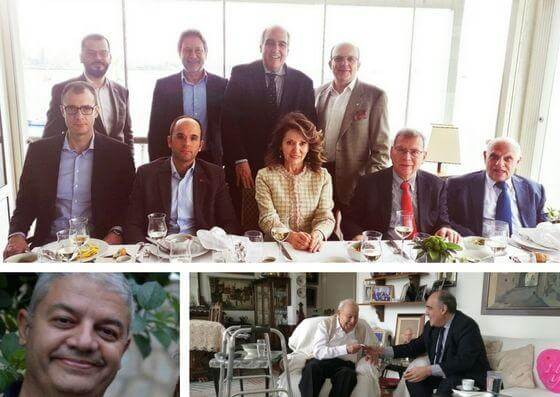 In Indonesia, Sri Lanka and India, George and Carrie encountered a number of high-impact projects on which our Fellows are collaborating. Throughout their trip, Carrie collected some of these impact stories, which will enrich the EF program impact evaluation study underway.
After returning to Philadelphia for the annual in-person meeting of the Executive Committee of the EF Board, George and Carrie promptly turned around and flew to Pakistan at the invitation of Fellow Shahid Mahmud (Pakistan '01). George and Eisenhower Fellow Maria Tsehai (Tanzania 2016) spoke at the Leaders in Islamabad conference on global disruption, which brought together more than 600 corporate leaders and business leaders, distinguished academicians, tech entrepreneurs, media figures, diplomats from various countries and senior Pakistani government officials. In a conversation on stage with Shahid, Maria told the conference participants about her experience in taking advantage of disruption to effect positive change in Tanzania. Later, in his keynote presentation to close the gathering, George spoke about EF's long history in Pakistan, noting there was a Pakistani Fellow in the very first class of Eisenhower Fellows in 1954, and reaffirmed EF's long-term commitment to working in the country.
George and Carrie took time out from the conference to accompany a delegation of Fellows to meet with Pakistani President Mamnoon Hussain, who praised Eisenhower Fellowships for rendering valuable contributions to humanity in Pakistan and around the world. It was the first time a sitting President of Pakistan had ever hosted Eisenhower Fellows.
"Such institutions play a commendable role in imparting education and the human resource development. I hope that the cooperation between Pakistan and Eisenhower Fellowships will continue in future," President Hussain told the Fellows, who called on him at the Aiwan-i-Sadr, Pakistan's presidential palace. The visit was organized by Eisenhower Fellow Abdul Bari Khan (Pakistan 2004), Chief Operating Officer of the Indus Hospital in Karachi.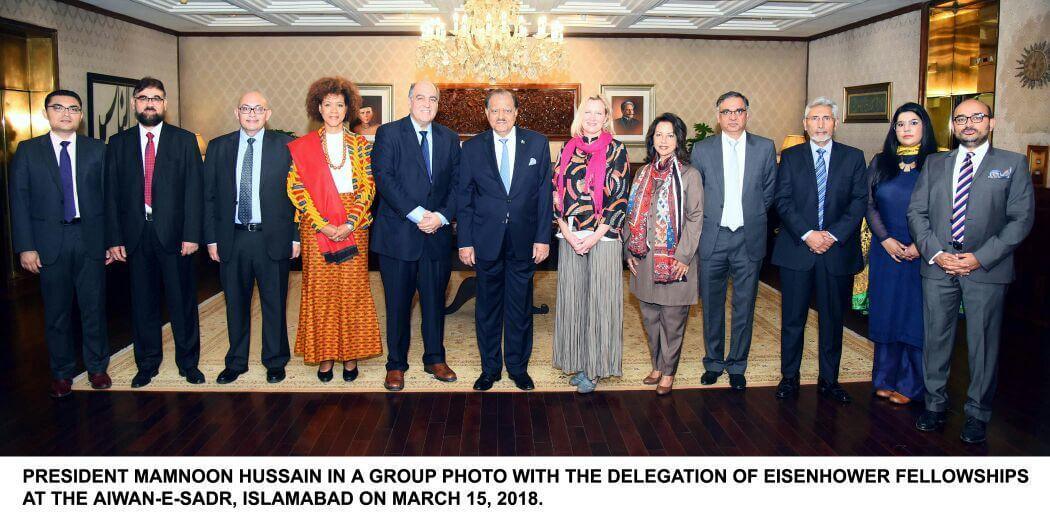 Shahid hosted a closing dinner for Fellows and scores of friends of EF in Pakistan at his farmhouse on the outskirts of Islamabad in George and Carrie's honor.
Following their trip, the EF Executive Committee voted unanimously to approve Shahid Mahmud as Eisenhower Fellowships' first Trustee from Pakistan. Together with Pawan Singh in India, these two new members of the Board of Trustees underscore EF's commitment to intensifying our work in the critically important South Asia region.